Each year, travelers from around the world flock to New England in search of active adventure, relaxation and unforgettable scenery.
In Maine, small fishing villages line the rocky coastline, accentuated by harbors filled with lobster boats and seafood shacks. Further inland, white church steeples protrude towards the sky, providing a stark contrast against the mountainous landscape. And in New Hampshire, the rugged Presidential Mountain Range stands tall above the rest of the White Mountains, reminiscent of some of the peaks you might find out west.
Regardless of what you are looking for during your time in New England, these small towns are some of the best to visit.
North Conway, New Hampshire
Located on the edge of the 700,000-acre White Mountain National Forest and in the shadows of the northeast's highest peak — Mount Washington — North Conway is an adventurer's paradise. Endless hiking and biking trails surround the town, and there is no shortage of swimming holes or fishing streams. Head to Black Cap for a shorter day hike on the outskirts of town, or a bit south for a longer hike up Mount Chocorua. If you're looking to try climbing, Northeast Mountaineering provides trips year-round. Sunrise Shack is a great place to grab breakfast, or head to Frontside Coffee Roasters for a light bite and a cup of coffee.
Get there: The first step is to get to Boston, so consult our public transportation guide. From Boston, Concord Coach Lines offers a bus to the center of North Conway from South Station. Once in North Conway, Fast Taxi will take you anywhere in the Mount Washington Valley area.
Shelburne, Vermont
Although it is located just outside of metropolitan Burlington, Shelburne feels distinct from the city. This small town is located on the shores of Lake Champlain and offers a variety of attractions, including Fiddlehead Brewing Company, the historic Shelburne Farms, the Shelburne Museum and the Vermont Teddy Bear Factory. It is a great place to base yourself if you want to be close to the action in Burlington while still getting the small-town experience.
Get there: Take the Amtrak Vermonter from New York City to Essex Junction, VT. From there, Green Mountain Transit buses can take you to downtown Burlington. Buses are offered from Burlington to Shelburne.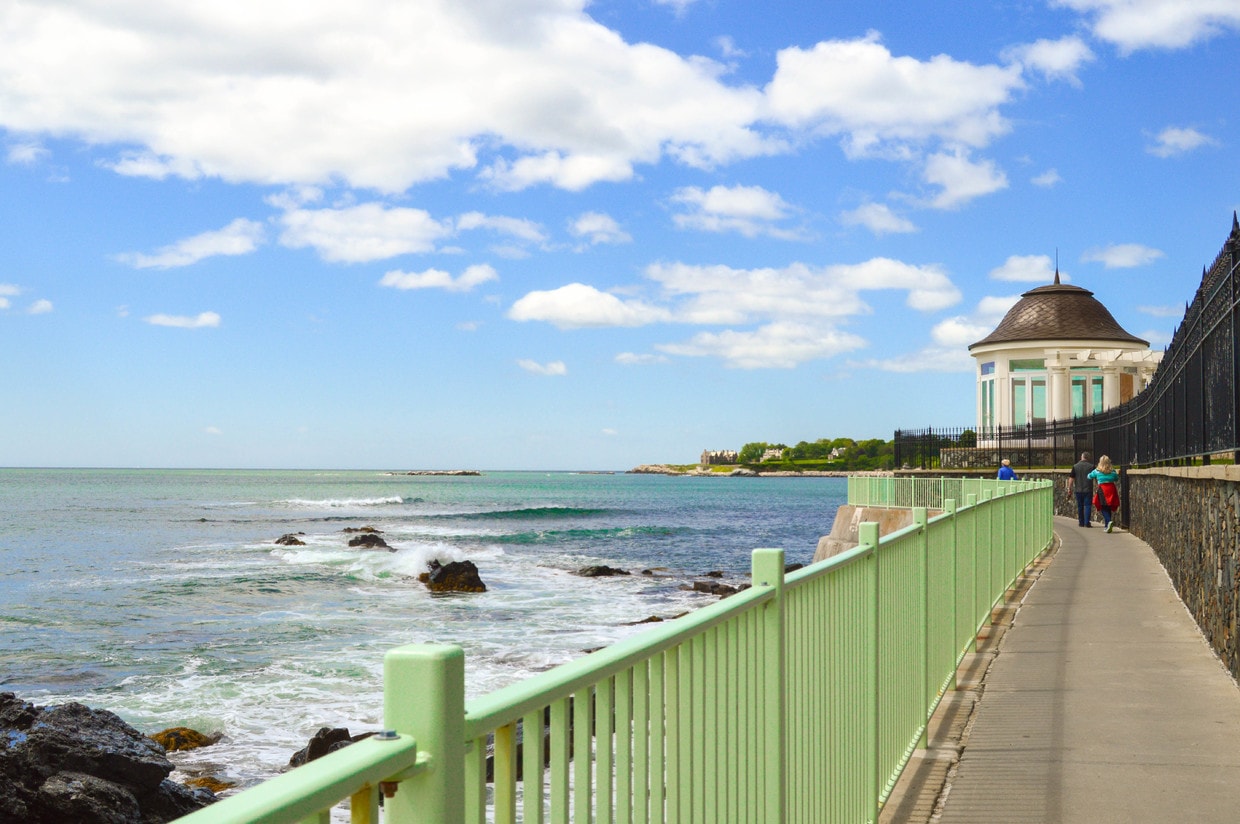 Newport, Rhode Island
During the Colonial era, Newport was one of the most important seaport towns in the country. Due to the 22 rum distilleries in town during that time, Newport also gained the title of "Rum Capital in the World." Today, there are still a number of award-winning distilleries in Newport, including the Newport Craft Brewing & Distilling Co. The historic streets are lined with restaurants, boutiques and cafes, and the harbor is home to a variety of yachts and fishing boats. Make sure to stroll the 3.5-mile cliff walk, which cuts between century-old Gilded Age houses and the rocky Atlantic coastline.
Get there: Ride the Peter Pan bus to Providence from Port Authority or take Amtrak from Penn Station. Once in Providence, you can hop bus number 60 run by RIPTA from Kennedy Plaza towards Newport. Get off at the last stop at Newport Gateway Center at 23 America's Cup Avenue.
Great Barrington, Massachusetts
While the Catskills often gain most New Yorkers' attention, the Berkshires — located just across the Hudson River — is nothing to scoff at when it comes to scenic mountainous destinations. Located in the southern Berkshires, Great Barrington is a small New England town that may seem more like Brooklyn with a natural backdrop than a rural town in Massachusetts. There are a number of hiking trails nearby, like the popular Monument Mountain, which offers sweeping views of the surrounding area. In town, streets are lined with vintage shops, cafes, restaurants and a theater. Brooklyn transplant, Mark Firth, offers contemporary small plates at his restaurant, The Prairie Whale. Botanica is another great spot, perfect for grabbing a coffee in the morning or oysters at night.
Get there: Ride the Peter Pan bus from Port Authority to Great Barrington in 3 hours and 30 minutes.
Bar Harbor, Maine
Located at the edge of the Northeast's only National Park, Bar Harbor is the quintessential fishing village catered to tourism. Rocky escarpments create a barrier between land and water, and aged peaks provide the perfect vantage point for watching the sun rise over the Atlantic. There are a number of guiding companies, such as Acadia Mountain Guides, in town that offer climbing trips on nearby cliffs. Cafe This Way offers traditional dinner and brunch options, like their smoked salmon benedict. While in town, be sure to head into Acadia National Park and stop by the Jordan Pond House for their renowned popovers.
Get there: See oM's Boston Transportation Guide. From Boston's South Station take Concord Coach Lines to Bangor. The Bar Harbor Shuttle will pick you up in Bangor, with advanced reservations. The entire journey takes ten hours. As a speedy alternative, you can fly to Bangor nonstop in just over an hour on Delta from NYC and connect to the Bar Harbor Shuttle at the airport.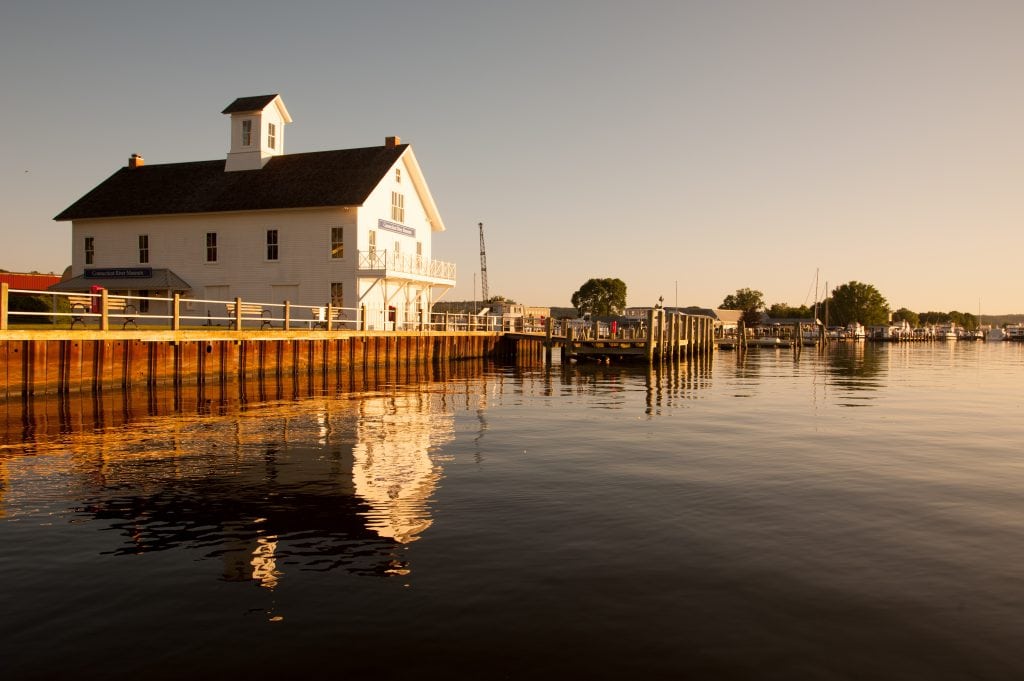 Essex, Connecticut
Essex is a small port town located on the shores of the Connecticut River. The town's 1878 warehouse-turned-museum hosts exhibits, tours and events throughout the year, like the "Eagle" exhibit, which focuses on the American Bald Eagle. They also offer guided paddle programs. Like many tourist destinations around Connecticut, Essex has plenty of historic inns, cafes, shops and restaurants.
Get there: Amtrak offers daily service to Old Saybrook Station, just a few miles from town. Local taxi services can be contacted for transportation into Essex.
Camden, Maine
Camden is another coastal Maine town with a heavier focus on relaxation, small shops and fine dining than on outdoor adventure. But that's not to say there are no opportunities to stretch your legs! The nearby 5,710-acre Camden Hills State Park offers a variety of multi-use trails and vistas overlooking the Penobscot Bay. Natalie's Restaurant at the Camden Harbor Inn is a fine dining establishment overlooking the harbor, and offers sophisticated plates like grape leaves wrapped cod with pine-nut raisin relish, or more traditional New England dishes like lobster mac and cheese. There are also plenty of classic inns and hotels to choose from, like the luxurious 16 Bay View.
Get there: Concord Coach Lines runs a bus service from Boston South Station with a Camden/Rockport stop on Route 1, just south of the village. To get to Boston, take Amtrak from Penn Station to South Station (approximately 4 hours, and $80 each way). Bolt Bus (34th St at 8th Ave., $20 each way) is another option for travel to Boston from NYC.
Provincetown, Massachusetts
Provincetown, or "P-Town" as the locals call it, is located on the northern tip of Cape Cod. This artistic seaside town is filled with galleries that are open year-round, as well as restaurants, museums, theaters and outdoor recreation. Climb to the top of the Pilgrim Monument — built to commemorate the Mayflower's first landing in the New World in Provincetown — for panoramic views of the Cape. The nearby Cape Cod National Seashore offers forty miles of protected sandy coastline, complete with lighthouses and wild cranberry bogs.
Get there: Provincetown is easily reached by bus from Boston. To avoid traffic during the summer months, Bay State Cruise Company offers high-speed ferry service from Boston. Flights are also available from JFK International to the nearby town of Hyannis.
Mystic, Connecticut
Once a shipbuilding seaport and safe-haven for ships, this 350-year-old maritime town is now a seaside community that beckons to travelers looking for an easy escape from the city. Locally-owned shops and restaurants line Main Street, while an art museum and a variety of annual events offer an additional assortment of things to do. You can't miss the world-class Mystic Seaport Museum, which is spread across 19 acres on the Mystic River, making it the largest maritime museum in the US. During the fall, the country's only steam-powered cider mill provides cider and fresh donuts. Between May and October, the schooner Argia offers four public sailing trips per day, in which passengers enjoy views of and facts about the area.
Get there: Amtrak offers service to Mystic from Penn Station, and drops you off right in town.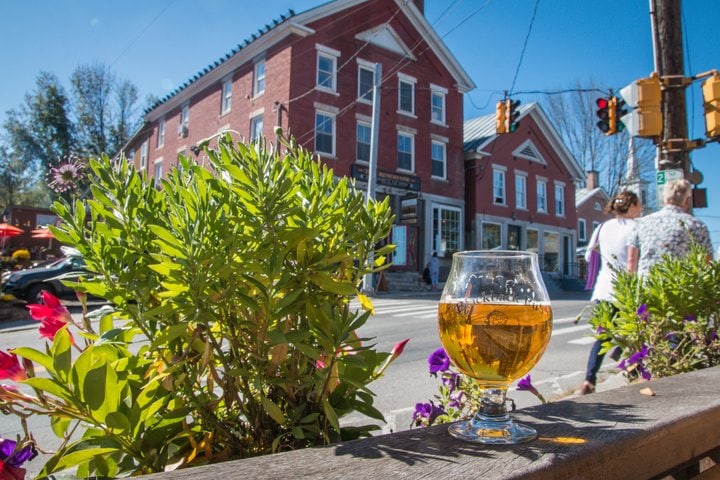 Waterbury, Vermont
Tucked between Stowe and the Mad River Valley, Waterbury is a growing four-season destination in Vermont. While there is plenty of outdoor recreation surrounding the town, the beer and food scene make it a destination in itself. In addition to cocktails and beers brewed at their own brewery, Prohibition Pig has an impressive selection of locally-sourced barbecue dishes, with enough meat-free options to keep the interest of vegetarians. Lawson's Finest Liquids — the makers of the Sip of Sunshine IPA — recently opened a new taproom in Waitsfield, just a few miles south. And when you're ready to burn off the food and beer, the 4,085-foot Camel's Hump is a nearby hike with spectacular views.
Get there: The Amtrak Vermonter offers direct service to Waterbury.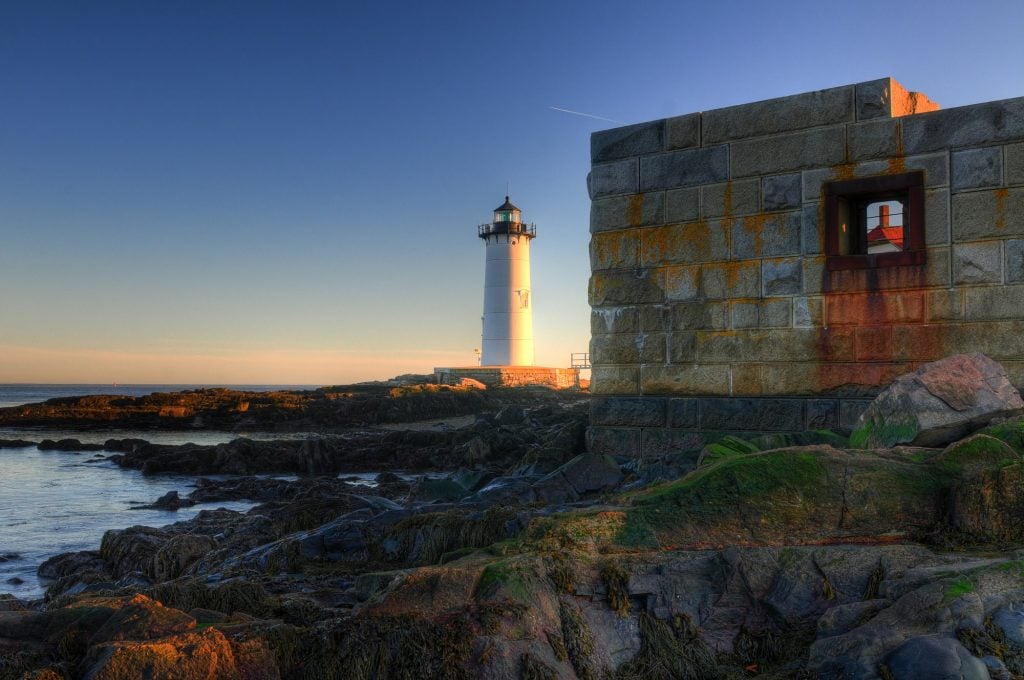 Portsmouth, New Hampshire
While Portsmouth is technically a city, its size and small-town atmosphere say otherwise. Located on New Hampshire's seacoast between Boston and Portland, the walkable port city has a vibrant nightlife, culture and arts distinct from other small towns throughout the state. Every summer, the Prescott Park Arts Festival is host to a variety of big-name musicians and shows starting in June. Be sure to check out Earth Eagle Brewing, which serves house-brewed craft beer and a selection of traditional and non-traditional pub eats.

Get there: C&J Bus Lines offers service to Portsmouth from Boston's South Station. The entire journey from NYC takes five hours.
Feature image by Peter Lewis via Unsplash.
Josh Laskin is a freelance travel writer and photographer based in the White Mountains of New Hampshire. When he is not at work or on the road, you can find him in the mountains snowboarding, climbing, hiking, fly fishing, mountain biking, and eating bagel bites.