Traveling to Vermont often serves a specific purpose — skiing some of the deepest powder on the east coast, taking in fall's vibrant colors, riding mountain bikes on endless single-track trails, or simply sipping tea on the porch of a classic colonial-style New England inn. But those of us who like to do it all know it can be difficult to fit everything in to a few short days. That is, of course, unless you know where to go.
Located less than 30 miles from Burlington, Waterbury is centrally located between the Mad River Valley and Stowe, providing easy, car-free access to some of the state's best skiing, hiking, and picturesque towns and landscapes.
Find Hotels near Waterbury:
In Waterbury and the surrounding area, local chefs push the limits of traditional American classics while maintaining a focus on sustainability through the use of locally sourced ingredients. Local residents and visitors stroll through town, stopping in one of the many bars to enjoy a post-adventure beer — the best beer in the country, some might say.
Whether you're looking for an extreme adventure, a relaxing vacation in a cozy inn, or simply to escape the city and hit the countryside, this quintessential Vermont town has it all. And you don't need a car to experience it.
What to do in Waterbury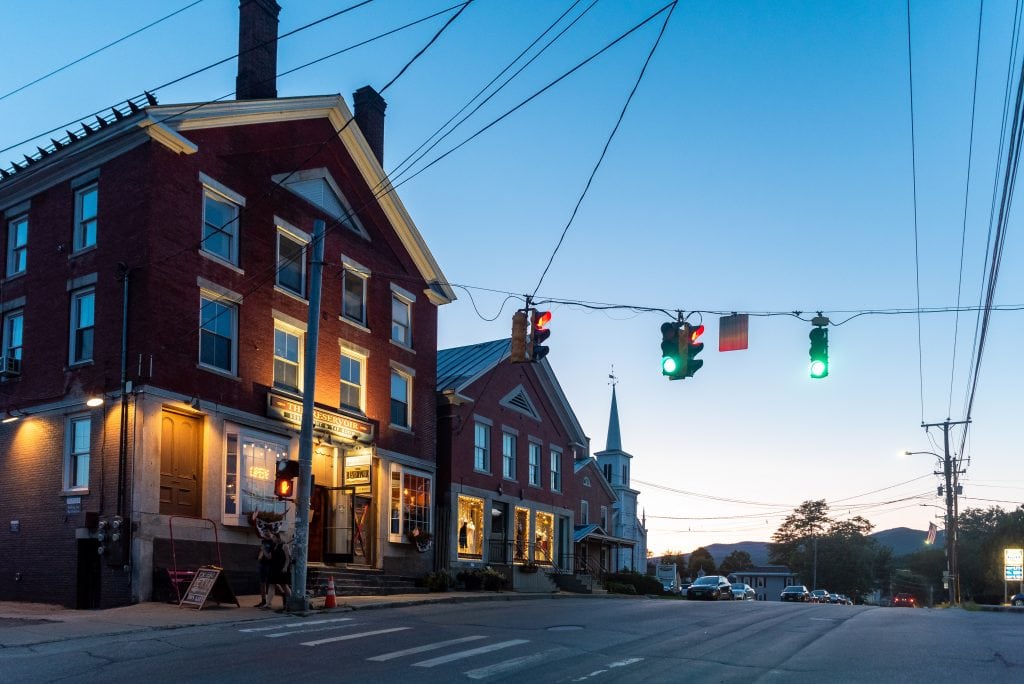 Situated in the heart of the Green Mountains, Waterbury is perfect for trading in the hustle and bustle of the city for fresh air, scenic vistas and solitude.
Axel's Gallery and Frame Shop, located on Stowe Street in downtown Waterbury, offers a taste of the local art scene and instills a sense of creativity and culture into the community. Whitney Aldrich, the current owner of the shop, also hosts a variety of events throughout the year. Her summer series, Music in the Alley, hosts musical performances from artists across the country.
Waterbury State Park is home to an 850-acre reservoir, making it the perfect place for paddling, fishing and swimming during the summer months. There are also 27 remote paddle-to campsites, a nature trail and picnic sites, making it perfect for enjoying the fall foliage.
If cardio and fast-paced adventure is on the agenda, Perry Hill's 15 miles of single-track mountain biking trails offer a variety of riding for cyclists of all levels. Beginners should stick to the lower elevations, while those who are more advanced may opt for one of the more technical or flow trails. For trail conditions, maps, and additional information on the area's mountain biking trails, check out the Waterbury Area Trail Alliance.
Waterbury's location is also perfect for skiers and snowboarders. Sugarbush, Mad River Glen, Bolton Valley, and Stowe are all within a half-hour from town and encompass some of New England's best ski terrain and deepest snow.
Where to stay
While Waterbury is home to a handful of well-known hotels like the Fairfield Inn Marriott and Best Western Plus, it also has a choice of classic inns and bed and breakfasts. The Old Stagecoach Inn is a historic bed and breakfast within walking distance of downtown Waterbury's main attractions and even features a library bar that helps the inn maintain a historic atmosphere. The Former old stagecoach stop, tavern, and private residence is now on the National Register of Historic Places.
The Grunberg Haus Inn and Cabins has 11 Austrian-themed rooms on 10 acres, close to all of the area's attractions. Stowe Cabins in the Woods is a great option for a truly relaxing vacation, offering a variety of different cabins nestled amongst hundreds of acres of forest.
What to eat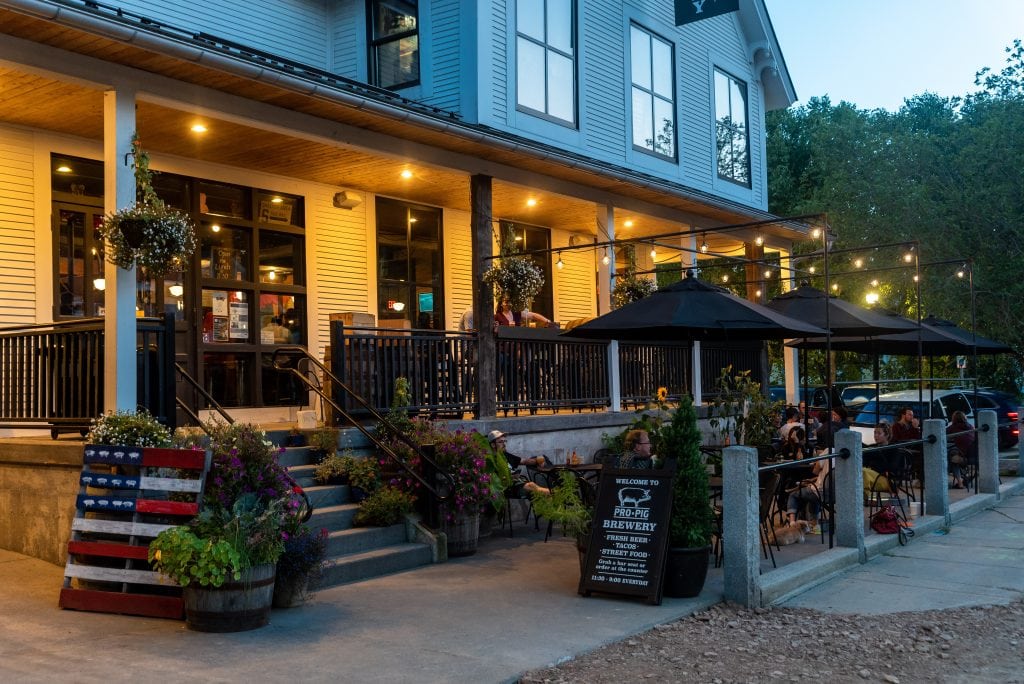 Waterbury and the surrounding area is filled with incredible culinary experiences. With so much farmland throughout the state of Vermont, many restaurants source food locally and have seasonal menus throughout the year.
Prohibition Pig feels like a Brooklyn barbecue restaurant placed in the Green Mountains of Vermont. In addition to their choice of traditional barbecue dishes and vegetarian options, they brew their own beer, like the Bantam Double IPA and their Pineapple Swine Cooler, which is a pineapple-infused sour wheat beer.
Hen of the Wood is a great option for an experience closer to "fine dining" while maintaining a casual Vermont atmosphere. Options range from plates like their Beef Tartare and Crispy Rabbit Loin to Wood Fired Roasted Broccoli and Braised Lamb (although their menu does change daily). The restaurant can get busy, so making a reservation in advance is recommended.
Beer lovers should be sure to stop by Blackback Pub, which carries some of the best craft breweries from around the state (and, some may argue, the best in the country). Although New England, and Vermont in particular, is famous for its many hazy, fruity IPA's, you'll also find plenty of other styles, from wheat beers and sours to milk stouts and pilsners. Blackback's food menu features a variety of options like the BBQ Pork Sandwich, Curry Shrimp, and New York Strip Steak.
Get to Waterbury on the Amtrak Vermonter
Thanks to Amtrak's Vermonter and the recently renovated train station in Waterbury, getting into town couldn't be easier.
From Penn Station, you can catch a train daily that drops you off directly in Waterbury, within walking distance to many of the inns, restaurants and attractions. Depending on where you decide to stay, many of the inns and hotels are happy to provide a shuttle service to and from the train station.
Once in town, many activities can be reached by foot or bicycle. Snowflake Taxi also offers service around Stowe and Waterbury, which can be a great option for getting to local trailheads or destinations that are just out of reach by bicycle.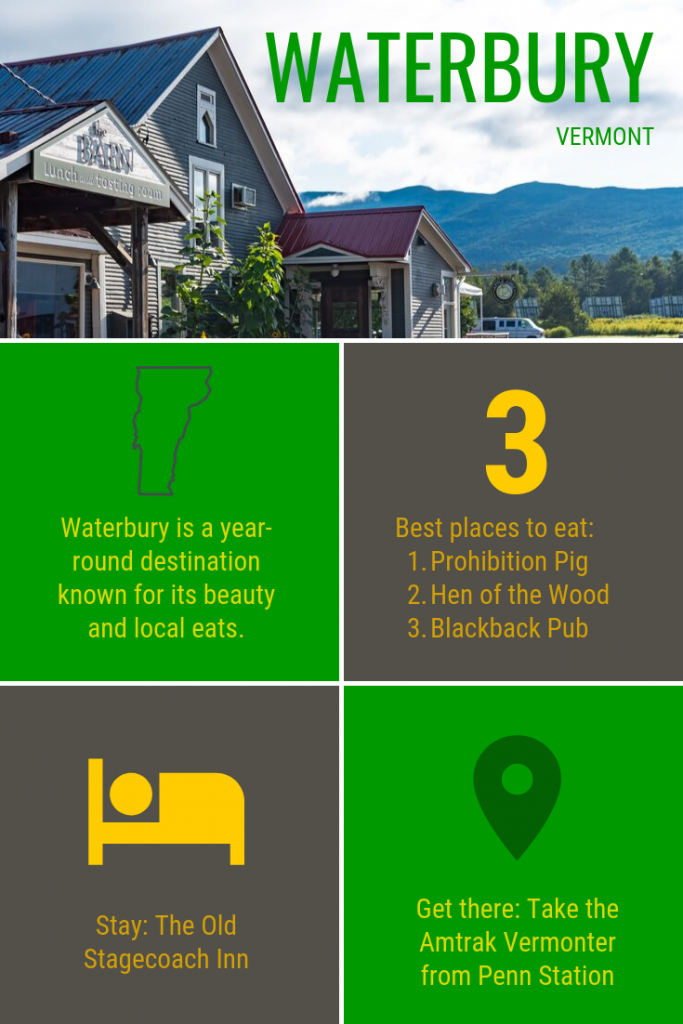 For more ideas on where to stay and what to do, head to VermontVacation.com.
Josh Laskin is a freelance travel writer and photographer based in the White Mountains of New Hampshire. When he is not at work or on the road, you can find him in the mountains snowboarding, climbing, hiking, fly fishing, mountain biking, and eating bagel bites.