Burlington, Vermont is an eccentric, collaborative, laid-back town on Lake Champlain. It's got history and youth culture, vibrant art and music scenes, and sustainable restaurants that rival the best in New York. And through it all, it's breezy, welcoming, and home to some of the friendliest folks you'll ever meet (and you're likely to meet a lot of them).
On a recent weekend getaway, I took in the stunning scenery, befriended the locals, and dove face first into the food.
One if by foot, two if by bike (or cross-country skis)
Vermont's largest city is compact and easy to explore. Its picturesque downtown is centered around the pedestrian-only Church Street Marketplace and you'll find the old-fashioned town square, ornate government buildings, and all array of cafes, bars, and shops.
Although the original Ben & Jerry's is no longer, there is a branch on Church, and Lake Champlain Chocolates is another made-in-Burlington must. The family business started on a truffle-making dare, and its latest creation, Blue Bandana Chocolate, is a line of exquisite small-batch, bean-to-bar concoctions. It too has a shop on Church, or you can hit the factory on Pine Street for a sneak peek at the magic in action.
Find Hotels in the area:
Burlington is anchored by Lake Champlain, a vast body of water that's captivating as much for the mountains and trails surrounding it as for the possibility that Champ, its mythical lake monster, might be lurking. I looked for him while riding along the waterfront bike path, before veering off on the "Cycle the City" trail, a 10-mile loop that took me into majestic Ethan Allen Park (ascend the tower for fabulous views) and then past the founding father's homestead and into what was once his, and is now Burlington's, pride and joy: the Intervale.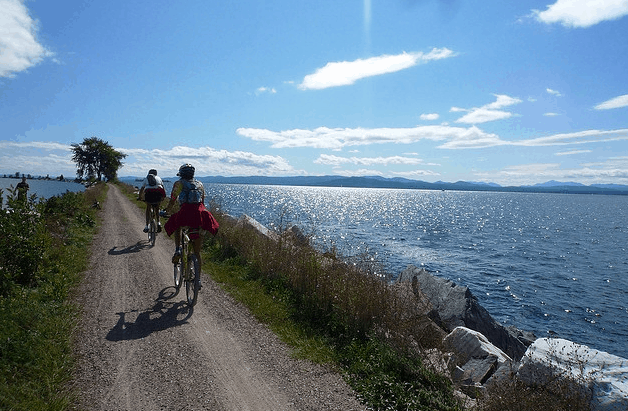 A vast expanse of fertile land, the Intervale had been used for farming long before the Revolutionary War hero set up his own farms here, but it was a veritable wasteland throughout much of the 20th century. Then, in the '80s, Will Raap and a band of new pioneers took the are back to its roots. Today, the 700-acre swath of land at Burlington's north end is both past and future—historic farmland bringing about a whole new model of sustainable living for communities of the 21st century.
The Intervale feeds the Burlington area both with its food and as a community. Regular "Summervale" festivals spark old-fashioned community spirit, and come winter cross-country ski trails keep the spirits up. The magic behind much of Burlington's recreation? Local Motion, a nonprofit advocate of "people-powered transportation." We have them to thank for for Cycle the City and countless other trails and initiatives, as well as bike rentals in the summer (at the Local Motion Trailside Center) and Wintervale (cross-country skiing, snowshoeing, and much more) in the .
Food for thought
The food's the thing in Burlington, and it's served up with positivity and panache. With nearly eight percent of food consumed here coming from the Intervale, and a majority of the rest from around Vermont farms, eating locally is a way of life.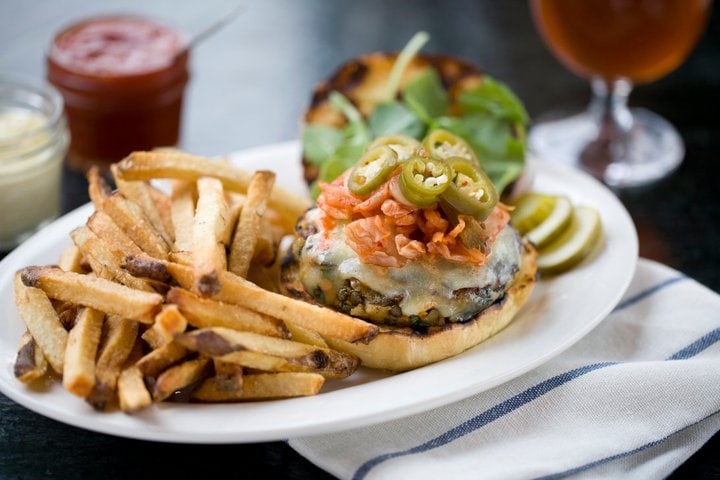 I got my first clue about Burlington's approach to food on the floor of Farmhouse Tap & Grill—its recognizable brick is the only thing that links the buzzing tap room to what was once the town's only McDonalds. Unlike at the fast-food chain, the "all-beef patties" (and everything else) at Farmhouse are local and specialized, while the beers on the vast menu hearken from around the globe, with many a local option.
While in some places it's a "thing" to announce every ingredient, other spots are intriguingly secretive. With a hushed and conspiratorial (and contagiously enthusiastic) tone, a friendly local told me about Four Corners of the Earth (cash only). Tucked in an uninspiring business complex, the sandwich joint is like the underground lair of a mad and brilliant (sandwich) scientist, replete with eclectic decor and a proprietor, Latzo, who is equal parts amiable hippie and amusing curmudgeon (when I asked where he was from he replied, with surly grin, "Mars. Where are you from?").
The vast selection of sandwiches are named by country and protein only (Czech Chicken, Tibetan Tofu…), and I was warned in no uncertain terms to avoid inquiring about the other ingredients. While constructing my Lebanese Lamb, Latzo made small talk with a few regulars who greeted him by name as they trickled in, and after I devoured perhaps the best sandwich I've ever tasted and headed back into the bright light of day, I too felt I'd been let into the fold.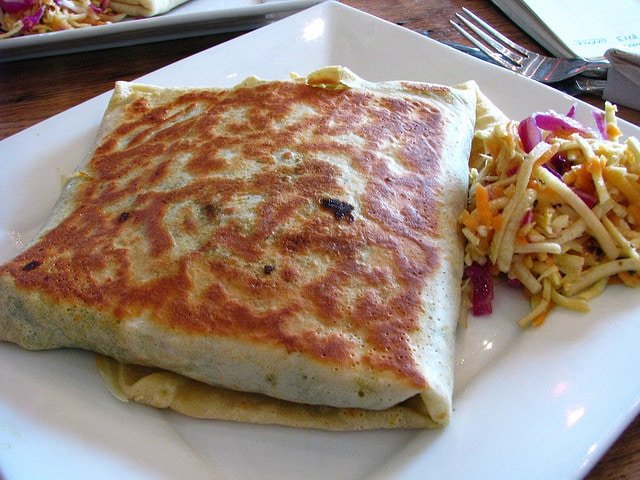 Lunch at the bright and bustling Skinny Pancake is a different experience. Here I not only had all the ingredients of my crepe, but heard the story of the squash puree from a decidedly "un-curmudgeonly" Benjy Adler. As part of their mission to make eating local accessible and affordable ("Locavore doesn't have to mean haute couture"), Benjy and his brother, Jonny—who together built a humble crepe stand into local food movement—often purchase in bulk and freeze produce for use in the off-season (my squash was part of a surplus that they took off a farmer's hands and pureed for future use). Here, it's not just about the food but about the community—working with farmers, supporting local and environmental causes, and showcasing local artists and musicians.
The "Great Good Places"
Not surprisingly, the Adler brothers (and Local Motion, and the Intervale…) are not the only ones who foster a sense well-being and community. Another of Burlington's favorite establishments, American Flatbread Burlington Hearth (115 Saint Paul Street), is beer hall (all beer comes from the in-house brewery, Zero Gravity), harbinger of the local-food movement (founded in Waitsfield, VT, the small chain was an early leader in local sourcing), and much more.
Over the night's special, a tangy pulled-pork number, co-founder Paul Sayler gave me a quick lesson in beer brewing, introduced me to a smokey Rauchbier, and explained the establishment's name. Hearth represents a gathering place, in keeping with Ray Oldenburg's concept of the "Great Good Place," a public "third space" (outside of home and work) where people can connect. And the always buzzing restaurant is just that. Housed in a cavernous, historic brick structure, it has the cozy feel of an old German beer hall, with long wooden tables and a wood-fire "hearth" as the room's centerpiece.
Third places like this abound in Burlington, from rockin' music venues like Radio Bean Coffeehouse, a grungy, everything-goes cafe-bar, to mellower spots like Muddy Waters, a homey, rustic coffee shop. The latter, modeled after the comfy cafe-culture of Santa Cruz, is warm and unassuming, with tin ceilings, mismatched furniture, and bespoke cocktails.
I sipped some java on a tattered Victorian couch at Radio Bean, while young folks with pink hair, combat boots, and facial piercings discussed art and politics over experimental jazz. At Muddy, it was a church pew, folk music, and mostly business meetings and study dates. The common denominator of these disparate experiences was witnessing surprise run-ins of friends who weren't expecting one another. That, of course, is the way it goes in this wild and whimsical town—space and community for all.
Where to sleep

A room with a view. With a primo location two blocks from both the waterfront and Church Street, the Courtyard Burlington Harbor offers all the reliable comforts one comes to expect from Marriott. Rooms (from $229 a night) are spacious and classically decorated, and many offer inspiring lake views. The hotel also has an on-site restaurant and indoor swimming pool.
Home sweet home. With no sign out front, the boutique Made Inn Vermont (from $195 a night) feels like an extra-cool secret club. The 19th-century home, set on a pretty tree-lined street just up the hill from downtown, is exquisite, and the vibe is quirky and fun, with a gorgeous part-vintage, part-modern, and all-artistic aesthetic.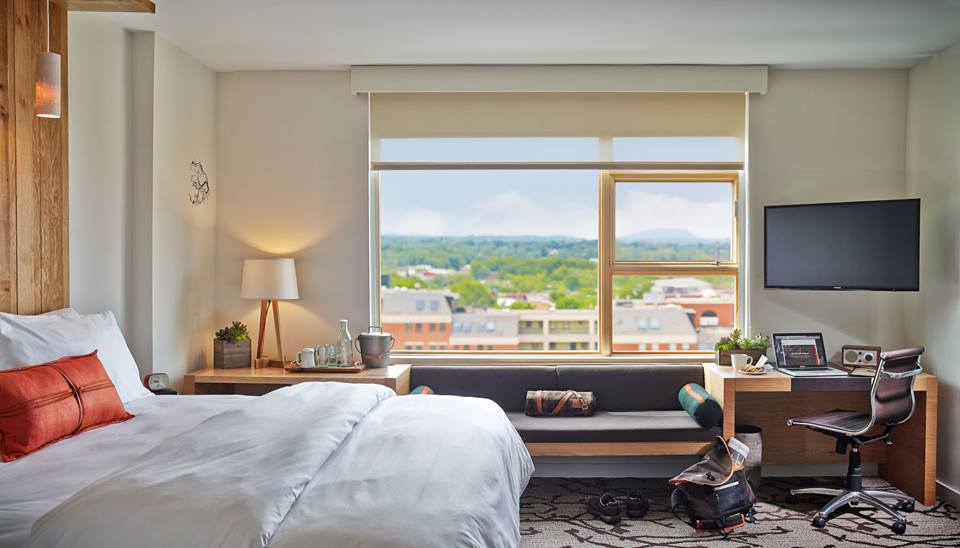 Fun touches like "something musical" abound in each room (mine had a record player) and a library card catalog in the kitchen with a different treasure (Top Ramen, band-aids and toothpaste, stickers…) in each drawer. Nooks and crannies abound, including a "Widow's Walk" that boasts breathtaking views of the town and the lake. And the friendly management, Linda and her right-hand woman Jessica, make you feel like you're staying with friends—and, by the end, you sort of are.
For more lodging options, check out the trendy Hotel Vermont. The hotel offers a complimentary fleet of re-purposed bikes, yoga classes, inventive cocktails and hotel packages, live music and farm-to-table fare at Juniper Bar.
How to get there: Visit Amtrak to book your trip. Roundtrip tickets may run you $135. Visit vermont.org for more ideas on things to do in Burlington.
Photos: Rick, found_drama, RocPX, Lake Champlain Regional Chamber of Commerce, sushiesque, American Flatbread, Made Inn Vermont, Courtyard Burlington

View Getaway to Burlington, VT in a larger map
KPICASA_GALLERY(GetawayToBurlingtonVermont)