In 1825 a New York City businessman paid for fledgling artist Thomas Cole to sail up the Hudson River. On that sketching trip, Cole found his muse—and his new home. He moved to the village of Catskill soon after and lived there the rest of his life. Cole's paintings of Catskill and environs launched the Hudson River School, the first art movement to originate in the U.S. To this day, Catskill bills itself as "where American art was born." In addition to this artistic legacy, Catskill boasts a vibrant arts scene. It also has historic sights, parks and nature. And it's all walkable, if you stay within the village of Catskill. (The village is located within the town of Catskill, which extends some 10 miles west to the foot of the Catskill Mountains and Kaaterskill Falls.)
Art from Cole to Contemporary
At the Thomas Cole National Historic Site, you can tour Cole's house and studio and see some of his other creative endeavors; writing, collecting gemstones and painting decorative borders on the parlor walls. Cole's paintings are displayed in both the house and a gallery on the grounds, and every year the home presents an exhibit by a contemporary artist responding to Cole.
Find Hotels in the Catskills:
To see the work of artists currently living in the area, visit the galleries that line the town's Main Street such as Greene County Council on the Arts/CREATE, Open Studio, M, Rip Van Wagoner's Gallaquarium and HiLo (which is also a café, bar and live music venue). As for the performing arts, Bridge Street Theatre produces new plays as well as original stagings of recent off-Broadway shows and "classics" like The Subject Was Roses and Driving Miss Daisy. The theater also hosts musical performances, literary events and special engagements. Concerts, dance, theater and other cultural events are also held at the Lumberyard Center for Film and Performing Arts.
Artistic Connections: The Hudson River Skywalk
The pedestrian lane of the Rip Van Winkle Bridge is now part of the Hudson River Skywalk, a pathway unveiled earlier this year that links Cole's home and Olana, the flamboyant estate in Hudson of his protégé and fellow Hudson River School master Frederic Church. Another walkway over water is the former Catskill Creek railroad bridge, built in the 1880s. It's located north of the vehicular crossing at Bridge Street—access it from West Main Street just past Catskill Middle School or from Water Street next to the Crossroads Brewing taproom.
Explore Main Street
Start at the Rip Van Winkle statue near Union Street and stroll a half-mile or so down historic Main Street, whose architectural highlights include neo-Classical banks, a courthouse with elaborate pediment, a two-towered Gothic church and structures from Catskill's 19th-century industrial heyday. Its Victorian storefronts are now filled with artisans' studios, boutiques, antiques dealers and specialty retailers. It gets residential farther south around Greene Street, with several distinctive—and old—houses dating back as far as the 1790s.
East of Main, walk on Prospect Avenue and Liberty Street whose houses offer a great survey of 19th-century residential architecture, with such eye-catching elements as mansard roofs, gingerbread trim, half-moon windows and bracketed cornices in the mix. Continue onto nearby Spring or William Street to see other impressive homes.
Back to Nature
The 400-plus acres of Audubon's RamsHorn-Livingston Sanctuary encompass a tidal swamp that acts as a natural filter and buffer for the river. Get a panorama from atop the four-story observation tower, and follow various blazed trails (totaling under two miles) through marshland and forest; you can even go canoeing on RamsHorn Creek.
Another green space worth visiting is Beattie-Powers Place, a private estate-turned-public park. Head past the columned antebellum mansion to the vast, hilly lawn with a spectacular view of the Hudson. Just south of Beattie-Powers on Prospect Avenue, look for the nature trail entrance at Harrison Street. This is the Catskill River Walk, a woodsy route onto a bluff overlooking the Hudson. Stay on it, and you'll come out at the riverfront park Dutchmen's Landing. The benches there offer a peaceful, photogenic spot to rest.
Where to Eat in Catskill, NY
Both Creekside Restaurant, on the west side of Catskill Creek, and Frank Guido's Port of Call, on the river at the foot of Main Street, offer waterfront dining at reasonable prices, with wide-ranging though seafood-intensive menus. New York Restaurant serves American and Polish cuisine, and its excellent $4 happy hour covers wine, draft beer, mixed drinks and select foods, including pierogi and house-cured kielbasa. You might also enjoy perusing its display of artifacts from the same-named 1920s chophouse that occupied the site. Also have a drink with a side of history—and pirate knickknacks—at Captain Kidd's Inn, which occupies an 18th-century building where President Martin Van Buren got married. For breakfast or lunch, check out A Taste of Catskill, featuring a hand-written menu of the day's specials and the work of local artists on the walls.
Where to Stay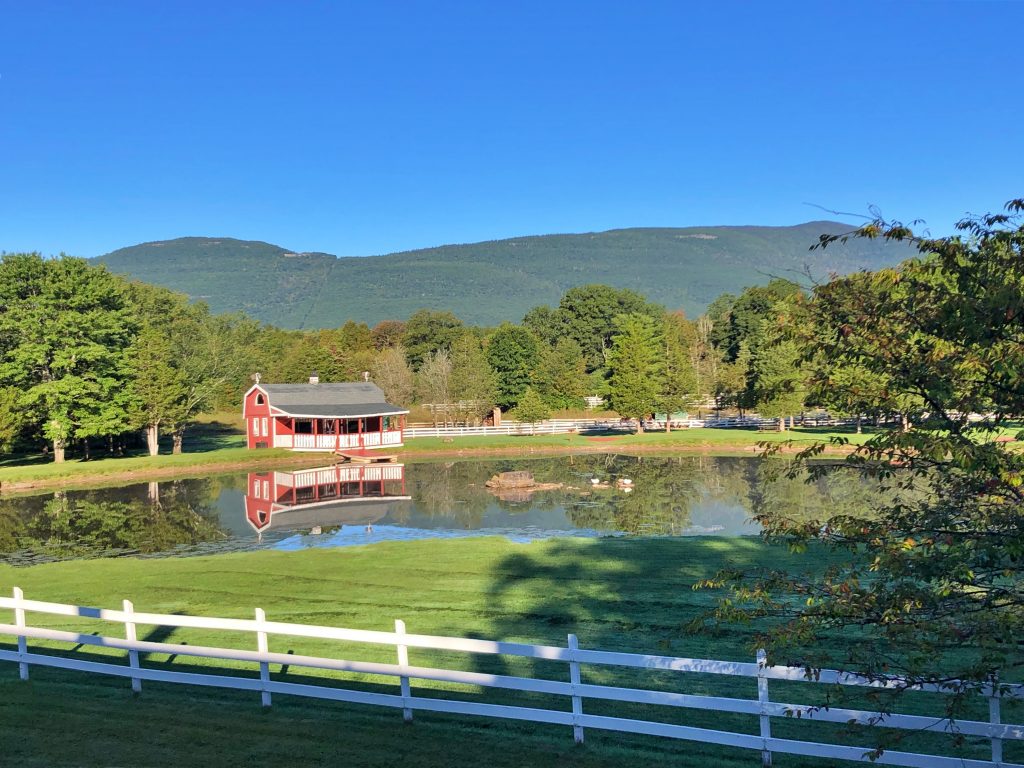 Lodging options are extremely limited within the village, but a taxi ride away, enjoy an exclusive experience at The Kaaterskill—which looks like a farm on the outside and an art collector's lair on the inside. The abundant art and decorative objects in guest and common rooms are eclectic albeit heavy on Buddhas and cherubs. Each spacious suite features a hot tub, stone fireplace and terrace with bucolic mountain view. There's plenty of room to relax or roam outdoors, as the grounds include a pond and creekside hiking trails. Your stay at The Kaaterskill is unattended: You receive an email after booking with instructions for arrival and the caretaker's phone number if a need or problem arises, but nobody checks you in and there's no reception/concierge staff or daily housekeeping. You won't, however, be alone: The property is home to a menagerie of farm animals, peafowl, llamas and alpacas that you're welcome to visit with.
Get to Catskill from NYC
Ride Amtrak to Hudson, a two-hour trip. From the Hudson train station, the 10-15-minute ride by taxi or Uber/Lyft to Catskill costs about $15. You can also take a Trailways bus to Catskill; the shortest trips (2½ hours) are on a commuter's schedule, so departures from NYC are in late afternoon and evening. The Catskill bus stop is off the NYS Thruway, a couple of miles outside the village.