Some destinations feel purely like vacation spots, others feel instinctively like home. The Catskills are a place you can settle into and stay awhile. Pick a couple of towns and really get to know their main streets. Even though you may only have a weekend, make the most of it by lingering over pancakes and coffee talk with the owner of a charming cafe, spreading out a picnic on your Kaaterskill Falls hike, and keeping your eyes wide open as you speed across a mountain zipline at 60 mph. Take it all in. It's beautiful here.
Get Outdoors
People claim the Hudson Valley has all the cultural charm while the Catskills are incredibly adventure driven. Half of that is true. In summer, ski slopes trade their snow for sand dunes and offer mountain biking that is more extreme than your average trail. Windham Mountain boasts the longest jump on the East Coast.
If you'd prefer to seek thrills of a more controlled variety, strap onto a zipline at Hunter Mountain. They have the longest, fastest and highest zipline tour in North America, and those descriptors don't feel like exaggerations once you reach the jumping off point. The bird's eye view is once-in-a-lifetime level pretty, and the young local guides make you feel like you're in good hands.
Eat + Drink
Make a point to dine at Maggie's Krooked Cafe & Juice Bar in Tannersville. We made the seemingly unremarkable choice of ordering pancakes one morning, and our lives will be forever changed because of it. Maggie's doesn't make ordinary pancakes—hers include toasted grains and are incredibly textural and gorgeous.
Speaking of good food, the famed Phoenicia Diner in Phoenicia is all about cooking farm-to-counter classics with a spin. Their tortilla soup is flavorful and their CBLT (crab cake with bacon, lettuce and tomato) is phenomenal. The whole vibe is transportive in the best kind of retro way, and they serve drinks in the evenings.

Stay Here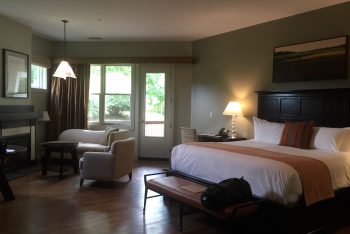 The Emerson in Mount Tremper has undergone a recent renovation. Among its many draws (spa, sophisticated on-site dining, swimming pool, a little stream running behind the resort), it is home to the world's largest kaleidoscope. It's a sprawling property that feels both vintage and comfortably modern, with amenities to match.
If you're looking for something as trendy as your digs back in Brooklyn, book a room at the motel turned hotel The Graham & Co. in Phoenicia, which has a pool, free bikes, and no in-room TVs, because togetherness and nature!
Insider Tips

While you're in the neighborhood, pass through the town of Woodstock for some heavy 60s nostalgia, but more importantly, make your way to Bethel Woods, the actual site of the festival, a fascinating museum and a performing arts center.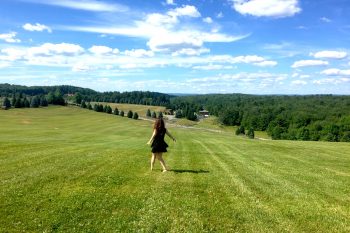 How to Get to the Catskills without a Car
Take Amtrak or Metro North along the Hudson where you can jump off and rent a car or hire a taxi to get to your destination. You can also ride the Trailways or Short Line bus. If you pick one town to spend most of your time in, once you get there, you can probably walk or ride a bike. If you'd like to hop from town to town, it's best to rent a hybrid car once you get upstate to enjoy as much of the region as possible.
Photo credits: Jim Liestman, Windham Mountain, Hunter Mountain and the author
Carly Pifer is a freelance writer who has been known to follow whims inspired by romantic movie scenes or colorful street style shots to India, Japan, Tunisia and Argentina. After stints living in Seoul, Boston, Paris and Los Angeles, writing and searching for something intangible, she landed somewhat steadily in Brooklyn and has begun to find inspiration in her more immediate surroundings (and also the permanence of her bookshelf). She writes about fashion for Refinery29 and has been known to pack an outfit per day on backpacking trips. Please visit her website to read her travel diaries and other writing on the web at www.carlypifer.com or follow her on instagram .