With temperatures soaring in New York City, a trip to the beach becomes a necessity. While the Jersey Shore or the Hamptons may be great weekend getaway options, Rockaway Beach in Queens is without a doubt the best option for a quick day trip. Head to the eastern edge of New York City to find adventure, an ever changing roster of delicious eateries and ongoing cultural events.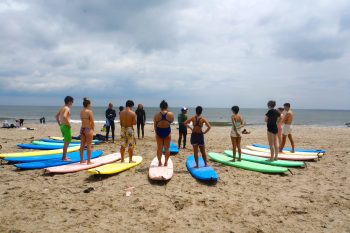 Get Outdoors:
On a hot summer day, the best part of being by the beach is finding the water. In Rockaway you can rent a surfboard from Breakwater Surf, Boarders or Station or for newer surfers take a beginner class with Skudin Surf School. For calmer waters, explore Jamaica Bay by stand up paddleboard or try your hand at SUP yoga with A Team Paddleboarding to find some zen.
Eats + Drinks: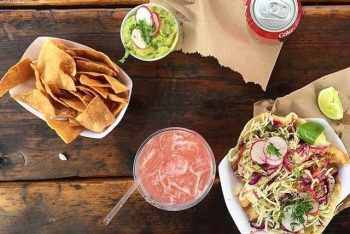 The go-to spot for post beach eats & drinks is the Rockaway Beach Surf Club where Tacoway Beach serves up its famous fish tacos in the club's backyard patio. Or try out Rockaway Beach's newest eatery, Bistro 96, a Brazilian cafe offering everything from Açaí Bowls to pastries (Brazilian empanadas) and fresh fruit juices.
Insider Tips: Get your culture on by checking out the installations by the Rockaway Artists Alliance or attending free dance performances at the annual Beach Sessions.

How to Get There: The A train will take you directly to the beaches from 67th street and down. To get to the higher number beaches (90 and up) switch to the S train at Broad Channel. Get ready for the 2017 return of the Beach Ferry which will pick up and drop off from Manhattan.
Photo credits: Rockaway Beach Surf Club (tacos), David Knapp (surfers)
Sarah Knapp is a Brooklyn -based entrepreneur whose love for the outdoors and community building led her to the October 2013 creation of OutdoorFest. She has a BA in History, is a Wilderness First Responder and a NY state hiking, camp and boating guide. Her proudest achievement to date is reading the Aeneid in Latin.