With fall officially upon us, it's hard to miss the photos of vibrant foliage inundating our Instagram feeds. And with Vermont — arguably one of the best states in the country to see this annual explosion of colors — there's no reason not to put down the phone and see what the hype is about for yourself. We checked out a few of our favorite Vermont Towns to visit by train this fall.
Each year, as the temperatures begin to drop and the first signs of fall emerge, almost 1.5 million visitors head to Vermont, which is easily accessible from New York by Amtrak, to explore its charming small towns. By mid-October, the trees are cloaked with bright reds, yellows, and oranges. Brisk mornings are often filled with cider donuts and warm mugs of apple cider.
The Amtrak Vermonter, which offers daily service from Penn Station, stops at nine different destinations throughout the state, making it easy to embark on a car-free foliage tour across Vermont.
Whether you are hoping to try your first cider donut or simply stroll the quaint towns and tranquil trails among the country's best fall landscapes, here are a few of our favorite fall destinations in Vermont.
5 Vermont Towns to Visit This Fall, By Train…
Montpelier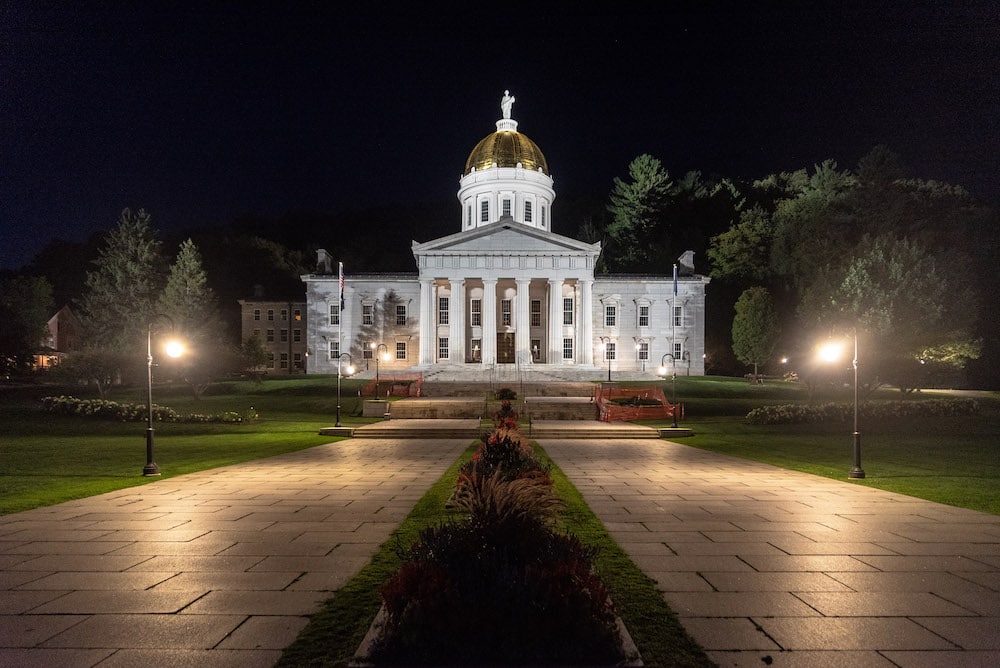 Montpelier is both Vermont's state capital and the largest urban historic district in the state. Though the town's population grows on weekdays due to Vermonters commuting to the business district, Montpelier maintains a classic New England small-town feel.
The town's streets are lined with independently-owned boutiques, cafes, and restaurants, perfect for wandering after a day of adventure or during a leisurely morning. Behind Montpelier's most striking architectural and historical attraction — the State House — lies Hubbard State Park, which features a short trail leading to a stone tower, offering panoramic views of the surrounding area and stunning foliage.
The city is also home to a thriving art scene, with a variety of performances, events, concerts, and even an annual film festival taking place throughout the year. For those interested in culture and history, check out the U.S.S. Montpelier Naval Museum or the T.W. Wood Gallery and Arts Center.
White River Junction
Thanks largely in part to local artists and entrepreneurs, White River Junction has seen a revival in recent years and is one of our favorite Vermont Towns to Visit this year.
Located at the confluence of the White and Connecticut Rivers in east-central Vermont, White River Junction is home to a theater, museum, historic hotels, local restaurants and shops, and the Schulz Library, which focuses heavily on a unique collection of cartoons and comics.
In addition to the pedestrian-friendly downtown, nearby hiking, and walking trails, and the town's historic buildings, it's proximity to two major rivers make it the perfect place to explore the foliage. For those who want a unique perspective of the town and surrounding foliage, consider renting a canoe or kayak and hitting the river.
Waterbury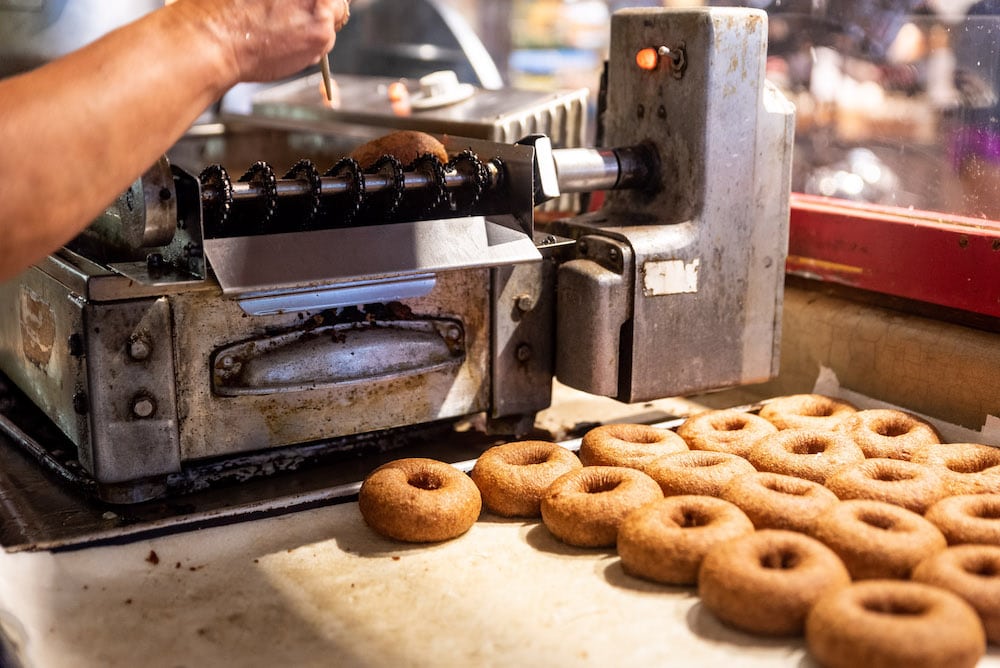 Nestled between Stowe and the Mad River Valley, Waterbury is perfect for experiencing fall in Vermont. While the town itself is on the smaller side, there is no shortage of delicious food, world-class beer and outdoor adventure to be found.
In Waterbury, head to Prohibition Pig or Blackback Pub to enjoy some of Vermont's best craft beers after a long day of hiking or mountain biking. Those with a sweet tooth will enjoy a tour the Ben and Jerry's ice cream factory or fresh apple cider donuts at the Cold Hollow Cider Mill.
Historic inns, artists, chefs, musicians, and outdoor enthusiast shape Waterbury, encompassing Vermont's deeply-rooted traditions.
Saint Albans
Saint Albans, or "Railroad City," as it was once called, is located in Northwest Vermont on the shores of Lake Champlain. The city is known historically for its railroad history and its involvement in the Civil War, but it is now becoming increasingly popular as a destination for tourism in Vermont.
Today, revitalized streets are home to specialty shops, two breweries, award-winning restaurants, and plenty of green space and classic Vermont countryside. Its location near Lake Champlain makes it perfect for paddling or simply walking along the shores of the state's largest lake, taking in the fall foliage along the way.
While in town, be sure to stop by the Saint Albans museum to learn about the area's rich history.
Burlington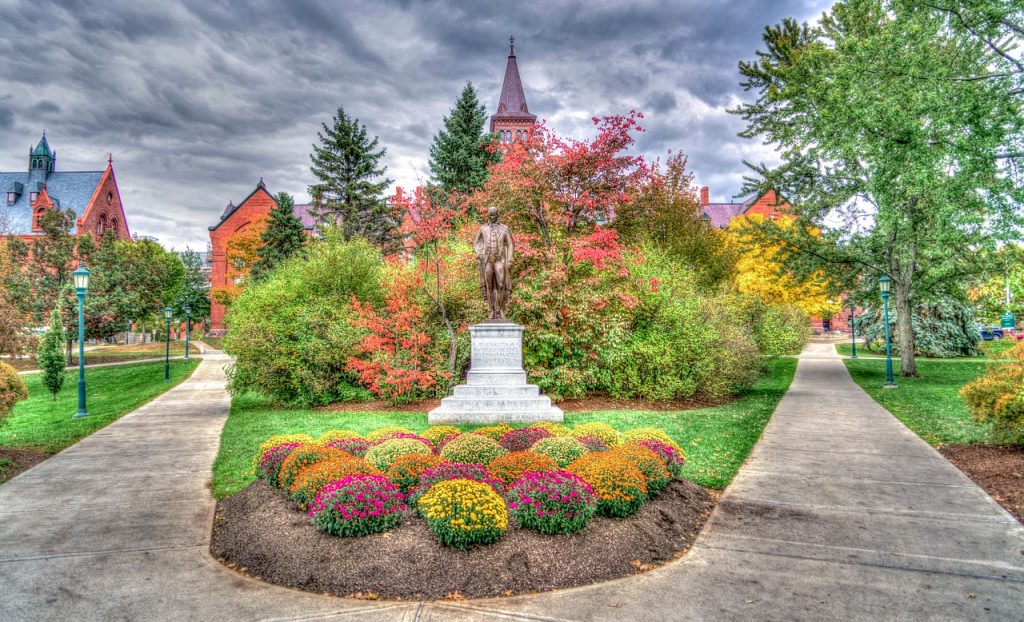 Burlington is Vermont's largest urban area and a popular destination year-round, and rightfully so. While it does prove to be a stark contrast to other small towns throughout the state, the city does have a walkable and bikeable downtown, local cafes and shops, and enough outdoor recreation in the surrounding area to last a lifetime.
Stroll the lively Church Street, which is a pedestrian-only street lined with restaurants, stores, boutiques, bars, and coffee shops. The waterfront area around Lake Champlain is perfect for taking in views of New York's Adirondack Mountains and watching people recreate on the lake. There are also a number of restaurants, breweries, and bars with outdoor seating by the waterfront. Craft beer lovers should check out FOAM Brewers, which overlooks Lake Champlain and offers a variety of beer styles, from sours to pilsners to IPA's.
Burlington also has a lively nightlife, with plenty of bars, live music, and events, perfect for enjoying chilly fall evenings before winter fully sets in.
Get there:
All towns mentioned above are serviced by Amtrak's Vermonter, which offers a daily route to and from Penn Station. Once in town, local inns and taxi services are often able to assist with transportation needs.
For more ideas on where to stay and what to do, head to VermontVacation.com.
Josh Laskin is a freelance travel writer and photographer based in the White Mountains of New Hampshire. When he is not at work or on the road, you can find him in the mountains snowboarding, climbing, hiking, fly fishing, mountain biking, and eating bagel bites.