COVID-19 pandemic has certainly changed a lot of things about our lives. Because of the restrictions imposed in countries, people worldwide are now expected to stay at home and avoid contact with people outside. The pandemic has significantly affected all business industries and even the lives of the locals.
Working from home is now the new norm and it's very much become acceptable to socialize over Zoom while staying separated at home. Working remotely has been one of the solutions implemented by many businesses to ensure that their operations continue without sacrificing the health and safety of their employees.
But a surprising trend that is starting to emerge, is that people still want to travel. They're just changing how and where they go. As many countries now start to open domestic and international borders, people are slowly getting their way back to traveling. Still, they must follow all the necessary safety protocols.
7 Travel Gift Ideas You Can Get Your Loved Ones This Holiday Season:
This situation has also changed the possible list of holiday travel gifts. There are many ideas that you can choose as presents, many of which have previously not been considered useful but are now a must. If you're looking for a unique travel gift idea for your partner, we've gone over seven topical ideas for you below.
1. Face masks
It certainly is a sign of the times when a face mask is number one on a list of travel gift ideas. In fact, some countries or states will not allow people to enter the vicinity unless they have their face masks on.
There's no getting around it. Having a face mask is very important these days. Depending on where you find yourself, you might even be deprived of certain services without it. In many places, it's a must to have a mask on, else you'll get into trouble with the authorities.
The best part is that it doesn't have to be boring, because, with Hoorag facemasks, for example, you can get a variety of cool colours and styles – all while most importantly, keeping yourself and those around you safe.
Masks come in many different types of materials, shapes, colors, and sizes, allowing you to If you want your recipient to wear a unique fast mask whenever they're traveling, opt to have the item customized. You can pick the recipient's favorite pattern or even indicate their names in the face masks you're going to give them.
If you opt for a more fashionable gift – bandanas can serve as makeshift face masks in a pinch by providing basic coverage for the mouth and nose. They can help reduce the transmission of respiratory droplets.
With a wide selection of travel-inspired customized bandanas, you can find something that will fit your loved one's style and make them feel special. Whether they're avid backpackers, frequent flyers, or just like to explore new places, these personalized bandanas are sure to make any trip more enjoyable. Choose from different prints and colors to create a one-of-a-kind gift that they'll be sure to love. Make their next adventure even more memorable with 4inbandana.
You can check out this video of Hoorag:
2. Power bank
You can't go wrong when gifting a power bank. It's one of the most popular travel gift You can't go wrong when gifting a power bank. It's one of the most popular travel gift ideas. Regardless of where the recipient likes to travel, they'll always need a power bank to make their trip more fun. This device allows them to charge their smartphones and cameras on the go, which means that they can continue to use these gadgets throughout their trip.
For a traveler, having a portable charger for your phone, laptop or even both can be a lifesaver. We've all no doubt experienced getting to a hotel room or rest stop and only having access to the single power point. The only thing worse than being stranded in an unknown location is being stranded with a phone that has a dead battery.
A power bank can also be very useful for people who work at home. Even when they're out and about, perhaps they still need (and want) to do a bit of work to stay productive. By offering a power bank as a gift, they'll be able to continue to use their equipment even though they're at home or on a holiday.
Don't let your partner be the one that's caught out.
With the number of power banks available in the market today, you won't have any problem finding one that suits the lifestyle of the recipient and your budget. For you to find the best options available, start your search early so you can still compare different power banks.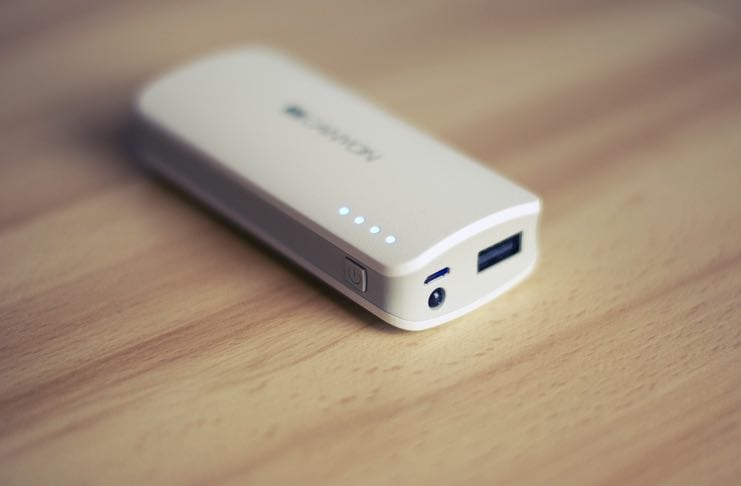 Since we love green stuff – we recommend picking a Solar Power bank. These are usually equipped with a compact solar panel that can recharge the battery itself under sunshine.
These are eco-friendly (which we love!) and ideal for outdoor activities (which we love too!). A friendly reminder: These solar chargers can be recharged by solar or outlet. Don't always take the solar option as the main power source, because it will depend on the sunshine intensity and panel conversion rate.
You can find lots of solar power bank options here on Amazon.

3. Compact luggage scale
Have you ever been caught out by extra luggage charges at the airport? Aside from making your trip more expensive, this can also become a hassle as you'll likely hold up a line in the airport when traveling.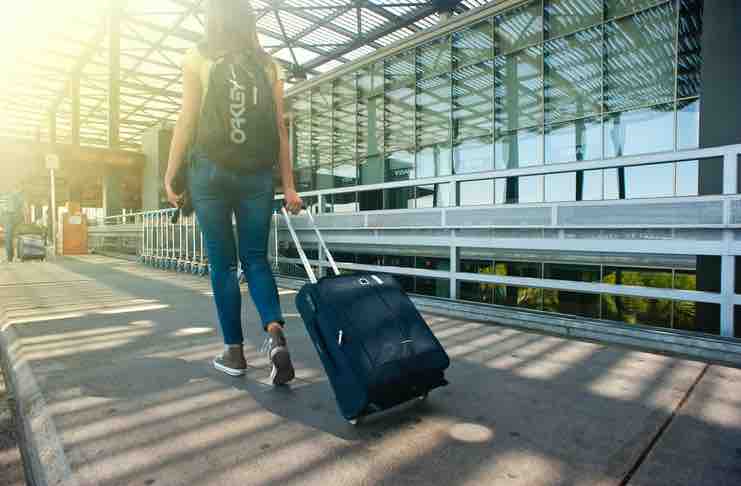 Thanks to social distancing, taking flights are a bit more expensive, so a compact weight scale for luggage is a must-have to ensure you're not going to pay for that extra weight.
Airport duties can be a drag for frequent travelers, and so having this nifty tool will go a long way in mitigating their effect. Weigh all your items at home, before that last-minute stress hits you in the line.
With this gift, you'll no doubt be the hero of the day.
You can find many luggage scale options here on Amazon.
These luggage scales are also extremely useful, especially for those who opt to travel with a hand carry backpack or travel backpack to put all their belongings into. That way, they can save even more without having to pay for any luggage fee.
Because you're opting to bring a backpack, be careful that you don't go overweight with the airline's hand-carry luggage requirements. If you belong to this group of travelers, you may also want to window shop for an EDC bag.
Just like face masks, compact luggage also come in a wide variety of styles and designs. Depending on the personality of your recipient, you can give them printed compact luggage or one that comes in subtle colors.
If you want to take it up a notch, as you're giving compact luggage to your recipient, consider giving them Amex points, as well. This will surely make your recipient's trip more fun as they can use these points to score discounts on their airline tickets and accommodation.
4. Travel themed jewelry
When it comes to receiving travel gifts, the key is personalization.
You want gifts that your special one can remember moments from your travels that you've shared together, so make sure you put more thought into this one than a travel junk shop at the airport.
Either a bracelet or a necklace is a nice gesture for a traveler. Perhaps you could look out for one of those that feature a favorite destination for you both? Maybe a small engraving of a particular moment you shared together on your travels? The possibilities here are endless.
You can find lots of travel-themed jewelry here on Amazon.

5. Personalised treasure map
While the functional aspect of physical maps are certainly obsolete these days because the GPS apps on our phone do all the work, they can be great gift ideas for a traveler.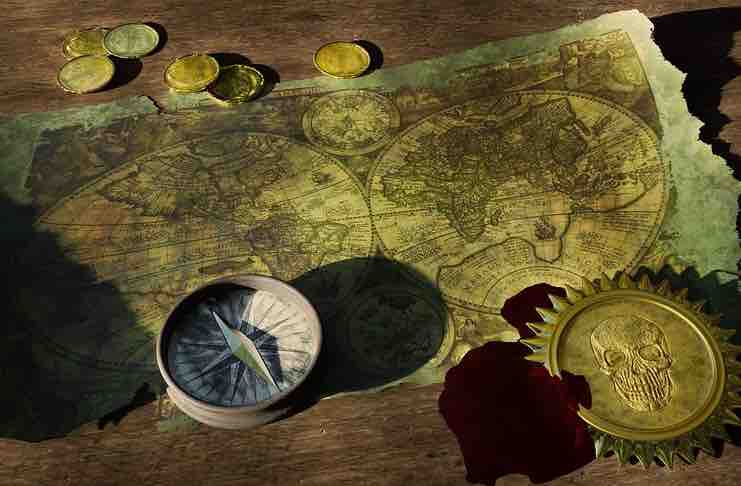 Nothing says safe travels, or please come back home safe like a handmade treasure map that leads from the impending destination of the traveler back home to you.
A fun way of thinking about making these is to make your home the treasure. Even just having this open and on the table while in a distant hotel room will help fight off homesickness because the destination is always back home in the end.
You can find lots of personalized treasure map suppliers on Etsy.
6. Portable cocktail kit
This one is firmly in the fun category when it comes to finding the best travel gift ideas.
Whether it is a long road trip or flight, you don't have to deprive yourself of a quality drink once you reach that lonely hotel room. A portable cocktail kit is particularly useful for travelers who prefer mixing a proper drink on their trip and don't want to rely on straight liquor directly from the minibar.
These kits generally come with a spoon/muddler, tonic syrup, and a linen coaster. As for alcohol, you can either bring your own or source directly from the local bottle shop or hotel minibar to your taste.
You can find a large variety of portable cocktail kits here on Amazon.
7. Smartphone printer
How many of us actually print photos these days? It can be hard to find the time to go into a physical shop to print photos and collect them in 1-3 days. Enter, the smartphone printer.
Easily one of the best travel present ideas you could gift someone, smartphone printers are typically small and highly portable, so you can carry them around in your luggage, without a big fuss – and thanks to clever Bluetooth technology and WI-FI, photos on your phone can now be turned into tangible prints in just a matter of seconds, helping you cherish those travel memories just a little bit longer.
You can find a few smartphone printers here on Amazon.
Final Word
I hope you enjoyed our tips and travel gift ideas. You can also check our sustainable adventure guide which has a few more travel present ideas. With this list, you can now jumpstart your holiday gift shopping.
These gifts will surely be appreciated by the recipient since it's going to be of great use to them. More so, it can ease up whatever stress or worry you may have about completing your holiday shopping list.
All that said, here's us wishing you a happy and safe holiday season!