From planning to packing to looking great on the road, these fun and funky items will put some green in your favorite traveler's next big trip.
Here are the 5 best travel gifts for the globe-trotter in your life.
---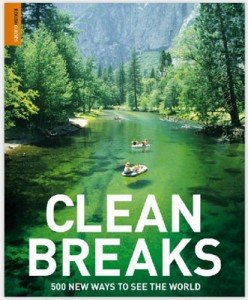 Trip Prep Whether they offset their carbon for every mile traveled or simply love a good eco-resort, Clean Breaks has got their perfect trip covered. The 500 incredible experiences in this beautiful book range from horseback riding along the Silk Route to sleeping in tipis with Native American Indians. Sprinkled in are real ways to not just reduce that carbon footprint but leave a better one behind by making a difference in the lives of local people and the planet. The adventurer (reindeer-sledding in Norway) and the princess (train-hotel from Paris to Madrid) and everyone in between are covered in these pages of green travel bliss.
---
What to Ware: You never know where travel will take your food. Maybe it's a quick to-go meal before missing a train, or perhaps a luxurious alfresco picnic. Either way, no respectable guy or girl on the go should find themselves without reusable utensils. For one, this To-Go Ware Bamboo Utensil Set is quite attractive in its own carrier (made of recycled plastic). More importantly, however, it eliminates the need for disposable plastic utensils, and their drain on our planet. Bamboo wood is a renewable resource that doesn't absorb stains or flavors from food, and this set of spoon, fork, knife, and chopsticks are hand-stained and compact so they'll slip into any purse or backpack.
---
Stay Hydrated: Is this the best stocking stuffer ever? The Platypus DuoLock Softbottle is a flexible water bottle that can easily be stashed in a cupboard, closet, desk, or backpack and then filled and carried for easy use both in the office and while traveling. The best part of these bottles is the DuoLock™, a dual-locking cap for double leak protection so there's no stress about spillage. Plus, the funky patterns makes this sustainably minded gift even more fun to give.
---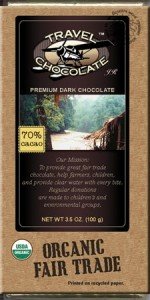 Emergency Stash: The savvy traveler always carries something in case of a sneak-up hunger attack, a delayed plane, or just a craving. Enter Travel Chocolate, purveyor of premium, fair trade chocolate. Not only is this rich, organic chocolate tasty, its purchase allows the company to continue its mission of improving working conditions, restoring waterways, and generally bettering the lives of farmers and the land they work. Circumnavigate the globe with the Around the World set, featuring twenty-four, full-size, regionally-inspired bars for a total five pounds of chocolate.
---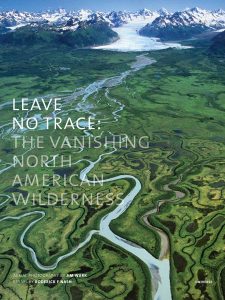 Inspiration: However much of the earth your giftee has explored, they've never seen it from the point of view of Leave No Trace: The Vanishing North American Wilderness. Through the eyes of award-winning photographer Jim Wark and the words of historian Roderick Nash, North American landscapes prove to be extraordinarily beautiful and jarringly endangered—from the Alaskan tundras to Nebraska's otherworldly Sand Hills. These pictures are sure to evoke wows round the coffee table and spark a fiery conversation about what we can all do to help protect our environment.