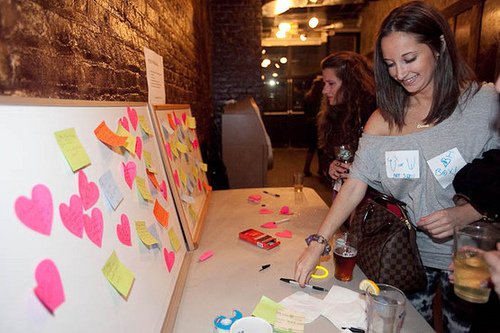 As the first snowfall touches down in New York City and the degrees drop to the low 30s, our thoughts turn to the long, cold winter ahead and how best to get through it. Mulled cider and a crock-pot will help, but so will a good supply of meat, a good recipe book, and a warm body to curl up next to after the feast.
Here are two culinary events, a naughty office party, and one damn good meat share to sate the heart and belly this season (and possibly ever after).

Meat Ballin'
Goodness, gracious, great meatballs of fire. And if you don't like spicy, there are five other balls to learn how to roll at this Brooklyn Kitchen class ($75) hosted by Flexitarian Table author Peter Berley on Thursday, December 9. From lamb balls with Zhoug to duck balls in sweet and sour sauce and pork meatballs with tomatillo avocado salsa, you will leave the borough with easy, home-made recipes that are sure to spoil yourself and your friends from ever ordering meatballs on the menu again.
Meat-Up
When an event is hosted by Fucked in Park Slope, Eaters Digest, and Brooklyn Based, you know there's going to be wrong amounts of fun. BK Meatup's 2nd Annual Naughty Office Holiday Party is back on Wednesday, December 8 at the Bell House. For just $10, you get to enjoy free drinks, sandwiches, good music, and sexy santas, and turn rowdy in the presence of people you don't work with. Amidst all the debauchery, you just may find your one true love. Crazier things have happened.
Share the (Meat) Love
If the price of good meat is leaving a bad taste in your mouth, it might be time to consider a CSA meat share. Beginning this December, join a few friends with similar carnivorous appetites and get deliveries from High Point Farms near Ithaca, NY. For up to $360, you'll get six distributions, including two pounds of ground beef, one pound of bacon, one free range chicken, one mild italian sausage, and two NY strip steaks. All animals are treated humanely and free of antibiotic and growth hormones.
Meet the Meat Writer
Deborah Krasner will be signing copies of her latest book, Good Meat: The Complete Guide to Sourcing & Cooking Sustainable Meat, at the Green in Brooklyn shop on December 18.
Bring the book, which is stuffed with 200 recipes and beautiful photos of beef, lamb, pork, rabbit, poultry and eggs. Come hungry and get ready to start cooking dinner—and dessert, hello bacon peanut brittle!—more nights than usual. You will have a new appreciation for your food and where it comes from. You will make new friends at the farmers markets. And don't be surprised if you start feeling healthier too.
Photo: Courtesy of BK Meatup
The co-founder and editor-at-large at offMetro, Lauren is a sustainable travel specialist and freelance journalist with frequent bylines in National Geographic, Bicycling Magazine and Shape. Follow Lauren's adventures at @laurenmati.