Since April 1st, 2020, New Yorkers can legally drive electric bikes and scooters around the city. This is music to the ears of many delivery drivers and others who wish to drive these electric scooters and bikes to commute through the city. Although there has yet to be any agreement in Manhattan over the legalization of electrical scooters, it is expected that the city will shortly overrule that provision.
With rental services like Bird and Lime expected to invest heavily into different areas around New York, many living in the city have bought their own electrical scooters instead. It is expected many delivery workers and lots of residents around the city will be delighted with these recent changes to the law. Many have been fighting to have these vehicles legalized in the city for years. However, these electrical scooters will be capped at 15mph, and those under 18 years old will need to wear a helmet at all times while driving the vehicle.
Why are so many New Yorkers Buying Scooters During the Pandemic?
Covid-19 has been devastating for many businesses, companies like Bird, an electrical scooter rental service, have been hit hard forcing the company to make drastic decisions. They have had to lay off 30% of their employees due to the effect the pandemic has had on the industry. Bird's main competitors, Lime, were also forced to let go of many of its team members to keep them from going bust.
Plenty of people in New York, whether they live there, or they are just visiting the city, use public transport on a regular basis. However, since the pandemic hit, many have tried to avoid using these modes of transport as they worry about contracting the deadly virus.
New York has been hit extremely hard during the pandemic, so people in these areas are often extra careful, especially when it comes to practicing social distancing and wearing masks. However, in cities like New York, it can prove difficult because of its large population. Even during the pandemic, it is extremely hard to keep two meters away from others, especially in public transport.
It's no wonder that sales of electric scooters have been increasing during the pandemic. People have been forced into rethinking the way they commute around the big apple to stay safe, and many feel that electrical scooters are the answer.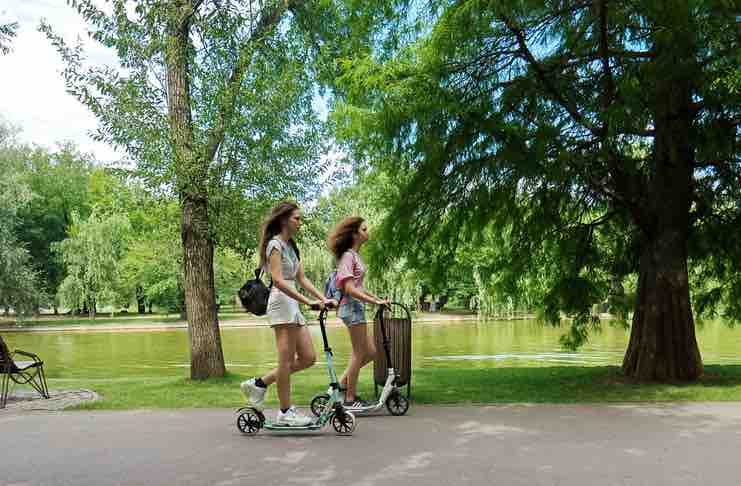 It will save you Money
Unless you walk or cycle around New York, it seems every other mode of transport is going to end up burning a big hole in your wallet. The cost of taxis, uber rides, the subway, etc. can all end up costing a pretty penny. The cost of gas, insurance, taxes, and maintenance, plus the price of parking in the city will give car owners sleepless nights!
To help avoid these costs, many folks living in New York have bought themselves an electric scooter instead. These futuristic vehicles can cover approximately 40 miles in distance without having to recharge the batteries. You will find yourself saving a mini fortune on gas. In fact, you save as much as 96.4% compared to gas cars.
The faster you ride the scooter, the longer life you will get out of the batteries. Plus, you can easily bring them on the subway, or in a taxi if you get stuck somewhere. You don't need to have insurance or have to pay an annual tax on the device.
During the Pandemic, many people have been made unemployed, so finances for lots of families have been tight. To help them save money during these unprecedented times, an electrical scooter can prove to be a fantastic solution.
Prices vary when it comes to purchasing a new electrical scooter, and they are not that expensive to maintain either. The initial cost of an electrical scooter is a lot cheaper than a new car, or even a new bicycle. Most leading manufacturers in the industry are so confident with their scooters that they give all their customers one-year warranties.
Help you Save Time
It can be very time-consuming trying to get from one area in New York to the other. Stuck in traffic, waiting for your Uber to arrive, and hopping on and off the metro can feel like it is taking up your whole day. Electric scooters on the other hand, are designed perfectly to weave in and out of traffic, even during rush hour.
Rather than sitting in a taxi that is barely moving due to all the cars on the streets in New York, a scooter is an ideal alternative. During busy times of the day, you will be able to reach your destination in a fraction of the time in comparison to other vehicles.
Electric Scooters can Help you Stay Fit
Plenty of people around New York are keen to maintain healthy physic. Not only can riding an electrical scooter help you lose weight, but they are great devices to help improve both your balance and coordination. In fact, many people like to add riding an electrical scooter into their workout routine.
Many electrical scooters on the market today have different modes. Even when you have the device in "normal mode" you will need to use a small bit of your own energy, however, you have the option to push with your leg. This is an ideal workout and will help you feel energized and will also help you burn calories.
Recent Electrical Scooters released are much Safer
In comparison to scooters released in the market in the past, modern electric scooters are a lot safer. Here are a few safety features you can expect in a modern scooter manufactured from a reputable scooter company:
Electric Brake lights: These are normally red LED lights just above the back wheel of the scooter.

Electric Brakes

Shock Absorbers

Dual Brake System
Although the law in New York only states that those under 18 years old have to wear a helmet, it is highly recommended that every individual should. Even if you're well experienced, you should wear a helmet while driving the electrical device, especially in urban areas.
One of the issues riding electric scooters is that others driving different vehicles don't see the person on the scooter, often leading to an accident. This is why scooter manufacturers and authorities recommend people to wear helmets. Plus, modern scooters can reach high speeds, and accidents can lead to hospitalization and even death.
Summary
If you purchase an electric scooter and it doesn't include a helmet, considering purchasing one separately. Also, keep in mind that these devices are designed to handle one person and not two. Before purchasing the scooter, make sure you check the weight limit of the model.
Although bicycles are extremely useful and they can help you save a lot of money while commuting around New York, they are no way as portable as electric scooters. These vehicles are lightweight, and most models are foldable which makes them extremely convenient.
If you go on a short getaway near NYC, you can fold up the device and put it into the trunk of your car, or even bring it on a flight with you. Most of these devices don't weigh over 20 pounds. Around New York, there are recharging stations just in case your device runs out of battery while you are in the city.
Karen works for a big hedge fund, she's awesome with numbers and loves what she does, but above all – she loves traveling. Whenever she's on the road, she tries to get into the gritty tiny details of every location she explores.