Looking for something to do in NYC on Friday 2/10? The team at Via Carota has dreamed up the ultimate sipping experience and if you're one of the lucky few to snag a reservation through Resy, you'll have the opportunity to enjoy the brand-new, Via Carota Craft Cocktails (VCCC) at the buzzy, recently opened, Spazio Creativo (across the street from Via Carota at 50 Grove)!
To celebrate the emergence of these lovely libations, guests can purchase a $25 ticket (per person) to The Tasting Room by Via Carota Craft Cocktails via Resy HERE in order to reserve a 30-minute tasting window between the hours of 6pm to 9pm. The limited-admittance tasting experience will also include a selection of Via Carota's beloved salatinia. All profits benefit The Greenwich Village Film Festival. Guests must be 21+ to RSVP.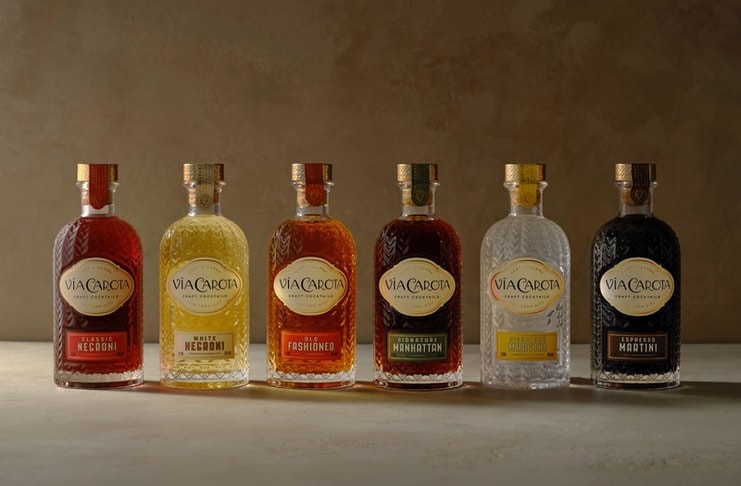 Those who wish to purchase the cocktails for their own bar carts can order through the Via Carota Craft Cocktails website, drinkviacarota.com . All individual cocktails are $39 and sets of two cocktails with two cocktail glasses included are $99. Free shipping is available for orders over $75.
This event represents the kickoff of a series of popups that will take place at 50 Grove Street in the near future. Stay tuned for more! Please see below for additional details about this pop-up event and more information about their family of ready-to-pour cocktails.
EVENT DETAILS
Title:

The Tasting Room by Via Carota Craft Cocktails
Description:

Cocktail soiree put on by the team at Via Carota to welcome Via Carota Craft Cocktails, the lineup of premium, ready to pour cocktails, designed to evoke the relaxed elegance inherent in the spirit of Via Carota to lovers of fine cocktails nationwide in a category-defining way. This new line of products encapsulates the finest craft cocktails, perfected in New York City and ready-to-pour anywhere. Via Carota Craft Cocktails bring the warmth and hospitality of the West Village via wherever you are. The cocktails will be served on a tasting basis along with salatinia from Via Carota. All proceeds will benefit the Greenwich Film Festival. Guests must be 21+ to reserve.
Date:

Friday, February 10
Time:

6-9 pm (30-minute time slots)
Please note that reservations are limited to 30 minutes and are standing room only
ABOUT VIA CAROTA CRAFT COCKTAILS
Elevated, classic recipes meet bar cart-worthy packaging to offer a unique cocktail experience. Via Carota Craft Cocktails (VCCC) was created to bottle the warmth and relaxed elegance of the beloved West Village restaurant, allowing you to enjoy a perfectly-balanced craft cocktail, wherever life finds you. VCCC's range of craft cocktails currently includes the following: Classic Negroni, White Negroni, Old Fashioned, Signature Manhattan, Espresso Martini, and Signature Martini, with additional cocktails and formats to come before long.
Negroni Family:

Classic Negroni and White Negroni

Bourbon-Based Cocktail Family:

Old Fashioned and Signature Manhattan

Martini Family:

Espresso Martini and Signature Martini
ABOUT GREENWICH FILM FESTIVAL
Greenwich Village Film Festival is not only about the amazing place we all love, Greenwich village, it celebrates a creative state of mind. Their mission is to honor and keep alive a sense of community and creativity by bringing together new independent artists and their work.
View this post on Instagram