Looking for some fun travel books for your NYC family holiday? The choices are overwhelming, so I'll try and help you narrow down the options and choose a few lovely travel books that you and your kids can enjoy together. There are lots of different styles out there, from cool city activity books, inspirational travel stories, to colorful destination guides.
I always pack a few fun guide books when I travel with my family. My kids love reading and learning about every destination we explore, and the books really help me keep them entertained.
You might be a bit uneasy about the idea of traveling to NYC with your family, but don't be. It's the perfect city for traveling with kids. There are beautiful places for them to see, great food (that kids love), and an endless amount of things to do with kids of any age. From Central Park which is loaded with playgrounds, the countless museums in the city, the Broadway shows, ice skating, climbing, swimming, and so many more recreational facilities for any age.
So what are my favorite NYC travel books for the family? Well, the list is quite long, so I narrowed it down to my top five. Check it out!
5 Must-Read NYC Travel Books For Kids
This is definitely one of the most fun-filled NYC travel books I've encountered. But how can it not be, written by the National Geographic Kids team – you can understand why it's my #1 pick.
This wonderfully illustrated book will take you through NYC's storied history, and guide you through 300 wacky facts and visuals of the city's 5 boroughs. For example, did you know that 25 different shark species lurk off the Big Apple's coastline? Or that the bright neon lights of Times Square can be seen from space? How about the secret staircase inside the Washington Square Arch that leads to the rooftop? Yup, you'll find more about it in this book, and there's so much more!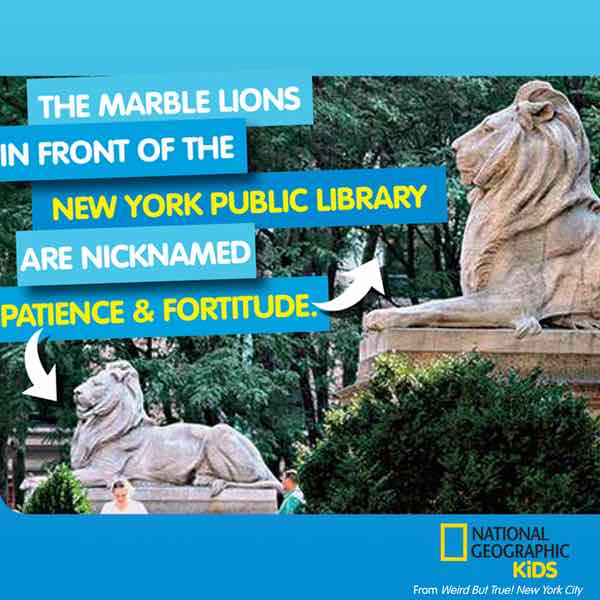 Did you know that NYC is home to the largest urban Zoo in the United States? Yup, it's the Bronx Zoo, and you should definitely drop by for a visit. The book will tell you how it houses more than 50,000 hissing cockroaches (which can grow to more than 3 inches long!), and that more than 70 snow leopard cubs were born there, among many other fun facts.
Moreover, this fun and adventure-packed book reveals that Sesame Street is a real place in NYC (and where you can find it!). It will also show you a unique library where you can drop by to see the actual stuffed animals that gave inspiration to Winnie the Pooh's characters! Isn't that amazing? I myself, as an adult, was so curious to visit this library.
So even if you think you know NYC, think again with this National Geographic's Weird But True New York City. You and your family will learn so much more fun and weird stuff about the Big Apple —like why New York City is called the Big Apple!
National Geographic Kids definitely knows how to inspire young adventurers to explore places through its fun and engaging books. Plus, it's the only major kid's publication with a world-class scientific organization at its roots.
You can get the book here on Amazon.
This is another one of my favorite NYC travel books. It's actually a guidebook suitable mainly for kids ages 4 to 12, with lots of detailed family-oriented content. You can definitely plan your NYC holiday with the help of this book.
It will guide you on a little treasure hunting adventure at the Met (the Metropolitan Museum of Art), take you ice-skating in Central Park, and help you explore famous destinations like the Empire State Building and the Statue of Liberty.
What I like about this book is how the authors, DK Eyewitness Travel Guides, build a day-plan around each major attraction. This includes eating options, maps with the nearest playgrounds, parks and also public restrooms (very important!).
There are also nice "Take Shelter" sections for each major attraction, with tips for indoor activities during rainy days. All this is put together with nice illustrations of NYC's major attractions.
What else will you find there? Lots of cartoons and photos, short quizzes and riddles, games, and puzzles that will definitely entertain your kids.
You can get the book here on Amazon.
I love pop-up books, and pop-up books about NYC are especially thrilling. Why? Because of the uniquely stunning visuals that can be produced in this city.
This book was actually written and illustrated by Jennie Maizels who lives in England and wrote numerous children's books, including Pop-up London. Pop-up New York features beautiful two-sided pop-up images of NYC's skyscrapers, museums, bridges, and much more, together with illustrated flaps with interesting facts about each site.
You'll find there all the old famous NYC attractions like the Statue of Liberty, Times Square, The Empire State Building, Grand Central Station, the Botanical Garden, the Bronx Zoo, as well as some of the newer landmarks like the Freedom Tower (One World Trade Center), the 9/11 Memorial, and more.
It's a beautiful 3D interactive guide of the Big Apple, which will definitely put you into that awesome New York state of mind. In my opinion, it'll entertain kids of all ages, and even some adults (I enjoyed flipping through it!).
You can get the book here on Amazon.
If you're more of the active adventurous type of family (or your kids are and you just want them entertained), then this is a great book to have on your trip to NYC. The Scavenger Hunt Adventure (™) series are experts in taking kids (and young adults) through popular destinations and engaging them with intriguing scavenger hunt activities while discovering city landmarks.
Kids (and adults) become "Secret Agents" that go on special operations, like "play tourist" and blend with your surroundings – just in order to find info about a location. For example, visiting the Met (Metropolitan Museum of Art) is a totally different experience – with this book. The "Secret Agents" are tasked with searching out specific paintings, giving their own critical report on each painting, comparing between works, and more.
There are a total of 12 destination-specific "missions" in the book, covering some of NYC's most beloved attractions (like the Rockefeller Center, Statue of Liberty, and more). Each "mission" also includes plenty of information about the site of "operation" 🙂 It's definitely a unique and fun way to explore the Big Apple with kids (and adults).
You can get the book here on Amazon.
I love this book for the way it puts the whole trip into the hands of the kids reading it. From the holiday planning stage at home to packing the necessary stuff, of course, all the trip action stuff and up to returning back home.
The Kids' Travel Guide – New York City practically makes your kid in charge of becoming the family tour guide. The book provides them with all they need, from fun facts, daring tasks, useful tips, lively quizzes, coloring pages and more.
It's another book that will get your kids unplugged from their phones and iPads and put them in charge of exploring the Big Apple almost as adults. I like the special spaces in the book that are intended for the kids to document their thoughts and experiences, and paste pictures. At the end of the trip, the guidebook becomes a small diary and a beautiful souvenir.
You can get the book here on Amazon.
Are you still a bit apprehensive about traveling to NYC with your kids? Well, I'm sure these books will make your holiday much easier, relaxed, and a ton more fun!
Want to read more of our latest posts? Check out our trip to Martha's Vineyard.
Karen works for a big hedge fund, she's awesome with numbers and loves what she does, but above all – she loves traveling. Whenever she's on the road, she tries to get into the gritty tiny details of every location she explores.