Mount Desert Island redefines beauty. Its crown jewel is Acadia National Park, the only national park in the Northeast. The park encompasses nearly half of the island, offering a wide range of recreational activities with dramatic views.
The 49,000 acres are a testament to private philanthropy, with much of the land given to the park by the Rockefellers. Many of their descendants continue to summer here, drawn to the traditional lifestyle and rugged good looks that define it.
The island's rustic villages embody the authentic spirit of Downeast Maine. Lively Bar Harbor is the most developed, but Southwest and Northeast Harbors are full of possibilities. Residents understand that this land is worth protecting, so keeping Mount Desert green and pristine is a priority. Forward-thinking initiatives include an island-wide shuttle that runs like clockwork and doesn't cost a cent, making this a prime destination for the car-free traveler.
The Must-Do Experiences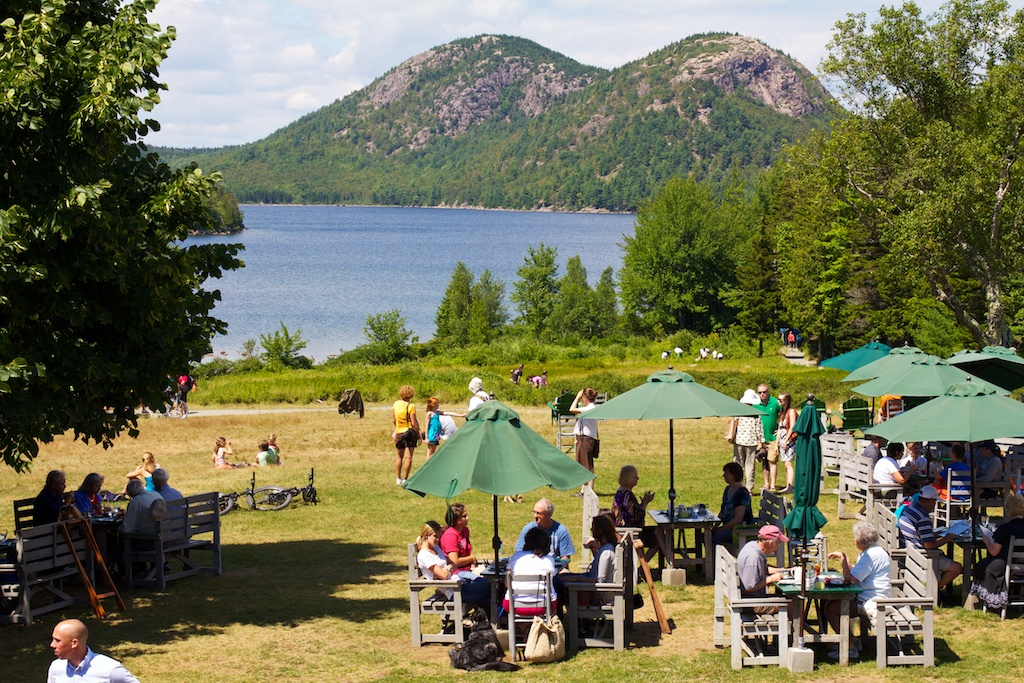 One of the best features of Acadia is the interlaced system of hiking trails and carriage roads. With 130 miles of trails, there is something for everyone, from the casual walker to seasoned athletes.
It is easy to navigate the trail system independently, but if you're considering an expert guide, the Natural History Center in Bar Harbor is a family owned company. They will customize tours of Acadia, tide pool explorations and birding expeditions.
Hiking to the summit of Cadillac Mountain, the highest point on the Atlantic Coast, rewards you with windswept views of Frenchman Bay. It sits at 1,530 feet, with four diverse trails that will take you to the top. Wake up early to start your ascent and you'll be among the first in the nation to see the new day dawn.
Jordan Pond House is a tradition for oven-fresh popovers served with strawberry jam. Walk off the calories at the Jordan Pond Nature Trail, which circumvents the pond. It's a one-mile flat loop that is perfect for families.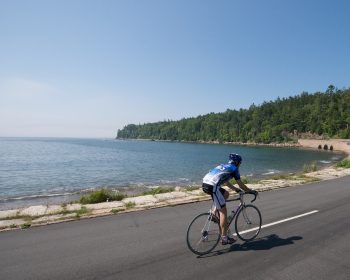 Cyclists will delight in miles of multi-use carriage roads. Wide and shady, they skirt pastoral ponds and showcase views of the Atlantic and its rocky shoreline.
Rent a bike ($19/4hrs) in Bar Harbor or Southwest Harbor and bring it on the Island Explorer shuttle.
The Atlantic is too frigid for most people to dare take the plunge. Freshwater Echo Lake offers tempting crystalline water and more moderate temperatures.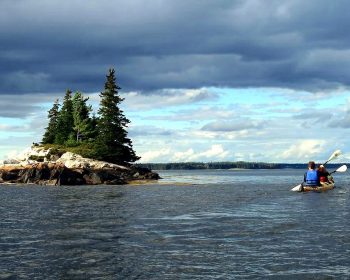 To enjoy the water without getting too wet, try sea kayaking. The currents and winds make for an exciting paddle, but only experts should venture out without a guide. National Park Sea Kayak Tours organizes intimate jaunts that offer an unsurpassed vantage point to view wildlife, deep blue water and the craggy coastline.
The lobster fishing industry is an integral aspect of Maine island life. Lulu's Lobster Boat Ride gets you up close with venerable lobsterman Captain John. Watch Captain John demonstrate how the traps are hauled during this two-hour ride.
The Insider Tip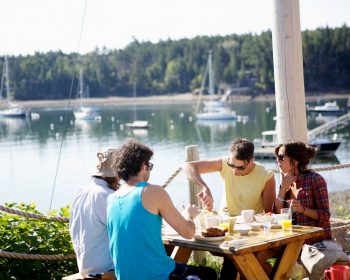 Take the ferry from Southwest or Northeast Harbor to Little Cranberry, the largest of the five Cranberry Isles.
Little Cranberry, also known as Islesford, supports a tiny year round community, complete with a one-room schoolhouse. You'll glimpse a dwindling way of life that hasn't changed much over the centuries. Check out the Islesford Historical Society and the art gallery. Have lunch at the casual Islesford Dock or stop by the general store for simple picnic provisions.
The Eats
Tranquil Southwest Harbor has a quietly blossoming food scene and is home to a number of excellent places to grab a lobster roll. Check out C-Ray Lobster near Hadley Point or the nearby, down-to-earth Rose Eden Lobster. Café This Way is another excellent choice with considerable breakfast and dinner menus (the Pecan Crusted Halibut is quite good).

If you have room for dessert, don't let the humble appearance of the Quietside Café fool you. Frances makes Southwest Harbor's biggest and best blueberry pie, brimming with low-bush wild blueberries and surrounded by an ultra-flaky crust.
The Sweets
It's no secret that Mount Desert Island Ice Cream in Bar Harbor is where the Obamas took their girls for double dips when they were in town. They're not its only fans; this super-dense, frozen confection draws groupies from around New England, who patiently wait on line for that first lick. Made in small batches using organic milk, popular flavors include Maine Sea Salt Caramel and Chocolate Wasabi. Rumor has it Barack went for the toasted coconut.

Ben & Bills Chocolate Emporium in Bar Harbor make old-fashioned confections like butter crunch, cream fudge, turtles and hand-dipped fruits to satisfy a variety of yesteryear cravings.
The Drinks
Atlantic Brewing Company offers free tours and tastings at their small-scale facility. Sip the mocha-flavored Cole Porter or go lighter with a wheat-accented Summer Ale. The brewer takes a family-friendly approach to beer production with a playground that welcomes children.
The Digs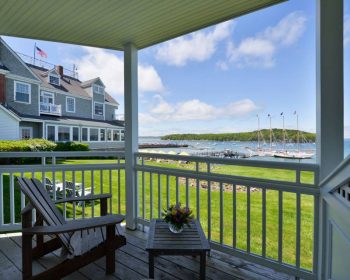 The Acacia House Inn has nine uncluttered rooms located on a serene street in downtown Bar Harbor. The innkeepers previously owned a bakery, and breakfast showcases sweet treats, their own organic eggs and Maine roasted coffee.
The larger Bar Harbor Inn is a historic property that sits on the ½ mile shore path with jaw-dropping views of Frenchman Bay. The state-of-the-art spa is an elixir for any aches and pains that you may have acquired hiking, biking or boating.
The Events
The Fourth of July is an all-American celebration that is a winner with kids and kids at heart. July's Bar Harbor Music Festival is all about variety; from jazz to opera, concertgoers can hear music at gorgeous venues around Mount Desert Island. In late September, the Acadia Night Sky Festival celebrates the night skies above Acadia, the darkest on the eastern seaboard. Learn how to protect and enjoy this incredible resource through lectures and events.
How to Get Around Mount Desert Island
Getting to even remote slivers of Mount Desert Island is a snap, thanks to the Island Explorer. Propane-powered buses run seven routes that will take you to trails, restaurants, shopping and lodging all over the island. They are very efficient and absolutely free. The shuttle runs from June through Columbus Day.
How to Get to Bar Harbor from NYC
See oM's Boston Transportation Guide. From Boston's South Station take Concord Coach Lines to Bangor. The Bar Harbor Shuttle will pick you up in Bangor, with advanced reservations. The entire journey takes ten hours. As a speedy alternative, you can fly to Bangor nonstop in just over an hour on Delta from NYC and connect to the Bar Harbor Shuttle at the airport.
If you need more information to plan your trip, visit DowneastAcadia.com, BarHarborinfo.com and VisitMaine.com.
Photos:Paul Geffen, gold41, mlau, Mary Helen Leonard, Michael Carpentier, Santa Dog
Allison is a native New Yorker, who has lived in Rome, Tuscany, Melbourne, Toronto and Los Angeles. She frequently contributes travel pieces to Family Travel Forum, using her own children as guinea pigs as they travel the globe. She is fluent in Italian and Spanish and laughably adequate in French. Her background as an Early Childhood Educator gives her an added understanding of what it takes to travel with kids in tow. She firmly believes that the most important part of education takes place outside of the classroom, on the road, around the world. She never misses a chance to sample local delicacies, as her love for travel goes hand-in-hand with her love for food and wine. Follow Allison at @gourmetrav.