If you don't have a lot of time for travel this summer, combine a variety of adventures into one fabulous week at Quebec's Les Fetes de la Nouvelle-France (New France Festival), August 6-10, 2014.
From a trip back in time to a taste of France's Loire Valley, this soirée has it all. oM caught up with programming director Stéphan Parent to find out what we could expect at this annual celebration of French-Canadian history, and he told us what it really means to "party like the French Canadians do."
Cherish Tradition
The "New France" in question refers to the French colonial period, and to properly celebrate they create a 17th-century wonderland, replete with reenactments and demonstrations, thatched-roof stalls selling an array of delicacies and elaborately costumed revelers singing, dancing, and all-around carousing.
Of course, it feels all the more authentic taking place on Quebec City's narrow cobblestoned streets and among the delightful historic buildings that earned the city's Old Town UNESCO World Heritage status. Considering the city's historic treasures, its cosmopolitan vibe and energetic spirit, both of which play huge roles in the festivities, Monsieur Parent says, "This event can't be reproduced or imitated in any other city."
Feast on Culture
To underline Canada's French roots, the festival not only aligns with France but also celebrates the French in other Canadian provinces. Each night features a different cultural theme, including one evening devoted to France's Loire Valley, and another featuring wines and traditions from Ontario, which, according to Parent, has a large French population about which even the majority of Quebec residents. (It's also home to some fabulous wines, which he assured us will be flowing aplenty.)
Time Travel
To truly experience the 16th century, it's important to dress the part. Locals really get into the spirit, but visitors are invited to don period duds too, and the festival website even provides information on where to acquire your festive attire. Once you look the part, play it—at any number of historical festivities. In keeping with this year's theme, "The Builders' Momentum," this year will feature a new site at the piers, where you can watch traditional shipbuilders braiding cord and building ships, canoes, and other vessels using traditional techniques. Those in the mood to show off fancy period gowns will simply adore learning traditional dances at one of the period dinners, which are overseen by Heinrich Meesen, from the Hotel Château Laurier, who was chosen, Parent informed us, because his 17th-century dishes wowed a historian at a recent event.
Rice Pitching and Salt Celebrating
Okay, there won't actually be any rice, but still, it's not every day that one gets the opportunity to celebrate the marriage of two rivers. As part of this year's festivities, Quebec's Saint-Lawrence River will be symbolically joined to the Loire River in France. Prior to the wedding, the afternoon of August 6 will see a delegation from the Loire Valley arriving aboard a wooden sailing ship, accompanied by 1,500 pounds of precious (oh-so-fancy) Sel de Guérande, bags of which, specially labeled "Mariage Loire et Saint-Laurent" will be sold to the public throughout the festival. That evening will also see a special dinner prepared by Loire chefs ($70 CDN) to accompany wine and dancing.
Parade of Giants
When we asked Parent about not-to-miss festival activities, he immediately launched into an enthusiastic description of the opening parade, which features an armada of five ships (moved by the people walking inside it) as well as giants.
A European tradition dating back to the 15th century, the latter are gargantuan, 17-foot-tall specimens representing important historic figures. Each behemoth weighs more than 100 pounds and is carried on a person's back.
Make Magic
Among the 400-plus shows, workshops, and lectures that make up the festivities, the family-focused Parc de la Cetière is a crowd-pleaser for kids of all ages. In addition to enjoying theater, songs, and miming, kids can get up-close-and-personal with a magician performing Magic Barouche, traditional close-up tricks. Revelers can also get hands-on practicing stonecarving (under supervision) or chatting with shipbuilders.
A Medallion ($12CAD) provides access to most New France Festival activities. Special dinners are an additional charge.
Where to Sleep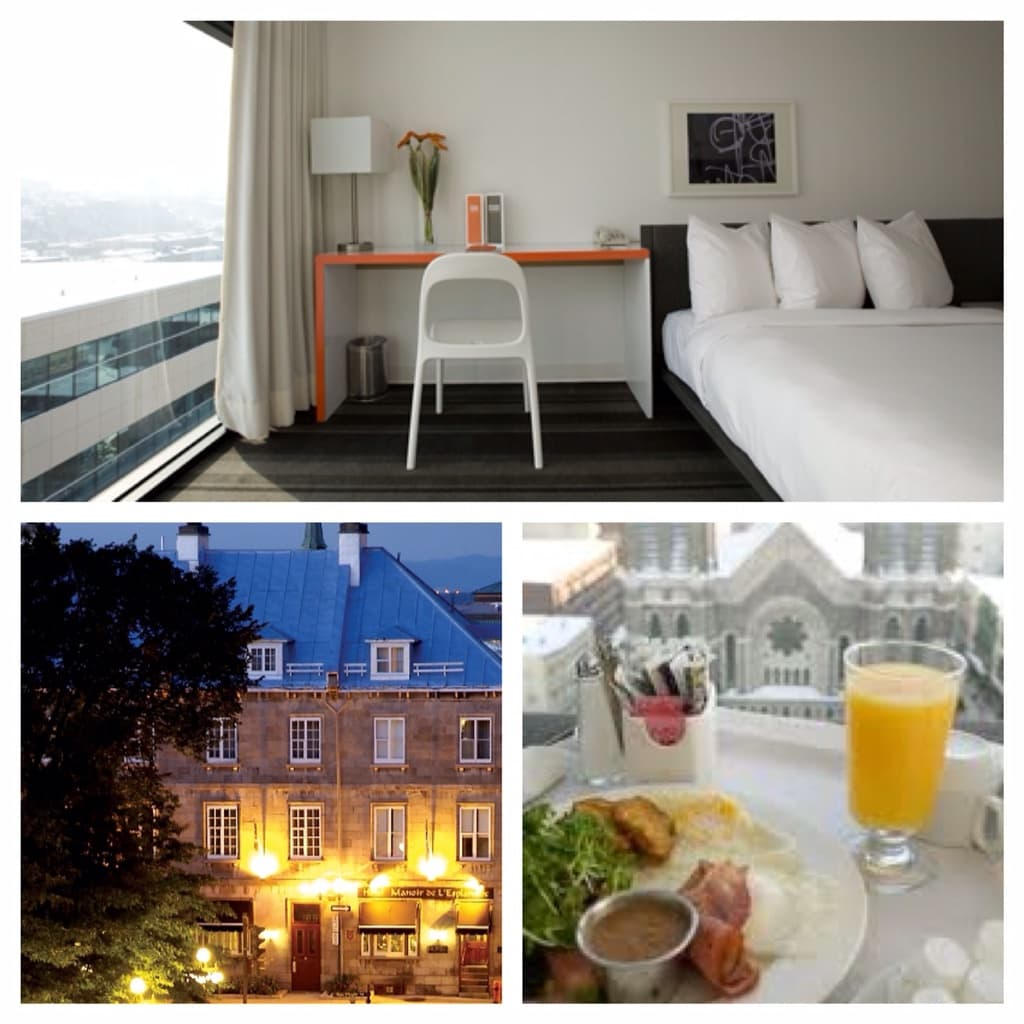 To truly step back in time, consider reserving a room at the Hotel Clarendon (from $167 CAD). The city's oldest-operating hotel offers Art Deco opulence, sleek rooms, an acclaimed jazz bar, and a coveted location in the heart of Old Québec.
If it's instead ultra-modern that you seek, the stylish digs at Hôtel PUR (from $170 CAD) will fit the bill. Located in the hip Saint Roch neighborhood, within easy walking distance from Old City, trendy beauty offers minimalist design and comforts like an indoor pool and sumptuous Japanese bathtubs.
Situated in 19th-century stone houses on a quaint Old City street, the Hôtel Manoir de l'Esplanade affords a Old-World feel. Some rooms offer exposed-brick walls, a fireplace, or a glass chandelier, and those on the highest floor are right beneath the eaves. A continental breakfast is included in the rate (from $125 CAD).
How to get there: Take Amtrak to Montreal, then transfer to VIA Rail Canada trains for Québec City. It takes approximately 14 hours, but the scenery is a summery dream.
Those seeking a more express route can fly. Continental flies non-stop from Newark in an hour and twenty minutes, or various airlines fly from LaGuardia and JFK (always with a stopover in Montreal or Toronto). From Jean-Lesage International Airport, a taxi is your best bet into downtown and should cost around $35. You can make your way around town riding the Ecolobus, which loops the city and runs on electricity. The funicular will give you an aerial view as you travel between the Upper and Lower towns.