At offMetro, we embrace alternate means of transportation and biking might just be our favorite. New York City has more than 100 miles of protected bike lanes, helping to earn a spot as one of Bicycle Magazine's top 10 cycling cities.
Bicycles have taken a major spot in a reconfigured landscape of urban mobility. According to the New York City's Department of Transportation, cycling is the fastest growing form of transportation in the city.
2019 is the 200-year anniversary of the arrival of the first bicycle in New York City, so it's an opportune time to discover New York's rich cycling heritage.
Cycling in the City: An Exhibit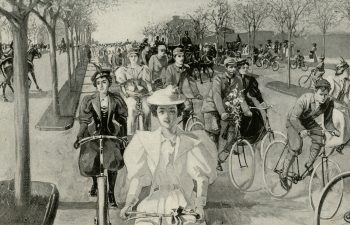 Cycling in the City is a new exhibit at Museum of the City of New York, which explores the diversity of cycling cultures, past and present. The exhibit delves into the often contentious relationship between New York City and the bicycle, while examining the importance of cycling as the city confronts climate change, energy scarcity and population growth.
Highlights of this multi-media exhibit include vintage bicycles, films and interviews with cycling advocates and three indoor stationary bicycles that enable visitors to experience virtual cycling landscapes via Zwift, an online cycling video game.
Discover the increasingly important role bicycles play in New York City, part of a complex dance with cars and pedestrians, shaping what it means to move around a modern metropolis.
Female Empowerment and Politics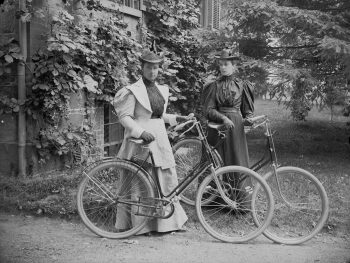 An unexpected aspect of the exhibit is its illustration of the liberation that cycling allowed women back in the 19th century, when suffragists embraced the bicycle as a vehicle of self-reliance and encouraged other women to follow suit.
Local politics come into play as well, particularly the tumultuous relationship Mayor Ed Koch had with cyclists back in the 1980s, including his proposed ban on bikes in Midtown in 1987.
Where:
Museum of the City of New York, 1220 Fifth Ave., at 103 St.
Suggested admission is $18.
When:
Open daily, 10 am-6 pm. The exhibit runs though October 6, 2019
Get There:
There's a Citi Bike docking station right outside the museum, so it's an easy and appropriate way to get here. Riding the 6 train to 103 and Lexington is an alternative.
For additional information, visit mcny.org
Featured image: Courtesy of the Museum of the City of New York; Photograph by Rob Stephenson
Allison is a native New Yorker, who has lived in Rome, Tuscany, Melbourne, Toronto and Los Angeles. She frequently contributes travel pieces to Family Travel Forum, using her own children as guinea pigs as they travel the globe. She is fluent in Italian and Spanish and laughably adequate in French. Her background as an Early Childhood Educator gives her an added understanding of what it takes to travel with kids in tow. She firmly believes that the most important part of education takes place outside of the classroom, on the road, around the world. She never misses a chance to sample local delicacies, as her love for travel goes hand-in-hand with her love for food and wine. Follow Allison at @gourmetrav.