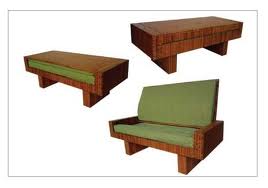 What: NY Creates Sixth Annual Craft Fair at BHS
Where: Brooklyn Historical Society, Ground Floor
When: Dec. 11-16th, weekdays 11:00 a.m.-7:00 p.m.; weekends 10:00 a.m.- 5:00 p.m.
Why: If you're in the mood to do a little one-for-me-and-one-for-you holiday shopping while enjoying free admission to one of New York City's great cultural hidden gems, make time for this event. Back at the Brooklyn Historical Society for the third year, New York Creates organizer Ted Berger (and former executive director of the New York Foundation for the Arts) said, "One of the reasons we do it here [BHS] is because we think people need to see this important cultural resource. Architecturally, it's a beautiful building and it has wonderful exhibits. This event is an opportunity to shop, support a broad spectrum of artists in the city, and see an extraordinary place."

Throughout the six days, over 50 vendors will participate in the fair, offering bohemian-style jewelery like Tosic, men, women, and children's clothing, chic, eco-friendly bags from Canopy Verde, pottery, photography, and modern furniture and decor from Akemi Tanaka. "The difference this year is there's a broad price range, so that many things are very affordable," said Berger.
With such a variety of hand-crafted goods, you're bound to fall in love with something. When you do, your purchase will grant you free admission to BHS' current exhibits, including It Happened in Brooklyn and Historical Views of and from Brooklyn.
How to get there: Take the 2,3,4,5 to Borough Hall.  Or take a downtown A, C, F  train to Jay St/Borough Hall. For further directions visit the link below. (Brooklyn Historical Society, 128  Pierrepont Street, Brooklyn Heights, 718.222.4111, brooklynhistoricalsoceity.org)