Located on the Hudson River, Beacon is a bohemian, cozy town just one hour from Manhattan complete with art, culture, a historic waterfront and vibrant main street.
There's also a renowned modern art museum, opportunities to hike, great shopping and access to nearby river towns such as Cold Spring, Garrison, and Peekskill, which are all accessible by train on the way or way back from the city for a quick hop-off. The area has recently seen an influx of new restaurants, many in buildings that used to be warehouses, that offer unique and diverse options for every palate.
Read on and see why Beacon has everything you need for a day trip or weekend getaway from New York City.
Explore Beacon's Art Scene
Beacon is a beacon of art and culture; you'll feel it walking down Main Street as you hop in and out of the town's many art galleries. Don't miss a visit to Dia: Beacon, an art museum housed in a former Nabisco factory that contains a collection of modern art from the 1960s to the present.
Find Hotels near Beacon:
From Andy Warhol to Sol LeWitt, to Max Neuhaus to Binky Palermo, you'll find a well-curated mix of art in the museum's many rooms. Definitely check its hours before you go as they are more limited than you might expect. For example, the museum is closed on Tuesdays and Wednesdays year-round, and on Thursdays in January, February, and March.
Another interesting space to check out in Beacon is Hudson Beach Glass where you can find artistic glass designs. It's possible to join one of their glass blowing classes. Another great way to take in the local art scene is to attend Second Saturday, held on the second Saturday of every month and is free. You'll find gallery events, artist receptions, and food tastings.
Many galleries and shops stay open until 9pm and galleries tend to schedule openings to coincide with Second Saturday, so try to aim your visit on a Second Saturday if you can.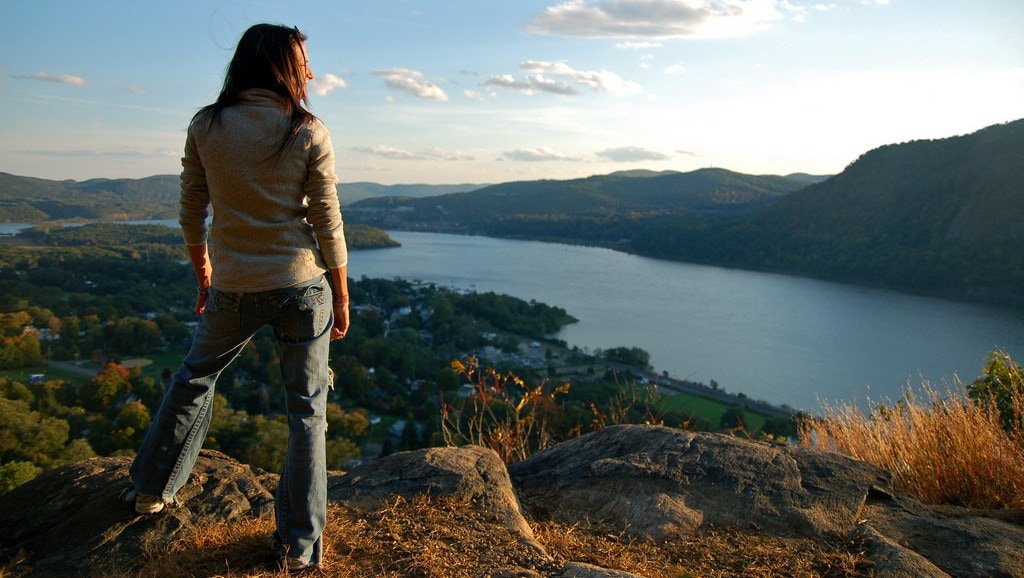 Get Outdoors in Beacon
Beacon is in the Hudson Valley so there are many options for hiking and taking in the outdoors, all fittingly near the Metro-North train station. At Long Dock Park on the waterfront, you can walk on one of its many trails or rent kayaks or paddleboards through Mountain Tops Outfitters.
Nearby Beacon Institute for Rivers and Estuaries is also a great place to explore. Located in Denning's Point, it offers walking and biking paths along the river. The area has a lot of history as it was home to the dwellings of prehistoric American Indians six thousand years ago.
Be sure to also head to Hudson Highlands State Park. The park, which totals 7,400 acres, was a strategically important area during the Revolutionary War so it has fortifications on both sides of the river and is incredibly scenic, making for a great hike.
The Breakneck Ridge Trail in Cold Spring is the most rugged, scenic, and popular trail in the park so be sure you're in good shape if you choose it as your hiking adventure. Be sure to get off the train in Cold Spring for this hike or get the Cold Spring/Beacon Trolley which goes between the two towns on weekends.
It runs every two hours between 8am to 4pm daily. Another great choice for hikers is Mount Beacon, where you'll find trails that join up with the Fishkill Ridge system. There are a lot of great choices for the outdoor enthusiast in this neck of the woods.
Experience Beacon's Culinary Scene
Beacon has become a haven for culinary lovers. Given its proximity to nearby farms, restaurateurs have access to fresh produce and other local ingredients. A must-visit is the Pandorica, a Dr. Who-themed restaurant with a gigantic tardis painted on the wall and memorabilia from the show scattered around the restaurant (even in the bathroom).
The menu is based on the British science-fiction program and features Gallifreyed Potato Pancakes, Krafayis Chicken Cottage Pie, and Fish Fingers and Custard. Be sure to visit on Sunday nights when fans gather for live viewings of Dr. Who's 11th season, and be prepared to witness Dr. Who fans gawking over their discovery of this unique restaurant should they wander in during your meal.
Kids and adults alike will go crazy at Glazed Over Donuts, where they can choose their own topping, glaze, and drizzle or they'll love getting fancy crepes at Royal Crepes. Marshmallow lovers should head to Hudson Valley Marshmallow Co. for custom flavored marshmallows and popsicle fans will love the unique flavors at Zora Dora.
Another sit down eatery is Meyer's Olde Dutch Food & Such, a modern spin on the old-fashioned diner. Beacon Creamery is an old-fashioned ice-cream parlor that demands a visit. There are so many options, your head will turn.
Shopping in Beacon
Take time to wander down Main Street into the many eclectic stores run by local merchants and artists. Along the way, you'll undoubtedly pick up some interesting items such had handmade earrings, coasters, handbags, and framed photographs taken by local professionals.
Be sure to hit American Gypsy Vintage where you will be likely to find curated affordable fashions, PLAY store for unique toys for the kids, and Alps Sweet Shop for homemade truffles, fudge, chocolate-covered peppermint, chocolate-covered Grahams, and dipping nonpareils.
Where to Stay in Beacon
If you want to turn your visit to Beacon into a weekend getaway, consider The Roundhouse right in the center of town. It's an old gun factory housed in a series of 19th and 20th century red brick industrial buildings that now hosts 14 chic hotel rooms full of local art, two restaurants – one inside, one outside – both facing the waterfalls, a yoga studio and spa.
Getting There
Take Metro-North's Hudson Line to the Beacon station. From there, it's a short walk to the Dia or to Main Street. Or you can catch the new Beacon Free Loop bus which makes stops along Main Street Monday through Saturday. Insider Tip: Metro-North offers a package that includes DIA: Beacon trips for a discount!
Header photo: Richard Serra's Torqued Ellipse II, photo by Evan Namerow
Holly Rosen Fink is a marketing consultant and culture and travel writer living in Larchmont, New York