This winter will probably be very different than any other winter we had in our lifetime. However, despite the challenges, December will still be the most magical month of the year, especially if you go to Louisiana. Choosing to visit the "Birthplace of Jazz" (one of the nicknames of New Orleans) in winter is a great choice. Why? Because you'll be able to go on beautiful walking tours and boat cruises without the usual heat and humidity. There are plenty of magical ways to enjoy New Orleans in the Winter. Here are just a few…
Things To Do in New Orleans in the Winter:
1. Get a Glimpse of the History and Culture of New Orleans
If you're a first time visitor, we always recommend getting a glimpse of your destination's history and culture. The best place to start is to visit The Historic New Orleans Collection.
This wonderful museum is located in the heart of the famous French Quarter (I'll delve into Frenchmen street later below). It focuses on the history and culture of New Orleans and its surrounding Gulf South.
What will you see in this museum? Mainly artifacts and visuals of the War of 1812, Tennesee Williams, Jazz, brass bands, and an amazing collection of Louisiana's history (with many beautiful paintings).
Where to Stay in New Orleans?
Before we delve deeper into what to do in New Orleans in the Winter, do you already have a place to stay? There are a number of great hotels in the city, but one of my favorites is The Higgins Hotel, which is located just across another wonderful museum you should visit, The National WWII Museum.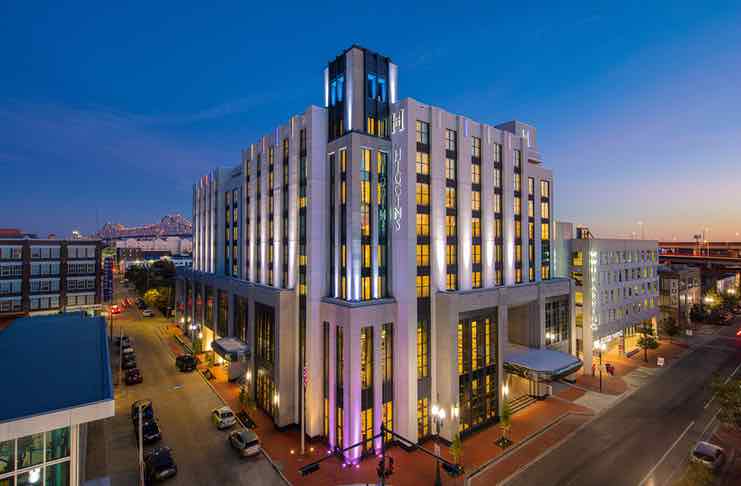 The Higgins Hotel is currently rated #1 on TripAdvisor, with around 250 five-star reviews. It's also rated as the #1 Best value to stay in New Orleans (out of 420 places). It's also the recipient of the coveted four-diamond award by the American Automobile Association (AAA).
This unique Hotel features a distinct 1940s theme and is located perfectly in the heart of the city's exciting Arts & Warehouse District. There are more than 25 art galleries in the area, a bunch of museums, and delicious restaurants.
Check out this video showcasing The Higgins:
If you love fishing like myself, you'll love the Higgins Hotel Fish & Dine option. This option allows you to bring the fresh catch from your fishing excursions, and the hotel's Chef will prepare it for you, broiled, fried or sauteed, as you wish.
Higgins has lately been nominated as a USA Today "Best New Hotel", so if you stayed and enjoyed your stay – go ahead and vote for them here.
If you're still planning your trip and want to win a FREE 2-night stay at the Higgins Hotel (with a few extra prizes) – offMetro.com is running a 10-day competition on our Facebook page. All you need to do is write what's your dream expectation of New Orleans, in one (1) sentence only (in the comments of our Facebook post). Here's the direct link to our FB page: https://www.facebook.com/offmanhattan
We'll be selecting one winner, who'll also get (on top of the 2-night stay) two tickets to the National WWII Museum and two tickets for a ride on the Steamboat Natchez. The prize will be valid for 9 months from the win date.
Spending Christmas in New Orleans is magical, so even if you don't win the prize, The Higgins is offering a magical rate of just $99 per night. Click this link to book your stay: https://www.higginshotelnola.com/papa-noel-rate
2. Visit the Official National WWII Museum of America
This world-class history museum was designated by the U.S Congress as the country's official National WWII Museum. Located in the popular Warehouse District of New Orleans, the museum offers an experiential path that takes you through various pavilions and spectacular exhibits.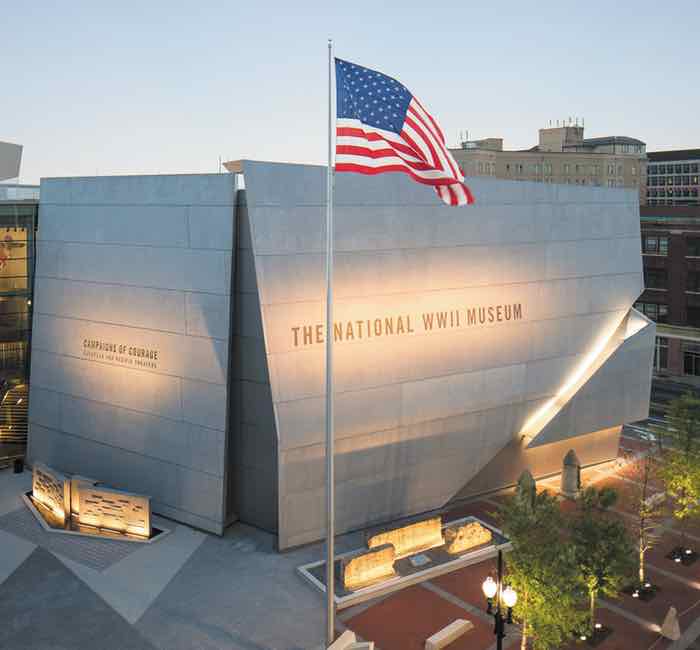 The museum's location was selected because during WWII, it was in New Orleans where Andrew Higgins built the famous landing craft used in the amphibious invasions. Years later, President Eisenhower claimed this landing craft was one of the key inventions that helped America win the war.
The National WWII Museum focuses on the contribution made by the US to the Allied victory in World War II. It does this by using every possible medium, from 4D movies, mesmerizing exhibits, first-person oral presentations, and up to large-scale reconstructions. Don't skip the submarine exhibit, it's spectacular.
3. Go Caroling in Jackson Square
You probably know Jackson Square from all the films it's been featured in. It was on Alan Parker's famous 'Angel Heart' with Robert De Niro and Mickey Rourke, on 'The Curious Case of Benjamin Button' with Brad Pit, and many more.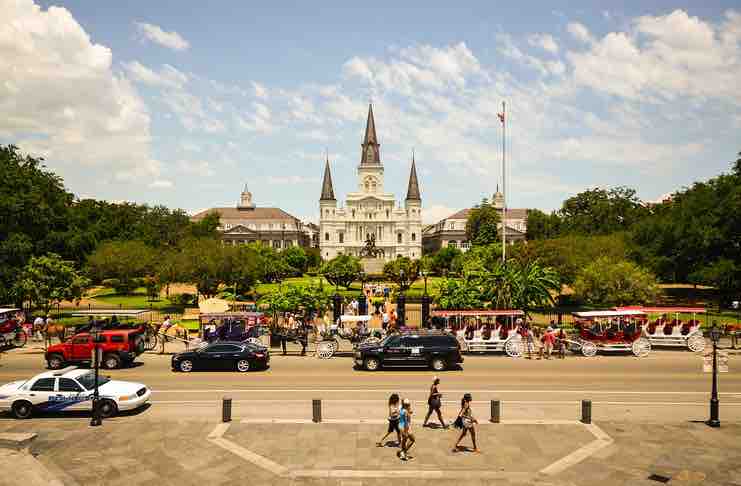 Jackson Square is a declared National Historic Landmark located in the French Quarter as well. It was also designated as one of the Great Public Spaces in the country, but the American Planning Association.
One of the city's most significant holiday traditions has been going on since 1946. Christmas Caroling in Jackson Square continues, despite the pandemic, but with some restrictions, like wearing masks, social distancing, and so forth.
This is definitely one of the most enjoyable things to do in New Orleans in the Winter. The square is traditionally illuminated by hundreds of candles that are held by singers. Candles and song sheets are provided, and the event is free and open to all.
If you're already there, don't miss a visit to Frenchmen street. This famous street is home to the most popular live music venues in New Orleans. Here, things like great music, good food, art and culture, and an unsurpassable street atmosphere – are guaranteed.
As you walk along Frenchmen street, you'll encounter the unique architecture of New Orleans, which makes it stand apart from other cities in the country. The main attraction is Creole cottages, which is a New Orleans design that dates back to 1790. These are single-story cottages with a steeply-pitched roof and a symmetrical four-opening facade.
4. Enjoy the Spectacular Lights in City Park
City Park by itself, with spectacular lights or not – is worth a visit when you're visiting New Orleans. This 1,300-acre public park is the 20th most-visited urban park and the 87-the largest in the country. It's around 50% larger than Central Park in New York City.
During Christmas, celebrations in the Oaks at the park, is one of the most spectacular events in the country. The park's famous oak trees are filled with over a million twinkling lights. Amazing light displays are scattered throughout a 2.25-mile driving tour.
This beautiful lights festival usually brings around 160,000 visitors each year. This year will be different, but the organizers are promising a special event with a Driving Tour.
Watch this video to see what it usually looks like in City Park during the holidays:
5. Savor a Dinner Cruise Aboard the Steamboat Natchez
A wonderful (and romantic) way to experience New Orleans is by going on a journey back in time, aboard an original Steamboat. Go for a dinner (or brunch) cruise aboard the Steamboat Natchez, the last authentic steamboat on the mighty Mississippi River.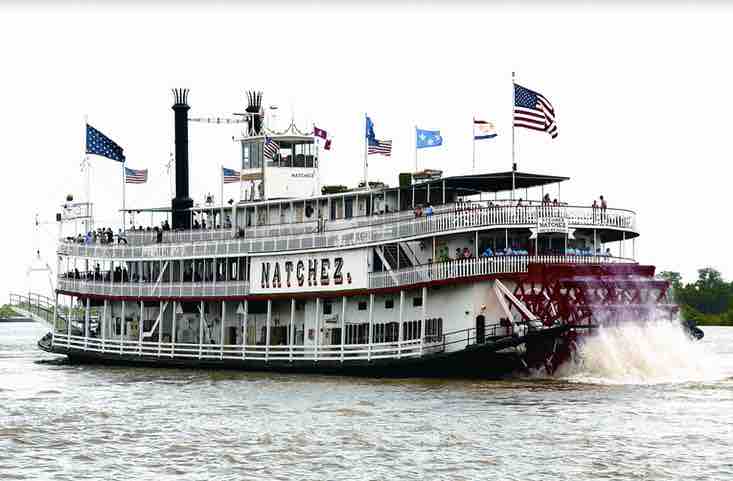 This magnificent steamboat offers dinner jazz and daytime jazz cruises every day, all year long. And all this, in the same exact authentic style of the old steamboats that have been cruising on the Mississippi for centuries.
Watch this video to get a sense of what a cruise on this steamboat means:
What's included? The two-hour cruise starts at the heart of the French Quarter and takes you to see New Orleans from the legendary river. While savoring the breath-taking scenery, you'll enjoy the sounds of the boat's 32 note steam calliope music (modeled after the music makers of the Gilded age) and live jazz, savor an optional Creole lunch, and even get to visit the steam engine room.
Let yourself slip back in time, to the old, boundless, and enduring river.