You may have heard of the town of Rosendale when, back in 2010, the New York Times ran a piece calling the town a place with a "Brooklyn feel". While there is undoubtedly a plethora of creativity, artisanal food, and delicious coffee, Rosendale maintains it's artsy small town vibe and distinctly Hudson Valley charm far from the concrete streets of Brooklyn.
Get Outdoors
The trailhead to Joppenbergh Mountain sits directly behind the main drag so lace up those hiking boots and hit the trail. The 1.5 mile long loop brings you up and over Joppenbergh Mountain so expect terrific views of the surrounding area and a cardio workout. While it's a popular spot for sunset, don't forget that you'll be heading down the rocky trail in the dark.
The Rosendale Trestle is perhaps, the town's most significant feature. The gorgeous structure brings bikers and walkers 150 feet above the Rondout Creek and offers a quiet place to take in the views before heading back to town.
Find Hotels near Rosendale
You can check CozyCozy.com to compare all accommodations in one search.
The trestle is also part of the Wallkill Valley Rail Trail meaning bikers (or intrepid walkers) can head North to Kingston or South through New Paltz on a peacefully car-free path.
What to do in Rosendale, New York
As you explore Main Street, you won't want to miss Postmark Books. Along with interesting Hudson Valley reads and a wide selection of graphic novels, the bookstore is also part florist, meaning you'll be surrounded by beautiful flowers as you peruse the shelves.
The Rosendale Theater is the town's cultural hub offering everything from films to talks to burlesque performances. The theater doesn't shy away from hot button issues either with ongoing discussions surrounding everything from abortion to right wing media to mass incarceration.
Annual Events in Rosendale
A few key events take over the small town every year, leading to festive vibes and a place for locals to show off the best of their town.
February: The annual Chili Bowl Fiesta hosted by the Women's Studio Workshop offers a mix of delicious food and beautiful pottery. Support an artist by purchasing a bowl and then enjoy vegetarian or meat based chili donated by a network of supporters.
July: Rosendale's main street is completely closed to traffic for the summer's Rosendale Street Festival where over 100 bands play and vendors share their art, food and other wares. While admission is free, the suggested $5 donation is given to local public school music programs.
September: Head to the famed Snyder Estate for the annual Subterranean Poetry Festival and enjoy the unique experience of hearing live poetry in an underground limestone mine.
November: The Rosendale International Pickle Festival welcomes thousands of visitors a year with pickle vendors, pickle juice drinking competition, and even a team pickle tossing contest (bring the kids!).
Where to Eat & Drink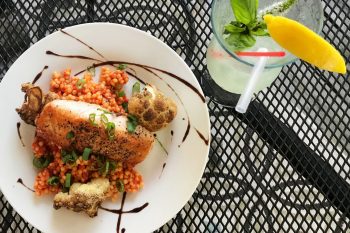 The 1850 House Tavern is the spot for both eating and drinking in Rosendale, especially during the summer when you can eat on their porch overlooking the Rondout Creek. The menu is mostly American cuisine with the exception of their creamy Moqueca – a must for seafood lovers.
Head to The Big Cheese for both lunch and a culinary shopping experience. The store is part deli and part grocery store with local fare and an impressive selection of cheeses. You'll find fresh juices and sandwiches to satisfy everyone from the vegan to the omnivore.
Down the street, the Garden House 12472 offers delicious, authentic Mediterranean food with locally sourced vegetables and complex spices. If you're a weekday visitor, check out their Wednesday brunch to try a bit of everything on the menu. In fair weather days sit out front and enjoy watching people walk the streets of the town as you eat your kebab or curry.
Where to stay in Rosendale, NY
While the lower floor of The 1850 House is both bar and restaurant, the upper floors offer 10 charming rooms. Each room includes a photo of historic Rosendale, and there's even a reading nook with old New York Times cut outs for the history nerds. The location of the inn makes it easy to walk around downtown Rosendale which, according to the inn's proprietor Mike Ruger "is like New Paltz was 40 years ago".
Insider tip: Book online and get a bottle of champagne included.
Get there: Take Trailways Bus directly from Port Authority to Rosendale Station. From there you can walk the .6 miles into town.
Photo credits: Paul Comstock (sunset) and author
Sarah Knapp is a Brooklyn -based entrepreneur whose love for the outdoors and community building led her to the October 2013 creation of OutdoorFest. She has a BA in History, is a Wilderness First Responder and a NY state hiking, camp and boating guide. Her proudest achievement to date is reading the Aeneid in Latin.