At the end of Metro-North's Hudson line, lies the "Queen City of the Hudson." Poughkeepsie is perhaps best known for being the gateway to the impressive Walkway Over the Hudson or a stopping point on the way to the Culinary Institute of America in Hyde Park. Alongside those key attractions, Poughkeepsie also offers hidden gems, many of which come from the arts community. From murals to galleries to hands-on workshops, here's where you can find art in Poughkeepsie NY. Scroll to the bottom to find a map to guide your tour.
Murals of Poughkeepsie
Kick off your journey by viewing the city's impressive murals. From the train station, walk south to Main Street and make sure to walk under the Route 9 overpass where you'll find the colorful and welcoming Poughkeepsie Gateway Mural by Risa Tochigi aka Boogie.
Continue your walk west on Main Street until you reach Mural Square between Market and Garden Streets. Here you'll discover Poughkeepsie inspired pieces by local artists Nestor Madalengoitia and Franc Palaia. On the South side of the street, you'll see a large brick building that is the canvas for many of Poughkeepsie's murals. Start on the North Side of the building to see four more paintings by Nestor.
On back side of that same building are three more murals, these pieces painted during Poughkeepsie's O+ Festival. The annual festival provides healthcare to artists in exchange for their performances and creative work.
From there, you can walk East on Main Street to the Crannell Street Passageway (between Chance Theater and Hudson Valley Office Furniture) to find a collaborative mural of a river monster by John Breiner, Joe Pimentel, Stetz, and BoogieRez.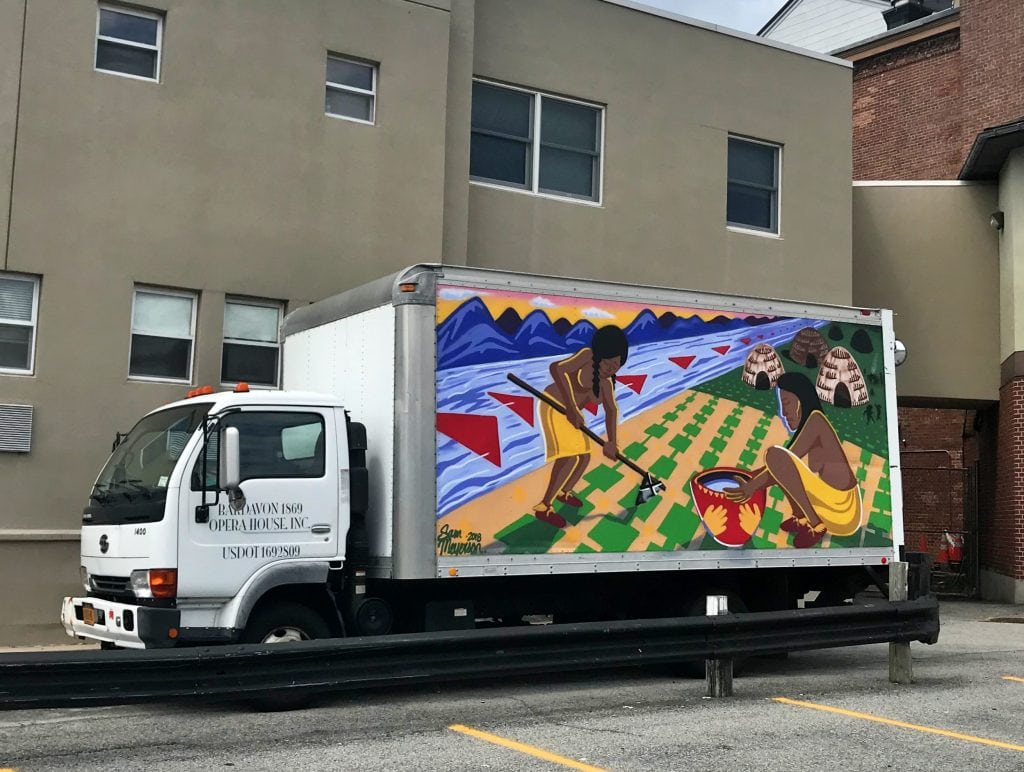 While you're exploring town, keep your eyes peeled for the Bardavon Opera House Truck, which is the canvas for a pop up piece by artist Sam Meyerson.
40 Cannon
From Crannell Street, backtrack slightly and head South on Academy Street. On the corner of Academy and Cannon, you'll find
40 Cannon Street
. This new project offers apartments upstairs and a mix of visual and culinary art downstairs. Many of these pieces are being
sold in NFT marketplaces
to help raise the artists' profiles. Grab the beverage of your choice: a latte from Cafe 40 & Co, a glass of chardonnay from 1915 Wine Cellar or a hearty IPA from King's Court Brewing Company.
Sip your beverage as you enjoy Gallery 40, where the gorgeous exposed brick walls are covered in paintings and photos by local artists. Couches and chairs offer a comfortable place to relax while you take it all in.
Fall Kill Creative Works
From 40 Cannon, head North back to Main Street (one block) and then east again to the Fall Kill Creative Works at Trolley Barn. The Trolley Barn is a mixed use space, which includes a gallery and textile workshop. The workshop hosts classes as well as open artists studios (check the schedule for public access). The gallery displays work by local Poughkeepsie artists with themes and artists rotating every month.
Fall Kill Creative Works has a clay studio (485 Main Street), a print studio (8 North Cherry St.), and community space called Story Works (635 Main St.) Similar to the textile studio, the print and clay studios have open artists studios and community days for newbies who want to try out the medium. The print studio in particular is worth exploring because of the building it lives in: the Underwear Factory. This revamped building is a beautiful space with a coffee roastery (only open during the week), coworking space, and artists lofts; it's a prime example of the urban renewal in this city.
Cunneen-Hackett Arts Center
On the way back to the train station, stop at Cunneen-Hackett Arts Center, which is housed in a beautiful 19th century Victorian Building. Their Hall Gallery at 9 Vassar Street hosts rotating exhibits that are free and open to the public (9-5, M-F). Weekend visitors can check out their Facebook page for special events.
Insider Tip
Head to Poughkeepsie in the warmer months for their free First Friday events which include art, music and food.
How to Get to Poughkeepsie from New York City
Take Metro-North Hudson Line to the Poughkeepsie Train Station.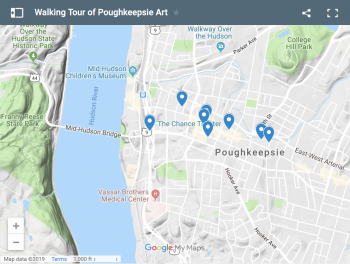 Sarah Knapp is a Brooklyn -based entrepreneur whose love for the outdoors and community building led her to the October 2013 creation of OutdoorFest. She has a BA in History, is a Wilderness First Responder and a NY state hiking, camp and boating guide. Her proudest achievement to date is reading the Aeneid in Latin.