I'm not a nostalgic person. I don't long for days past, but choose instead to look forward. When asked recently by a friend if I'd ever like to repeat high school or college, my answer was most definitely, undeniably, no. I'm not a particularly patriotic person either. I couldn't care less about who signed the Declaration or even what July 4th signifies for most Americans. The stories of Native Americans and the Colonial period bore me. But there is one American tradition that I uphold year after year with a certain wistfulness for the past, and that is the simple act of picking apples and eating those Apple Cider Doughnuts from Outhouse Orchards.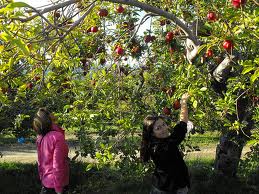 The Outhouse Orchard is more than a century old and rests at the top of a street aptly named Hardscrabble Road. It is owned by Wayne S. Outhouse (which explains the unfortunate name), and has been voted onto "Westchester's Best" list of things to do in Westchester County. The main attraction is the Orchard house, a most quaint, ramshackle building. The house is surrounded by plants and other miscellaneous goodies for sale, a barbeque pit, an old-fashioned cotton candy vendor, and roosters underfoot.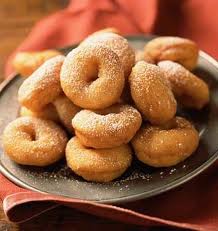 Behind the house, there is a small pond with swans and goats, an abandoned tractor, and in the fall, a vast pumpkin patch, with every shape and size pumpkin imaginable. Invariably in the fall months, there is a long line of people that winds out of the house and into the dirt road in front of it. This is the line to doughnut heaven, or really, a line to a window, from which tireless, flour-and-sugar coated teenage employees will sell you piping hot, fried doughy goodness, in three flavors: powdered sugar, regular sugar, and cinnamon sugar.
If you prefer to listen to this post instead of reading through – click the video below:
The first stop when arriving at the Orchard must be the doughnut window. Once a few doughnuts are consumed and washed down with warm apple cider, the browsing can begin. Inside the Orchard, the house has other goods, which are almost as delicious as the doughnuts. There are cartons of fresh apple cider and cans of preserves and jams. Towards the back of the house, there is an open kitchen, where one can watch the staff bake apple pies, strawberry pies, cakes, cookies, and of course, doughnuts. There are rows and rows of candy and fudge, piles of corn, baskets of apples, stands, and stands of fruits and vegetables. Recently, they have even started selling decorations for Halloween.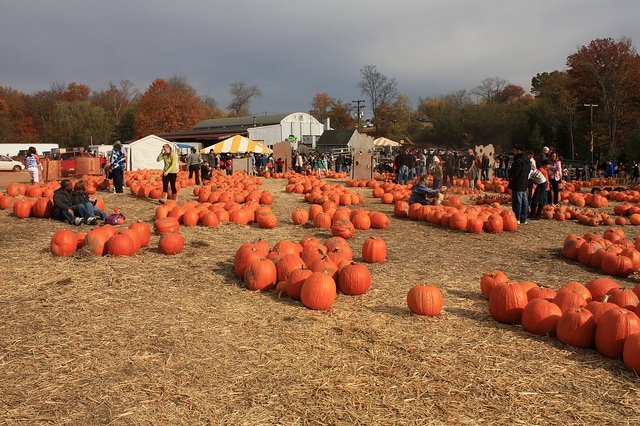 The next stop (after another doughnut break), is outside to the pumpkin patch. You can purchase pumpkins in the tents set up for this purpose, or take a hayride (literally, in a cart of hay, pulled by a tractor) to another pumpkin patch where you can actually pick your pumpkins.
As a child, my parents used to bundle me and my brother up in boots and warm sweaters (this was before the real effects of global warming when October was actually a cold month) and drive us up to the Orchard, and I have gone every year since. The Orchard House is open almost all year round. They continue to sell various foodstuffs and decorations during the Christmas holiday season; it is worth the trip no matter what time of year. The Orchard is a charming family place where children can frolic and adults can get some fresh air and admire the countryside.
How to get to the Outhouse Orchard from NYC:
Take Metro North Railroad from Grand Central to Croton Falls station stop. Cabs generally wait at the station, so take one to the Orchards just three miles down the road. (Outhouse Orchards, 130 Hardscrabble Rd., North Salem, NY, 914.277.3188. Open daily, April through December)
Header photo by Bob Jagendorf