On September 28th, over 100,000 volunteers will gather across the country to participate in service projects on public lands. From trail maintenance at National Parks to local greenway clean-ups (more on that below), the projects are all aimed at providing people with the "opportunity to care for our public lands while spending time with family and friends and taking advantage of all the benefits that come from spending time outdoors."
Luckily for New Yorkers, there are a few different projects both within the five boroughs and nearby. So grab a friend and sign-up to volunteer for National Public Lands Day this weekend.
1. Shoreline and Greenway Clean-up at Plumb Beach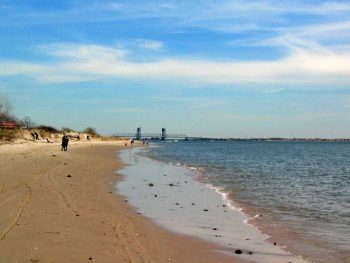 Spend your morning at the beach with this 2-hour clean-up at Plumb Beach in Brooklyn. Led by the Jamaica Bay-Rockaway Parks Conservancy, this service project asks volunteers to help pick up debris and repair a fence in the area. The long term goal is to help maintain the beach habitat to support its various wildlife (including the famed horseshoe crabs.)
Time: 9:00-11:00AM
Get there: Bike ride or take the B44-SBS which has pick-up spots throughout Brooklyn.
2. Shoreline Cleanup at Marine Park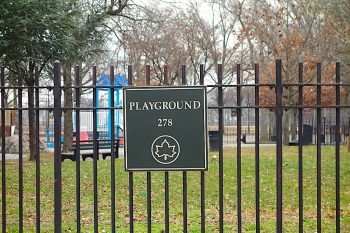 If you're looking to experience Brooklyn's largest city park, head to Marine Park (across the "creek" from Plumb Beach). Marine Park is also notable for being part salt marsh and is designated as a
Forever Wild Preserve
by NYC Parks. This project is very similar to the Plumb Beach event just in a slightly different location (you could even do both projects and walk between the two!). Spend the day picking up debris, then stay awhile to enjoy bocce ball or the playground if you're joining with kids.
Time: 12:00PM – 2:00PM
Get there: Take the B3 bus to Burnett Street and Avenue U.
3. Trail Maintenance and Invasive Plant Removal at Weir Farm
For a day out of the city, try the 3-hour trail maintenance project hosted by National Parks Service at the Weir Farm. Volunteers will get their hands dirty repairing trails and removing invasives plants. Stay for the afternoon to explore the 60-acre grounds, which were once home to impressionist painter J. Alden Weir. Now a National Historic site, visitors can hike, see original artwork, and even
take a tour
of the house and studio.
Time: 9:00AM-12:00PM
Get there: Take the Metro-North New Haven Line to Norwalk. From there, transfer to the Metro-North Danbury line just two stops to Wilton. The last five miles from the train station to the farm will require a short uber ride.
What will you be doing for National Public Lands Day? Let us know in the comments!