Lake Ontario laps at the shore of Niagara-on-the-Lake. Though small, this quaint town is brimming with interesting things to do and delicious meals to indulge in. Originally habituated by Native Americans and later purchased by the British and American Loyalists after the American Revolution, Niagara-on-the-Lake became a thriving shipbuilding and shipping community. It is home to more than 90 vineyards, plus it puts on one of the most charming annual productions of A Christmas Carol at the Shaw Festival Theatre.
Niagara-on-the-Lake sings praises in the forms of tree-lined streets shading historic homes, shops and cafes imbued with effortless care and craft, and peachy pink sunsets that crest over the water and seemingly slow downtime. The best part? It's entirely bike-friendly. Whether as transportation or for freewheeling around, make the most of your adventure by renting a bike. Here are our favorite things to do and eat in this slice of Canadian heaven.
Things to Do in Niagara-on-the-Lake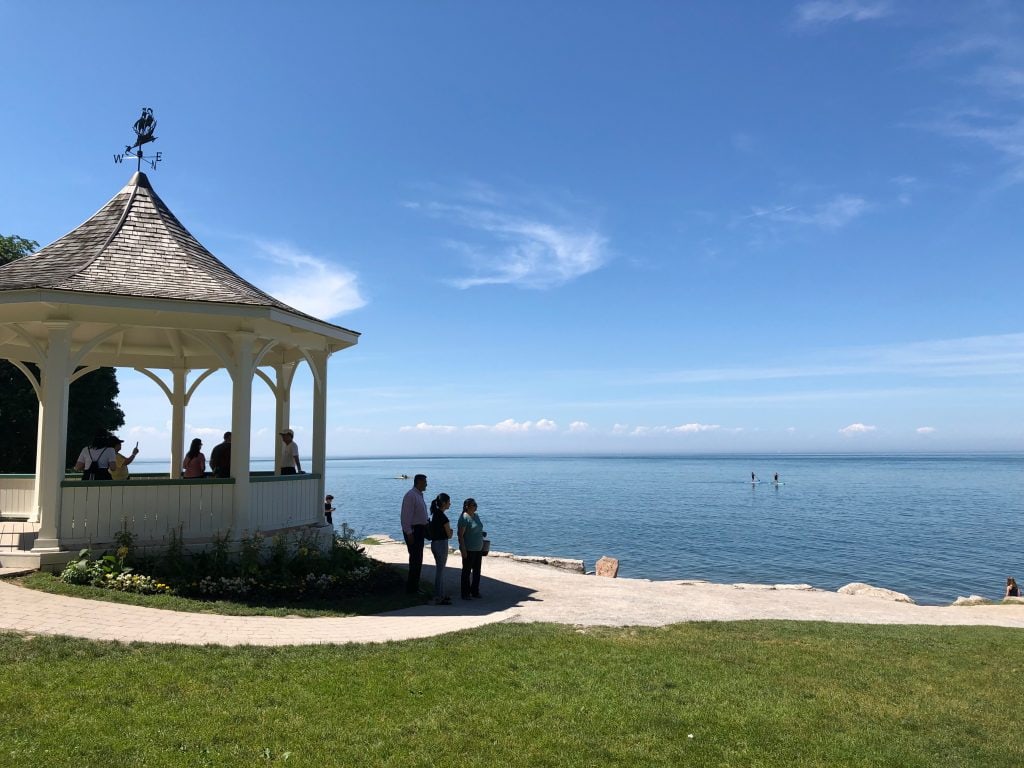 Niagara-on-the-Lake feels like a natural and cultural oasis. Start your trip with a two-hour walking tour via Old Town Tours to orient yourself to Canada's prettiest city and learn from the local guides about its storied past.
The price of a ticket ($25) includes a free wine tasting at Wine Country Vintners on Queen Street, and a chance to sip on $100 ice wine that tastes like strawberry jam and summertime. The chic shop has a lovely tasting bar for swirling riesling and sampling rosé. But it doesn't have to stop there: Konzelmann Estate Winery hosts junk food and wine pairings; Lakeview Wine Pairing Co. offers blending lessons, and Inniskillin provides guests the chance to learn the art behind their renowned ice wines and also features culinary experiences.
Niagara-on-the-Lake is also famed for the Shaw Festival Theatre. What began as a theatre troupe performing Irish playwright Bernard Shaw's shows led to the official theatre's opening by Queen Elizabeth II. Their world-class productions can be experienced all year long, currently and previously including Brigadoon, Alice in Wonderland, Dancing at Lughnasa, and Henry V.
Pop in and out of the Queen Street's treasure trove of shops, like Just Christmas, Serendipity, Greaves Jams & Marmalades, and Soap Opera-on-the-Lake, and leave with locally made ornaments, soaps, jams, and home goods. Pick up gorgeous homemade chocolates from Rocky Mountain Chocolate for your trip home.
There's much to do but be sure to carve out time to just relax by the water.
Where to Stay
The Prince of Wales Hotel
brings the royal treatment to Queen Street, harkening back to its glamorous Victorian history and reconstruction. Alternatively, Airbnbs are aplenty and perfect for a laidback cottage getaway that's within walking or biking distance to town or the water.
Looking for a good hotel for a good price?
You can find great deals on Kayak, just click below:
What to Eat
The town is (fittingly) made up almost exclusively of Old World restaurants. Dine on contemporary Canadian cuisine at The Epicurean and Treadwell Cuisine, a za Canadese deluxe pie at Pieza Pizzeria, or opt to pick up fresh sandwiches for a picnic at Tide and Vine Sandwich Bar.
The Irish Harp gets busy in the evenings and it's for good reason: live music, a mix of traditional and contemporary, and their fish and chips. Toss in a Snakebite (half cider, half Harp lager) and you're in for a delightful evening.
Gelato di Carlotta's massive menu board is an excuse to come back as many times as you can. It is a slice of Italy in Canada, a sweet and transportation treat. And visit to Niagara-on-the-Lake wouldn't be complete without picking up breakfast pastries and for-later desserts, like butter tarts and savory pies, from Niagara Home Bakery.
How to Get Here
To get to Niagara-on-the-Lake from NYC, take Amtrak from Penn Station to Niagara Falls, thirteen miles away. A cab will take you the rest of the way. The journey takes nine hours.
Once you're in town, rent an electric bike or scooter with eSkoot Niagara.
For more information, visit www.Niagaraonthelake.com
If you decide to rent a car, you can find good deals here:
And if you decide to take a flight – click here for the best offers.
Lindsay is a new New Yorker, having grown up in Boston and lived in Dublin for a bit. Her soul is half mountain, half skyscraper, and she is moved by the breathless wonder of cultures and landscapes that make up the mosaic of our planet. Writing has been her passion since she was a little girl, and she still has dreams of becoming a ballerina someday. She loves cycling, donuts, art museums, and toting her camera everywhere. Find her blogging at ontherogueagain.com.