For a weekend getaway to enjoy the rolling hills and foliated streets of Virginia, head to the 45-mile long Washington and Old Dominion Rail Trail – the W&OD. This well paved path winds through the suburbs of Washington D.C. to Northern Virginia's wine country and is accessible to cyclists of all abilities.
Try this 90-mile itinerary (map at the end) heading out to the trail's terminus in Purcellville Virginia and back to the Capital for an active adventure. As you head west, expect plenty of other cyclists, walkers, and skaters who are all out to enjoy the tree-lined trail.
SATURDAY
1. Start at the center – Mile 0, Washington D.C.
Heading from the Capital, you'll begin your day by crossing the  Francis Scott Key Bridge to the Custis Connector Trail which, starts on the Virginia side of the Potomac. Follow the signs to East Falls Church for six miles where the connector trail feeds you directly into the Washington and Old Dominion Trail.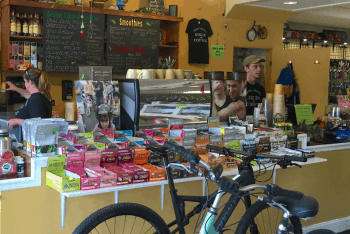 2. The local cycling joint – Mile 20, Herndon, VA
After pedaling 20 miles on the blissfully car-free W&OD trail, past suburban outposts and rural respites, you'll reach Herndon Virginia, home of Green Lizard Cycling & Coffee. Just 100 feet off the trail to the right you'll see racks of bikes and hear the clopping of cyclists in their clipless shoes heading into this de facto community hub. Pump up your tires, grab an espresso, and relax in their indoor or outdoor seating areas.
3. Pit stop for American history – Mile 33, Leesburg, VA
After another 13 miles of riding the rolling terrain, history buffs will want to take a detour into downtown Leesburg, a town with both both Revolutionary and Civil War history. Two blocks North of the trail is the Loudoun County Museum (free), home to hundreds of artifacts ranging from arrowheads to textiles to 19th century maps.

4. Hand crafted drinks- Mile 45, Purcellville, VA
At Mile 45 you'll pull into the quaint town of Purcellville, where an old train depot marks your arrival and the official end of the trail. Though small, the town offers a big culinary punch with locally crafted alcohol and farm fresh food served at most of their establishments. Arrive by 6:00 pm for a chance to check out the family-owned and 85% solar powered Catoctin Creek Distillery where you can take a tour (free, on the hour) of the small distillery and taste their famous spirits ($10 for standard tasting).
5 / 6. Farm to Table Eats – Mile 45.2, Purcellville VA
To continue enjoying Cacotin's spirits or impressive locally brewed beers alongside sumptuous barbecue, head down the street to Monk's (5). You'll find a basic menu of southern goodness including slow-cooked pork and brisket alongside traditional vinegar slaw and collard greens. For the full service restaurant experience head to Magnolias at the Mill (6) to enjoy traditional American eats ranging from pommery chicken in a tangy mustard cream to the inventive sweet and savory melange of the house made ravioli stuffed with figs and mascarpone.
7. A historic inn infused with quaint luxury- Mile 48, Purcellville, VA
After dinner, you'll finish your day with a steady three-mile ride south from town on well-paved and wide roads to arrive at the Springdale Village Inn. This nationally registered, 1832 Federal-style building is brimming with history. You'll see everything from secret crawl spaces used for the Underground Railroad to carved initials from soldiers bedded in the house when it served as a hospital. The cozy, rustic rooms start at $150 a night and include a locally sourced breakfast.
SUNDAY:
7. Morning, farm-fresh fuel  – Mile 48, Purcellville, VA
After a filling homemade breakfast with eggs and milk directly from Springdale's own farm and garden, head back to the W&OD for your 45-mile ride back to Washington D.C. Enjoy the quiet of the far-end of the trail before you head into the D.C. suburbs, where Sunday will bring families and many recreationists.
8. Local flora and Korean pagodas – Mile 69.5 – Vienna, VA
After your first 20 miles of riding, you'll reach Vienna, where an 1.5- mile side path (connected to the trail and well marked) will lead you to the Meadowlark Botanical Gardens ($5). Walk the grounds to find almost 100 acres of native flowers and an impressive Korean Bell Garden which includes traditional Korean architecture and sculptures.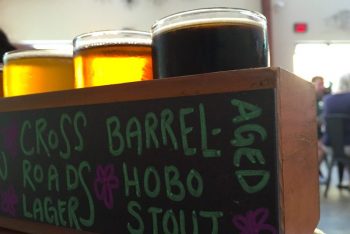 9. Beer sampling and lunch- Mile 73 – Vienna Virginia
Down the road, rehydrate at Caboose Brewing Company. Try their unique and tasty brews, from the Barrel Aged Hobo Stout to their pepper infused Pale Ale. Sip alongside delicious American-style small plates and meat and cheese boards.
10. Finish with patriotic flair, Miles 87 – 90, The National Mall
From Vienna, you're less than 20 miles away from the end of your adventure. Retrace your ride on the W&OD to the Custis Trail but this time, pass the Francis Scott Key Bridge and continue to the Mt. Vernon Trail. You'll stay in Virginia for an extra mile and cross at the Arlington Bridge. Crossing over this bridge will allow you to finish your bike tour pedaling through the scenic National Mall before ending at Union Station. 
How to get there:
Take Amtrak to Union Station to begin your bike ride. You can also take the commuter bus to or from Leesburg for less mileage on the bike (though you must register your bike in advance before bringing it on the bus).
For more information on exploring Northern Virginia we recommend checking out Virginia.org, Visit Loudoun, or FXVA.com for information on Fairfax. 
Photos: Sarah Knapp, Robbie Shade
Sarah Knapp is a Brooklyn -based entrepreneur whose love for the outdoors and community building led her to the October 2013 creation of OutdoorFest. She has a BA in History, is a Wilderness First Responder and a NY state hiking, camp and boating guide. Her proudest achievement to date is reading the Aeneid in Latin.