What: Release your inner chef at the Culinary Institute of America Boot Camp, Hyde Park
When: Boot Camp runs year-round, but fall is prime time to see the school's genuine commitment to local agriculture.
Why: Dutchess County is home to one of the world's most respected culinary schools, the Culinary Institute of America. The people at the CIA are serious about cooking. They are also seriously committed to using the finest local resources that the lush surrounding farmlands provide. If reading your well-thumbed copy of Anthony Bourdain's Kitchen Confidential is no longer doing it for you, take the plunge, put on a white chef coat, and walk the school's Hogwartsian halls for yourself.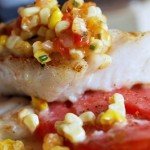 Culinary Institute of America Corn Relish Recipe
Yield: 6 Portions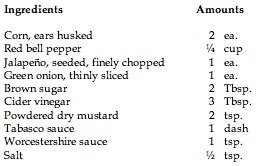 Method
1. Bring a large pot of water to a boil. Add the corn and cook until the kernels are just barely tender, about 5 minutes. Remove the corn from the water and allow to cool slightly.
2. When cool enough to handle, cut the kernels from the cob into a mixing bowl. Add the red pepper, jalapeño, and green onion. Reserve until needed.
3. Heat the remaining ingredients in a skillet over high heat and bring to a boil. Remove from the heat and add to the corn mixture. Toss until evenly coated.
4. Serve the relish warm, or allow to cool to room temperature.
As a Boot Camper, you will be privy to the inner workings of this king of culinary schools. Learn how top-quality, local produce, cheese, meat and locally- milled flour are utilized in its kitchens. Whether you enroll in Culinary Boot Camp-Basic Training, or a specialized Boot Camp, like Plant-Powered or Italian Cuisines, don't expect to be handled with kid gloves.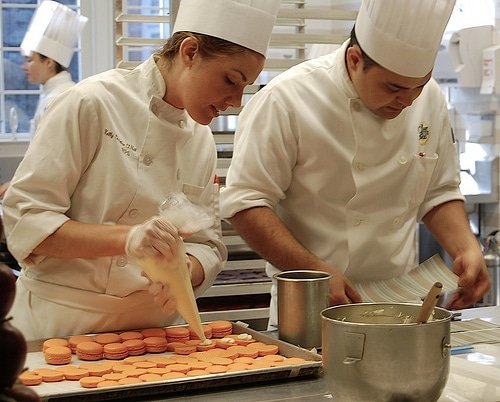 Boot Camp is an authentic, intense taste of life in a professional kitchen. Do expect to gain confidence in your culinary knowledge and skills, as you learn new recipes based on the freshest ingredients the season offers.
In the evening, indulge in fabulous food at one of the school's five student-staffed restaurants. These restaurants strive to give guests a Michelin-starred experience. You will have the opportunity to taste for yourself why the school's sustainable living philosophy makes so much environmental and gastronomic sense.
Cost: There are a variety of Boot Camps to choose from, lasting one to five days with tuition ranging from $950 to $2,500.
How to get there: All this can be yours without a car, riding Metro-North to Poughkeepsie. The CIA is a 10-minute cab ride from the Poughkeepsie Train Station. Boot Campers will need to spend at least one night in the area and several local hotels offer free shuttle service, including the convenient Holiday Inn Express and the newly renovated, full service Poughkeepsie Grand Hotel. Le Petit Chateau Inn is a charming B&B located only a half- mile walk from the school. Let the owner know when you will be arriving in Poughkeepsie and she will arrange to meet you at the station.
Editor's Note: This piece was originally published in 2010 and last updated in October 2019.
Allison is a native New Yorker, who has lived in Rome, Tuscany, Melbourne, Toronto and Los Angeles. She frequently contributes travel pieces to Family Travel Forum, using her own children as guinea pigs as they travel the globe. She is fluent in Italian and Spanish and laughably adequate in French. Her background as an Early Childhood Educator gives her an added understanding of what it takes to travel with kids in tow. She firmly believes that the most important part of education takes place outside of the classroom, on the road, around the world. She never misses a chance to sample local delicacies, as her love for travel goes hand-in-hand with her love for food and wine. Follow Allison at @gourmetrav.