There is nothing worse than returning from a weekend getaway feeling stressed as soon as you hit the hustle and bustle of the city. So this past weekend I went in search of a 48-hour vacation that could deliver a long-lasting sense of relaxation for New Yorkers.
It begins on a private balcony, overlooking a lush Appalachian mountain range, golf courses, and a slice of tropical paradise. The place is Grand Cascades Lodge at Crystal Springs Golf Resort and the time to go is now.
On the top of a hill in Hardyston, New Jersey, 47 miles from Manhattan, the first thing you notice while leaning on your room's terrace railing is that the stress has completely unraveled. Just you, the green mountain range to the northwest, an enormous sky, burbling brooks, and a smoky barbecue-scented air that sends you downstairs in search of food.
Garden to Table Dining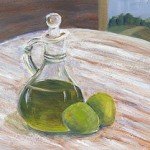 Chef Danny Besser's Olive Oil Lime Dressing
From the Chef's Garden Restaurant at Crystal Springs Resort
Note: Serves 4. Add fresh heirloom tomatoes to the salad, lightly salted, if desired.
Ingredients:
—2 cups olive oil
—1/2 cup white balsamic vinegar
—pinch of sugar
—salt & paper to taste
—a little bit of fresh lime zest
—extra lime zest on top of the salad
Now that spring has arrived, the place to go is the Chef's Garden, one of the newest additions to Crystal Springs. A bit tucked away from the rest of the resort, the outdoor restaurant is a sustainable foodie's delight. Adjacent to your seat are rows of spinach, tomatoes, peppers, giant eggplants, and bright purple cabbages, and just beyond that, a vista of mountains. No NYC culinary experience can compete with this.
The garden is 100% organic, and provides many of the seasonal ingredients for the menu. For dinner, order the chef's family-style garden salad ($11), followed by the Pull-In Smoked Duroc Pork Sandwich ($8), and for dessert, the cobbler of the season ($9). Weather permitting, the Chef's Garden will stay open through October. Another great on-site dining option, known for its private 60,000 bottle collection of world-class wine, is Restaurant Latour, which also gets its meats, fish, artisan cheeses and breads from local farms.
A Grand List of Lodge Activities
Whether the goal of your getaway is to finish a good book by a cozy fireside nook or reconnect with nature through some outdoor adventure, this property has something for everyone. On any given day, there is a naturalist-guided mountain hike and canoe trip, make-your-own caramel apples, wine tastings, bird watching, ping pong, biking ($50 rental/full day), a full-service spa voted #1 in the state, seven golf courses to choose from, and a $7 million indoor tropical Biosphere Pool Complex, complete with an underground aquarium, 140-foot water slide, steam room and sauna. A free shuttle can even take you to nearby Legends Riding Stables for an equestrian trail outing. After dark, consider stargazing, playing glow golf, roasting marshmallows, listening to live acoustic guitar music, or relaxing in the outdoor Jacuzzi with a cocktail. If you'd like a night off from the kids, you can request a babysitter for $10/hour.
Crystal Springs Resort recently acquired Mountain Creek, which boasts $20 million of new renovations, so if you're an avid skier or snowboarder, book a ski + stay package that includes an all day ski lift pass, overnight accommodations, and unlimited access to sister property Minerals Resort & Spa's four indoor and outdoor heated pools, 6,000-square-foot fitness center, tennis and racquetball courts, indoor running track, full basketball court, and more than 45 weekly fitness classes. In addition to this month's opening of Mountain Creek's fabulous facility, 55,000-square-foot Red Tail Lodge, this winter haven is now offering America's largest snow tube center, with more than 30 lanes totaling six miles of runs, two inflatable stuntman-style landing pads, and a brand new learning area for beginner skiers. As a winter alternative, jump on a cross-country skiing and snow shoeing outing to High Point State Park or bring your own gear and traverse the resort's golf courses.
Home on the Range
Crystal Springs Resort has designed a sophisticated, warm and inviting environment for Grand Cascades Lodge, from the lobby to the landscaping to the guest rooms. Many of the 250 luxury units come with a balcony and gas fireplace, free wi-fi, one king or two queen beds with Tempur-Pedic mattresses, a flat-panel TV, a desk, bathroom with tub, and an I-Pod dock. Rates for a premium room begin at $234, and a one-bedroom suite with a kitchen, living and dining room area starts at $314. Consider booking a package like the Girlfriend's Getaway or the Ultimate Spa & Stay package.
For a list of more getaway packages offered at great rates—for golfers, families, a group of girlfriends, wine lovers, couples, and even parents-to-be—visit Crystal Spring's packages page.

How to get there: Consult offMetro's guide to renting hybrids in Manhattan. The drive should take roughly an hour and a half from NYC. Check Google for specific directions. For public transportation options: Bus: Take New Jersey transit bus #196 or #197 into Warwick, NY about eight miles from the resort. Then call Crystal Limo Service at 973.271.1190
(Grand Cascades Lodge at Crystal Springs Resort, 3621 State Rt 94, Hamburg, NJ, 973.827.5996, crystalgolfresort.com)
KPICASA_GALLERY(CrystalSpringsResortReview)
The co-founder and editor-at-large at offMetro, Lauren is a sustainable travel specialist and freelance journalist with frequent bylines in National Geographic, Bicycling Magazine and Shape. Follow Lauren's adventures at @laurenmati.