Even the most devoted pet owners admit that one of the prices of puppy love is a less spur-of-the-moment lifestyle. Booking kennels and finding dog-sitters can put a damper on last-minute plans.
Fortunately, we have found seven pet-friendly getaways so you can still indulge in that spontaneous trip out of town. Metro-North, New Jersey Transit, and LIRR accept small domestic pets on board but don't specify a weight or size limit. Your dog needs to be in a carrier for the journey, so this is an excuse to use that chic, over-priced doggie-bag that you hoped would come in handy.
1. Audrey's Farmhouse Bed and Breakfast, Wallkill, NY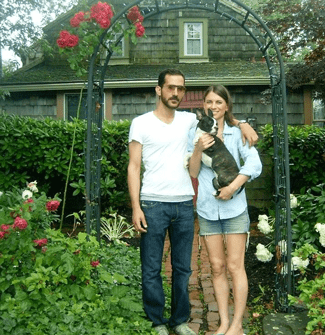 Human Instincts: This five-room, 1740's inn feels like your very own country home. Nestled in the foothills of the Shawangunk Mountains, near the dog-friendly Wallkill Valley Rail Trail, this meticulously-restored bed and breakfast is a great place to cozy up around the fireplace. On-premise owners take care of all of your whims, and room rates include a five-course breakfast.
Relax in the outdoor Jacuzzi year-round, and dip in the pool in warmer months. You are welcome to use the spacious communal kitchen to prepare meals and snacks.
Just a short stroll from Audrey's is the Brunswick Inn, where Brittany-born chef Jean Boulidor will delight you with a memorable dinner. For reservations, call 845.895.1147.
Pooch Package: Charming owners Don and Audrey estimate that 85% of guests bring their dogs, so every package is pet-friendly. There are bound to be other dogs to meet and greet, so make sure that your pet is well socialized.
The inn has an off-leash policy, so dogs are encouraged to explore every nook and cranny of the farmhouse and its five acres of woods and lawns. Food and water bowls are provided and bedtime treats are the rule. A two-night minimum stay is required.
How to get there: Take Metro-North Hudson line to Poughkeepsie, where you will transfer to the Ulster-Poughkeepsie Link bus to New Paltz. Call Don and he will pick you up at the bus station in New Paltz: 845.895.3440.
Human Instincts: The Southampton Inn is located a stones throw away from the shopping, dining, and nightlife that are synonymous with the Hamptons.
Most beaches are pet-friendly in the off-season, so hope for sunshine. The Southampton Inn's outdoor pastimes include a heated pool, tennis court, croquet, horseshoes, and badminton, so you can indulge in your sporty side and let Spot fetch your missed balls.
Pooch Package: Doggies are always welcome at the Southampton Inn and incur a $39 nightly charge. No special packages are offered, but many of the 90 uniquely decorated rooms are pet-friendly, and the majestic five acres of grounds are a canine paradise.
How to get there: Hampton Jitney welcomes pets in carriers for a $10 charge. Call and see if the hotel van is free to pick you up: 631.283.6500, or walk from the Southampton Jitney stop, about 10 minutes. The LIRR to Southampton is a fine alternative.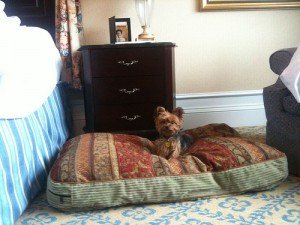 Why: Atlantic City is more than just casinos. In fact, the Sheraton doesn't even have a casino. It does, however, have the world's largest collection of Miss America memorabilia, and 502 guest rooms that are conveniently located across the street from the train station, close to shopping, and a short stroll to the Boardwalk.
Pooch Package: The Love That Dog Program includes a Sheraton Sweet Sleeper Dog Bed, food and water bowls, cellophane waste bags, latex gloves, signature dog ID tag and a welcome letter that lists dog runs and parks, local vets, and other useful information. Best of all, the Love That Dog Program is free, just indicate that you are traveling with your dog when you reserve.
How to get there: Consult oM's guide to renting hybrids in NYC.

Human Instincts: Your Pet will be so content with these plush surroundings, you won't feel an ounce of guilt when you dash out to see the latest exhibit at the Philadelphia Museum of Art. This eco-friendly hotel is the only LEED -registered hotel in Philadelphia. Its 230 rooms and suites are luxurious, service is attentive, its common areas striking, and its Center City location is near Philadelphia's finest attractions and restaurants.
Pooch Package: The Palomar's Very Important Pet plan welcomes your furry friend at no extra charge. Amenities include a dog bed, food and water bowls, dog leash and plastic bags.
The concierge can arrange pet sitting and walking for an extra charge. If you visit during the holidays, your pet can have his photo taken with Kris Kringle as part of the Palomar's "Santa Paws" program.
How to get there: Amtrak doesn't allow non-service pets on board, so you will need to take New Jersey Transit to Trenton, and change to SEPTA, which will bring you to Philadelphia's 30th Street Station. From there, it is a $6 cab ride to the Palomar.
5. The Delamar, Greenwich Harbor, Connecticut
Human Instincts: Greenwich Avenue is a great place to strut your pup and browse the classy shops. In addition to a spa, the Delamar has offers packages that will reimburse your train fare to Greenwich, so save your ticket receipts.
Pooch Package: Sophisticated Pet program participants get a comfy doggie bed, a personalized ID tag, a food bowl, and a water bowl with a bottle of Fiji water. Dog treats are always available at the front desk.
A welcome note from the hotel's general manager and a copy of the Pet Services Menu that lists special services such as walking, grooming and local area pet activities are also included.
The hotel charges $50/night, $10 of which is donated to Adopt-a-Dog, a local not-for-profit placement service dedicated to finding permanent homes for abandoned dogs.
How to get there: Take Metro-North New Haven line to Greenwich. It is a 3-minute walk to the hotel, or call for the free hotel van to give you a lift at 203.661.9800.
Why: Located in the heart of town, this charming Inn's personalized service is extended to dogs, who are not merely welcomed but spoiled. Four of the 10 individually appointed rooms and suites are dog-friendly.
The property boasts a four-bedroom cottage with a private pool, great for families and pets. Do not miss the Mill House Inn's fabulous breakfast, included in the room rate. They will even prepare breakfast for your dog, on request. You will need the willpower to resist keeping your hand out of the cookie jar, which is always filled with homemade treats.
Pooch Package: The Inn supplies dog beds, nightly turndown with treats, and bowls for food and water. The Inn's animal-loving owner Sylvia gives loving attention to your dog's special needs.
In peak season, dogs are not allowed on most ocean beaches from 9 a.m. to 6 p.m. though many bay beaches allow dogs at all times. Before May 15th, dogs are given free run of local beaches, so spring is a great time of year to visit East Hampton.
The Inn's owner will gladly point you in the direction of local establishments that will welcome you and your dog. All dogs will incur a $50 per night charge. The Inn has a two-night minimum policy on weekends, three-night weekend minimum in-season.
How to get there: The Mill House Inn is located a few blocks from the East Hampton Jitney stop. Alternatively, take the LIRR to the East Hampton station.
7. Comfort Inn Saugerties, NY
Human Instincts: Whether you want to visit Woodstock, enjoy a day on the golf course, or go for a quick dip, you can do all of that here. Saugerties is the perfect getaway for anyone who's looking for an escape to nature where their dog can join them. It's a doggie and a person's paradise. They also have really fun Fourth of July celebrations here.
Pooch Package: At only $25 a night, the pet fee is very small compared to a lot of places. Also if you have more than one pooch, up to two dogs are welcome per room at this hotel.
How to get there: Adirondack Trailways goes directly from Port Authority to Saugerties.
Photo by Matt Miller.
Allison is a native New Yorker, who has lived in Rome, Tuscany, Melbourne, Toronto and Los Angeles. She frequently contributes travel pieces to Family Travel Forum, using her own children as guinea pigs as they travel the globe. She is fluent in Italian and Spanish and laughably adequate in French. Her background as an Early Childhood Educator gives her an added understanding of what it takes to travel with kids in tow. She firmly believes that the most important part of education takes place outside of the classroom, on the road, around the world. She never misses a chance to sample local delicacies, as her love for travel goes hand-in-hand with her love for food and wine. Follow Allison at @gourmetrav.