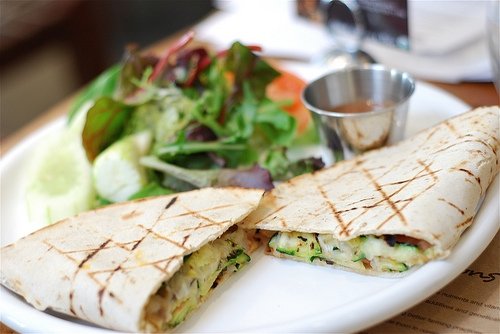 We all love good eats, but at what cost to the environment are you enjoying that greasy hamburger and fries? On the other hand, given the glut of ambiguous green advertising around New York City, how can you be sure you are satisfying your food craving in the most eco-friendly fashion?
But green gourmands, despair not! Partnership for the Environment, a member-based organization of environmentally committed businesses, awards restaurants emblems that represent various aspects of sustainability, and each verification is explained in detail on their website. For example, if an eatery is "verified" in the food and water categories, the food is USDA organic, and the produce is certified to have been locally harvested from small farms. Among other things, water certification guarantees that drinking water is only reserved upon request, and that a broom, rather than a hose, is used to clean the sidewalk in front of the building.
Partnership for the Environment is offering one hungry (and eco-conscious) oM reader a $50 gift certificate to the member restaurant of their choice—be it in Philadelphia, Greenwich, or New York City. May we recommend GustOrganics, an organic restaurant with an Argentinean flavor that carries its commitment to sustainability from its solar lighting to its reclaimed wood tables.
For a complete list of certified sustainable restaurants, visit Partnership online: partnershipfortheenvironment.com.
1) Follow us on Twitter and tweet this message (if you already follow us, just tweet!):
"Win a $50 certificate to a sustainable restaurant of your choice. Just follow @offManhattan and RT! http://bit.ly/FreeMeal"
OR
2) Sign up for our email list. (If you're already a subscriber, you are automatically entered for a chance to win the giveaway.)
You can do both to be entered twice, and tweet once a day to be entered multiple times and increase your chance of winning. Deadline is Friday, March 5th at 11:59pm EST – a winner will be chosen at random and announced the next day. Good luck!
Photo: Courtesy of Eat To Blog