For an easy escape from NYC at a minimal cost and travel time, prepare to enter the land of polo ponies and patisseries found just over the state line in Greenwich, Connecticut. This chic, cultured enclave is named after the eponymous borough in London, England.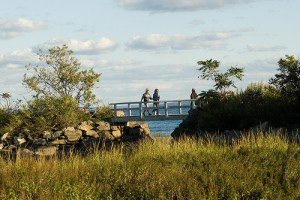 While Greenwich's reputation precedes itself, boasting 2010's second-highest income in America and claiming Ron Howard, Regis Philbin and more as residents, it is not without its hidden, budget-friendly gems. Enjoy a crêpe for under $10 or ferry out to one of Greenwich's four beaches for a sunnier setting at a low daily rate.
Things to Do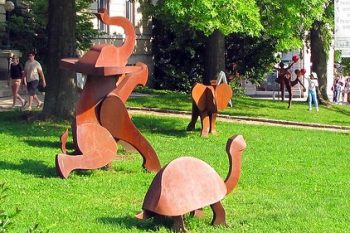 Visit the Greenwich Arts Council and enjoy the Bendheim Gallery's exhibitions, free of admission. Before leaving, request a map and stroll the Art in Public Places project, a presentation of outdoor sculptures dispersed throughout downtown. Introduce an educational angle by visiting the Bruce Museum, free on Tuesdays ($10 otherwise), with permanent exhibits on the Earth's formation, tides and more. A ferry service provides transportation to the local islands, Great Captain Island and Island Beach, for a day of (cheap) fun in the sun. Beginning June 26, step aboard the Cruise to Nowhere and enjoy a leisurely two hours on the high seas for $15.
Where to Eat
French bistro Versailles presents savory pâté, fresh salads, and a sunny, open-air decorum, making it a smart summertime selection. Eat cuisine Française without breaking the bank at Meli-Melo, featuring lunch or dessert crêpes around $10. With the walls of the restaurant acting as colorful, handwritten menus, the cozy crêperie is as easy-going as it gets in Greenwich. Mediterraneo, a nautical-themed Italian-Middle Eastern restaurant, features daily specials, numerous pizzas and an assortment of entrées, including lamb, veal and sea bass. Finish with dessert at Swiss-styled St. Moritz, family-owned and operated since 1939, and snack on their tasty, one-of-a-kind "pupcakes" styled after adorable schnauzers.
Events in Greenwich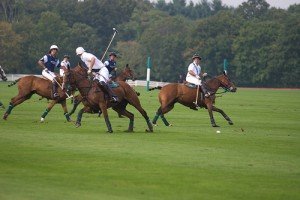 Celebrate the commencement of summer by hobnobbing with Anglophiles and watching a match at the Polo Club, beginning in June and continuing into September. Make your getaway active, and take part in the Cook Your Buns run on June 9, a three-mile run and one-mile kids run ending with a barbecue at Greenwich Point Park, also a great place for leisure bike riding. The annual event benefits the Greenwich Point Conservancy. Jazz on the Sound is a summer tradition, allowing attendees to enjoy Dixieland jazz while touring the Long Island Sound.
How to get to Greenwich from NYC
Catch the Metro-North Railroad out of Grand Central Terminal, riding the New Haven line. The one-way trip takes only 40 minutes. The train will let out directly at Greenwich Avenue, where taxi services are available and waiting near the train station.
Bring your bike on Metro North, as bike rentals are unavailable in Greenwich. Just make sure you have your $5 bike permit with you. All activities listed are within a five or 10 minute walk from the train station.
Header photo by Paul Sableman.