Atlantic City may seem like an ironic destination to rid you of your post-election blues—given that it's certainly haunted by the spirit of the president-elect. But it's time to face your demons and aggressively party like there's no 2017. Just a couple hours from New York City and you'll have all the ingredients for a cure-all. Grab your favorite friends, blindfold them if necessary, and get on the bus to AC.
Do: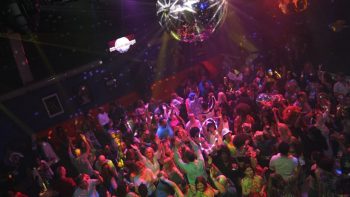 This seems obvious—you're definitely going to want to gamble a bit, right? Take solace in the soothing chimes of the slot machines and find your groove at the Tropicana. Whether you stick to the slots or try a few hands at Blackjack, there are tables and games to suit all stakes. Schedule a few intermissions to dance to some 70s funk at Boogie Nights, where ladies in sequined halter tops roll around on skates, or pop into Ivan Kane's Kiss Kiss Nightclub where they keep the go-go dancers in cages. The decor at Kiss Kiss is aptly described as "a trip down the rabbit hole into the neon-fueled nights of Bangkok." What election? Bye, America! Have fun, kids.
Stay:
Since you're already there, check in to the Tropicana (rooms in the New Havana tower start at $139.99.) Convenience is key this weekend. The Tropicana is nicely situated on the boardwalk and is perfect for people who want a sprawling all inclusive-feel, miles and miles of gambling, and the option not to see the sunlight for the entire weekend. They also seem to be pretty accommodating with late night random room service requests, wink wink. For something a bit more chill—but is that what you're here for?—book a room (starting at $159) at the Chelsea Hotel, not to be confused with New York City's legendary Hotel Chelsea, but with similar retro vibes, a spa, and a highly coveted heated saltwater plunge pool.
Eat:
A couple greasy spoon breakfast spots are going to be imperative for long term survival here. Venture out into the world outside the casino and fill up at Maria's Luncheonette, which has a refreshingly local feel compared to the bigger casino dining destinations. The Chelsea boasts Tiplitzky's, a slightly creative diner-like option, with a large cocktail menu to help you find your way out of a hangover. When it gets dark, Cuba Libre has a good vibe for dinner and drinks, with liberally spiced appetizers and a casual but upbeat atmosphere. Further afield, The Iron Room Brewery offers craft beer, an extensive wine list, and thoughtful, seasonal small plates.
Getting around:
Rent a bike but beware that a BUI is a real thing, so maybe stick to the boardwalk. There's also a boardwalk tram for people who prefer to be shuttled, and plenty of pedi-cabs eager to take you places. Beyond the boardwalk, the Jitney is your best bet, and after that, of course, Uber.
Carly Pifer is a freelance writer who has been known to follow whims inspired by romantic movie scenes or colorful street style shots to India, Japan, Tunisia and Argentina. After stints living in Seoul, Boston, Paris and Los Angeles, writing and searching for something intangible, she landed somewhat steadily in Brooklyn and has begun to find inspiration in her more immediate surroundings (and also the permanence of her bookshelf). She writes about fashion for Refinery29 and has been known to pack an outfit per day on backpacking trips. Please visit her website to read her travel diaries and other writing on the web at www.carlypifer.com or follow her on instagram .