Led by world renowned chefs, Philadelphia's ever changing food scene is easy to explore via a weekend getaway from New York City. You can grab a donut before enjoying Philadelphia's
art scene,
 make reservations in Old City after exploring the city's 
Revolutionary War history
 or explore the best local breweries after a lunch of dumplings. Getting there is a snap in less than two hours on the train or bus. Here are our favorite food destinations in the City of Brotherly Love.
The Best Restaurants in Philadelphia: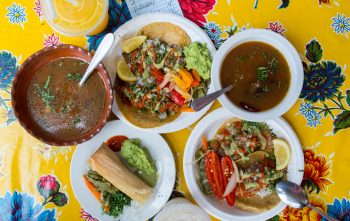 South Philly Barbacoa is our favorite place in Philly. The story behind the restaurant is as amazing as its pork tacos. The owner, Cristina Martinez is an undocumented restaurant worker turned advocate and barbacoa virtuoso. Along with her husband and partner Ben Miller, they have been written up in Bon Appétit and were featured in Netflix's Chef Table.  Located in the South Philly Italian Market, the restaurant serves barbacoa Friday to Sunday and tortas the rest of the week under sister restaurant El Compadre in the same location. Insider tip: The line starts to get long around 10:30 AM. Don't go too late as they only serve until they run out.
Federal Donuts | Donuts & Fried Chicken Shop | Multiple Locations
There is nothing to hate about fried chicken and donuts. With numerous spots around the city, Federal Donuts is a favorite among both locals and tourists. If you are a fan of wings like us, arrive around 10:00 am and enjoy an indulgent breakfast of both wings and donuts.
Abe Fisher | Modern Jewish Fare | 1623 Sansom St.
This spot is an innovative modern take on classic Jewish dishes offering a comprehensive tasting menu, as well as small plates that are great for sharing. Our favorites include the Hungarian duck "Chinatown Style", chicken liver mousse and potato latkes. However, the star of the show is definitely the Corned Beef Tongue. Finish off your meal with the bacon and egg cream or the apple tart, your bubby would approve.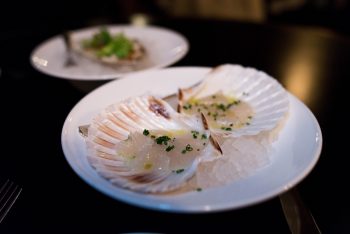 Royal Boucherie | French Style American Brasserie | 52 South 2nd St.
One of the best restaurants in the Old City area, Royal Boucherie combines a warm ambience, strong cocktails, a raw bar, charcuterie and small plates. Pair the cured scallop crudo, escargot and pork stuffed olives with one of their tasty cocktails such as the Gibson – a dry gin gimlet with vermouth and onion.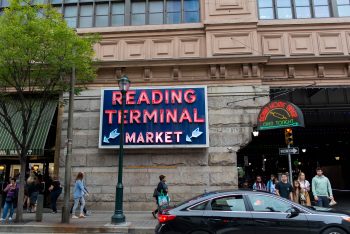 You could spend a weekend just at the Reading Terminal Market. The refurbished train station is filled with everything from Philly food stalls to local Pennsylvania Dutch fare. Our favorite meals include DiNic's for Roast Pork, Dutch Eating Place's Pancakes and Apple Dumpling and Sang Kee Peking Duck.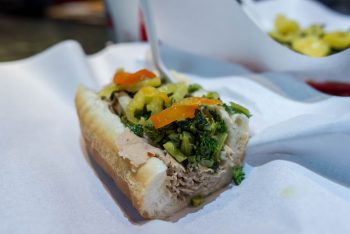 Monk's Cafe | Belgian Fare & Pub Food | 264 S 16th St.
You know when there is a beer cellar these folks mean business. At the boisterous Monk's you can grab a bite to eat and indulge in some of the best brews in town. Chow down on everything from mussels and frites to veal cheeks and Spanish Flies – a spicy version of wings.
Franklin Fountain | Old-Time Ice Cream/Soda Fountain | 116 Market St.
Located in Old City, Franklin Foundation is a classic ice cream spot with traditional flavors like chocolate, pistachio, peanut butter and coffee. The Paw-Paw flavor is a Pennsylvania Dutch delicacy known here as the Redneck Mango.  Try some here for a truly unique Philly experience. Bring cash as they don't accept credit cards.
Team Foodie is comprised of food lover, photographer, and blogger Yijia Gu – @sometimesicrave and her charming, well traveled and adventurous companion Andrew Hoffman @ageofhoffman who moonlights as a hand model, photographer of Yijia's food photos and writer. Based in New York, Team Foodie travels the world hungry to experience new things, and well, eat of course.