Inside, outside, underground, and 548 feet above ground—opening your eyes is all it takes to find art in Philadelphia. New Yorkers looking for a change of pace, or anyone seeking a thrilling cultural affair, will find plenty to get excited about in the City of Brotherly Love—just 90 minutes from NY.
Art After Hours
Some of the most inimitable artists are created under the influence, so who's to say you shouldn't indulge in some…spirited art consumption? Enjoy your culture after-hours, and with a side of refreshments, at the Barnes Foundation, the Philadelphia Museum of Art (PMA), and throughout Old City.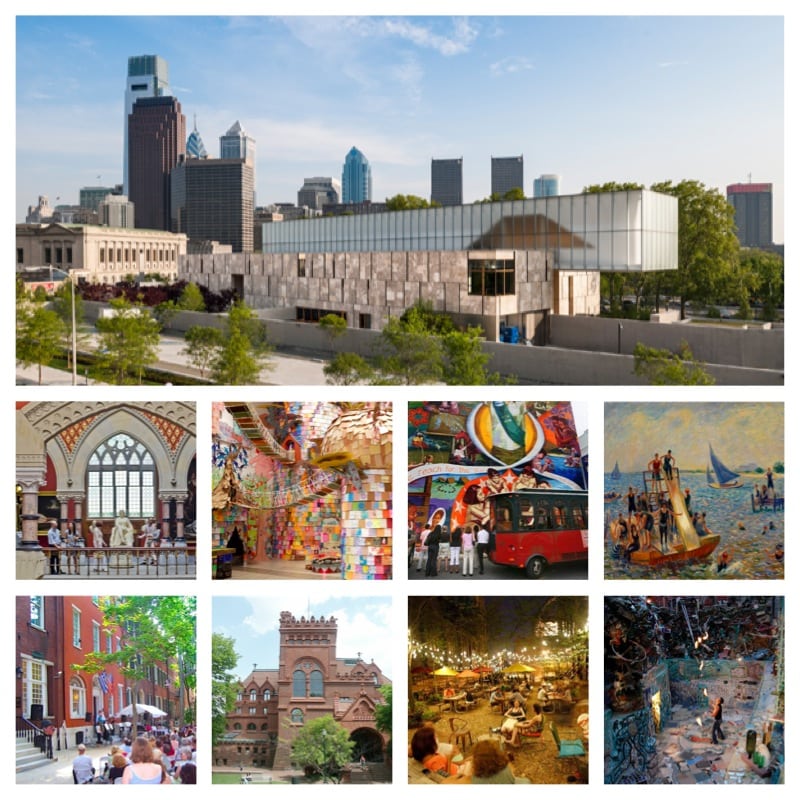 Formerly located outside the city in the Merion home of late collector Albert Barnes', and moved to Philadelphia in 2012, The Barnes Foundation boasts more than 2,500 objects, including 800 paintings, most of which are works by impressionist, post-impressionist, and early modern masters. While the interior space replicates the original museum's picture-packed walls, its exterior is a tranquil, contemporary marvel, meriting a visit on its own. On Fridays, bars open and a musical performance takes place in the indoor-outdoor courtyard, which stays open until 10 p.m.
Just over a half mile away down the lovely Benjamin Franklin Parkway, the Philadelphia Museum of Art also keeps its doors open late Friday nights. While, like The Barnes Foundation, the museum certainly merits a full (or several) day's visit, we wouldn't blame you for taking advantage of Friday night's at the Philadelphia Museum, during which emerging artists set the scene while you enjoy tapas and drinks from 5-8:45 p.m. (Tickets are $18 for adults.) Enjoy the same extended hours, relax at the bar, and explore the museum on Pay-What-You-Wish Wednesday nights, when mini-film festivals, "Make Stuff" workshops, yoga sessions, and other creative "Happenings" take place.
There are plenty of options for gallery hoppers all around town in neighborhoods like Northern Liberties, but on the First Friday of each month, the art-thirsty make a beeline for Old City, where galleries open their doors—and a few bottles—from 5-9 p.m. The galleries are mostly concentrated between Front and Third, and Market and Vine Streets. Take a break for FringeArts' Park After Dark, free First Friday performances (through September 6) located across from the organization's future home on the waterfront.
Arts & Letters
Philly's a college town, a city with a literary bent, and as you'll soon discover, where there are letters, there will be art.
Located in the 1865 home of brothers Philip and Dr. A.S.W. Rosenbach and the adjacent townhouse, the Rosenbach Museum & Library holds the treasures of the financially savvy siblings, whose Rosenbach Company was the foremost book dealer of the early 20th century. The library boasts first editions, manuscripts, and other rare texts from the likes of Lewis Carroll, Joseph Conrad, Emily Dickinson, William Shakespeare, and George Washington, which you may read with an appointment. Admission also includes a tour of the brothers' impressive decorative arts collection and access to exhibits like the annual Ulysses-focused Bloomsday Exhibition each June. A recent tour featured an artist's copy of the James Joyce text on rubber kitchen gloves; and the delightful Maurice Sendak collection, featuring original manuscripts, illustrations and rare works like The Chertoff Mural, a mural Sendak painted on the wall of a friend's apartment.
Farther West, the University of Pennsylvania's Anne & Jerome Fisher Fine Arts Library is a work of art in itself. The Frank Furness-designed building is not only a place to study, but also home to the Arthur Ross Gallery, an under-the-radar space that plays host to impressive exhibits, ranging from contemporary photography and fiber arts, to a bullfight-themed collection of Carnicero, Goya and Picasso works.
The Father, The Son and The Holy Ghost

A walk down the Benjamin Franklin Parkway takes you through three generations of Calder artists. All 27 tons of Alexander Milne Calder's 37-foot bronze statue of William Penn have been sitting proudly atop Philadelphia City Hall, towering 548 feet above ground, since 1896.
1. Book a tour ($8) to ride your way up to the foot of Penn—and an unparalleled view of the city.
2. In Logan Square, Alexander Stirling Calder's sculptures cool off summer fountain-swimmers in the Swann Memorial Fountain.
3. Hanging above the grand entry hall of the Philadelphia Museum of Art is Alexander Calder's Ghost mobile, which earned the trio its nickname, "The Father, The Son and The Holy Ghost."
Furness, along with partner George Hewitt, is also the architect of the Pennsylvania Academy of Fine Arts' (PAFA) Historic Landmark Building, whose main galleries feature works by distinguished alumni such as Thomas Eakins and Mary Cassatt. The pioneering art institution is rare for its dual role as both school and museum. Admission to the building also grants access to the Samuel M.V. Hamilton Building, where more modern works befit the newer space.
Each year, a new group of UPenn undergraduates acts as an advisory board and co-curators of annual exhibits at the Institute of Contemporary Art. This intimate museum celebrates innovation and was the first to exhibit shows of Andy Warhol, Robert Indiana, and many other groundbreaking artists. In student-friendly spirit, admission is free for all.
Art of the Unexpected
From a prison to vacant lots, art pops up in even the most unlikely places in Philadelphia. Eastern State Penitentiary, the prison where the word "penitentiary" first came into use—compulsory silent time with the Bible was intended to make prisoners feel "penitence" and regret their actions—looks like a castle from the outside, a defunct church from the inside. Visitors can wander down the prison's corridors, where cells in various states of disrepair (though Al Capone's is looking as dapper as ever) are yours for the peeking and, in many cases, entering. While the Penitentiary draws the biggest crowds in the fall for the chilling Terror Behind The Walls, it's alive with art all year-round. A handful of cells host rotating artworks that act as reflections and commentary on incarceration, and on summer Tuesdays, from 5-8 p.m., photographers of all levels have the grand, vaulted structure to themselves and their tripods during Photographers' Twilight Hours.
Philadelphia Horticultural Society (PHS) hosts an annual Pop Up Garden, bringing life to vacant or otherwise underutilized space. In 2012, the garden took the form of a colorful, communal supper table that raised money for City Harvest. Open until mid-October, the PHS's pop-up brings to light the relationship of horticulture and art, while doubling as a shipping container-fueled mobile beer garden, replete with bites.
Art and the Outdoors

This spring, the PHS's other signature event, the Philadelphia Flower Show, took on a decidedly artistic air. Dubbed ARTiculture, the show celebrate art's influence on gardening, and nature's influence on art. Expect plants on display like works epitomizing the art of flower arranging.
Sol LeWitt: Lines in Four Directions in Flowers, a garden originally conceived over 30 years ago by the artist, came to fruition behind the Philadelphia Museum of Art in 2012 for a two-year installation. At once wild and composed, the beautiful work lives between the Anne d'Harnoncourt Sculpture Garden and the Azalea Gardens. Nearby, the gardens of the Rodin Museum situate the artist's works in a transporting French garden setting with Beaux-Arts architecture.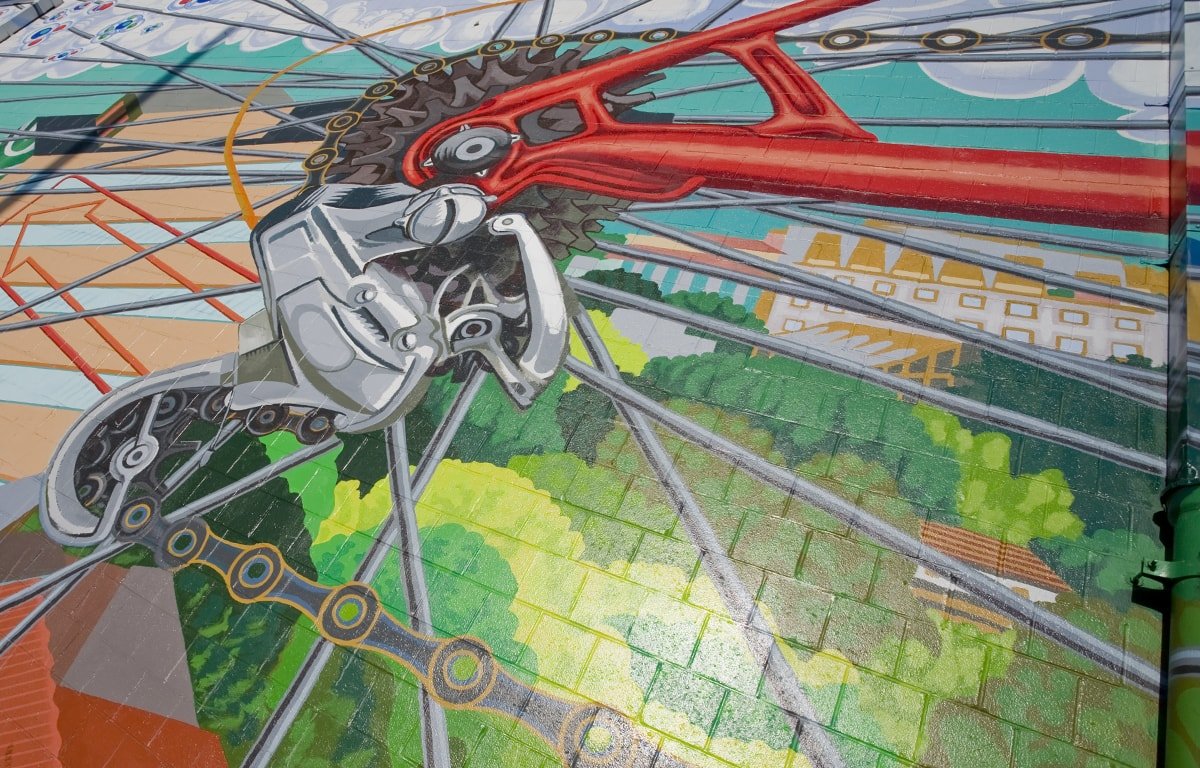 Art and nature mingle year-round in Philly, a town that beams with pride for its thriving mural scene. There are over 3000 murals produced through The Philadelphia Mural Arts Program (founded in 1984 as the Anti-Graffiti Network), over the past 25 years, and countless other private works. The murals are as storied and diverse as the city itself, and a walking, trolley, or bike tour is a great way to bring some history and context to the picture along Center City's "Mural Mile," and a range of other neighborhood-centric routes. Plan a trip to Philly for the opening of Beyond the Paint: Philadelphia's Mural Arts in November or join this fall's Mural, Market and Garden Tour in Kensington, which include a visit to the farmers' market at Greensgrow Farms and Norris Square's urban gardens. You can even become part of the collaborative mural-making process; just call and ask about the next opportunity to paint a square of the city.
Isaiah Zagar has transformed over 100 public walls throughout the city, turning structures into mosaic masterpieces and a vacant lot into an otherworldly maze. Get lost among Zagar's mesmerizing mosaics at Magic Gardens on your own or with a tour guide, Thursday through Sunday.
A self-proclaimed "museum without walls," Philadelphia boasts more than 700 outdoor sculptures, more than any other American city, according to a recent Smithsonian Institution survey. The city's history as a pioneer in the realm of public art is rooted in the Association for Public Art (aPA), founded in 1871 as the Fairmount Park Art Association. The city's collection includes Robert Indiana's iconic LOVE statue and four Claes Oldenburgs—more than any other city. Commissioned in 2011 by PAFA, Oldenburg's lively Paint Torch sits in the school's Lenfest Plaza opposite a temporary exhibition, currently Grumman Greenhouse (on display through September 2013), a US military plane artist turned charity greenhouse sculpture.
The Association for Pubic Art unearths the stories behind the sculptures through Museum Without Walls: Audio. The multi-platform program enables passerby to tune into the histories of 51 works through cell phones and smartphones, as told by people connected to the piece.
Where to Eat
From the delicious smorgasbord of Reading Terminal Market, to the sea of quaint Italian bring-your-own-bottle (BYOB) spots peppering the city and the flourishing food truck and cart scene, it's hard to go wrong if you come to Philly with an appetite.
Wake up with homestyle (and homemade, right down to the mayo) Jewish-meets-southern comfort grub at Honey's Sit N Eat. The wait is long, but the portions are tasty and large, the ingredients, like Lancaster eggs, are local, the coffee is La Colombe, and, should your orange juice fall flat, you can always BYO bubbly. Honey's recently opened up a second location on South Street in the Graduate Hospital area, but the Northern Liberties restaurant is a neighborhood staple.
Talula's Garden is a collaboration between Aimee Olexy of Talula's Table, a gourmet market in Kennett Square, PA, and Philly's most prolific restaurateur, Stephen Starr. With a Deco-meets-agrarian chic setting, the Washington Square restaurant offers seasonal, farm-to-table fare with an added layer of from-scratch finesse.
Marigold Kitchen describes itself as "whimsical cuisine in a cozy West Philly Victorian home," where it's the tasting menu or bust. Choose between four-, five-, and six-course dinners, with creative, seasonal dishes to the tune of duck egg "carbonara" with house-made goat's milk ricotta and squash "noodles," or organic chicken with poached plum, liver croquette, and barbequed foot.
The Four Seasons' rooftop garden provides much of the herbs for the Fountain Restaurant's French-flecked, locavore-friendly contemporary American fare. The kitchen works with a local farm to compost its food scraps and organic discards, keeping the equivalent of 52 metric tons of carbon dioxide out of the atmosphere in the process.
Drawing on honey and vegetables from a rooftop garden and hives, neighborhood-bred chef Lynn Rinaldi brings a fresh take on Mediterranean to the bustling Italian row of East Passyunk at Paradiso. Rinaldi's light, fluffy gnocchi and inspired seasonal specials are best enjoyed with a side of live jazz.
The charming atmosphere replete with nostalgic, mustachioed servers are the cherry on top at Old City's The Franklin Fountain. Expect nothing but the best local ingredients, starting with milk and cream from Berks and Lancaster Counties in the shop's hand-made ice cream: ribbons of pure, silky peanut butter in the peanut butter ice cream; ground vanilla bean specks in the traditional Philadelphia-style vanilla; and real fruit puree in flavors like strawberry and blackberry. Do yourself a favor: Order a sundae. And if that doesn't satisfy your sweet tooth, saunter over to the neighboring Shane Candies, a historical confectionary run by the Berley Brothers, the duo behind The Franklin Fountain.
Where to Sleep
Five-star treatment and a spectacular location await you at the Four Seasons Hotel Philadelphia. The hotel is situated on the Benjamin Franklin Parkway, across the street from the Swann Memorial Fountain, Sister Cities Park (featuring kid-friendly jet fountains and a beautiful shallow wading pool) and the grand Cathedral Basilica of Saints Peter and Paul, and just two blocks from The Barnes Foundation. The Barnes Foundation Package (starting at about $380/night) includes two VIP admission tickets, breakfast for two in the Hotel's Fountain Restaurant, and more.
The Kimpton's Hotel Palomar, is a hotel "where art comes alive," through chic, modern style and Art Deco design in a 1929 landmark building. Offering bikes for free to guests, the Palomar is the city's only LEED Gold Certified eco-friendly hotel and sits just a few blocks from Rittenhouse Square, one of the city's most beloved public spaces, where a weekly farmer's market takes place (year-round on Saturdays, seasonal on Tuesdays). All guests are invited to the hosted evening wine hour and to treat themselves to the Art of Wellness full-day menus. The hotel's special offers include a summer Perfect Picnic package and various museum experience packages.
How to get there: Take Megabus or consult oM's Philadelphia Transportation Guide. If you are driving, the Philly Overnight® Hotel Package comes with free parking at your hotel. Go to visitphilly.com to plan your next getaway to Philadelphia. 

View All You Need to Know About the Philly Art Scene in a larger map
Lead photo: G. Widman for GPTMC