While New York City has certainly seen an infusion of grill-obsessed restaurants over the last few years, there's really nothing like getting out of town and dining al fresco in, well, much fresher air.
Travel 45 minutes north of Manhattan to the idyllic, whitewashed Westchester homes of Bedford, where, having no home of your own, you will reserve a room at The Bedford Post Inn, an eight-room luxury hotel that offers two notable pieces of party trivia: It is one of three buildings that survived the Revolutionary War and—after incarnations as a post office, and a private residence—was transformed a few years ago to its current state by owners Richard Gere and Carey Lowell. Yes, that one.
The actor's affiliation is referenced in subtle ways throughout the interior, such as the black and white silent films playing in the lounge area, and a book inside the gift shop. More prominent is the aura of Zen, pouring out from the warm woods, delicate flowers and neutral tones everywhere.
After signing in at the front desk, you will be poured a glass of Champagne, then whisked away to your personal space, where rich linens, an antique claw-foot tub and bucolic vistas await.
Once revived from your travels, proceed directly to your dinner reservation at the Inn's formal restaurant The Farmhouse and request a seat with a view of the action—Chef Jeremy McMillan (formerly of A Voce Columbus) working the Patagonian-inspired grill adjacent to the outdoor patio.
There, McMillan smokes all manner of meats, whole animals, vegetables and berries—the latter sometimes foraged from the 100 wooded acres behind the property.
Begin with the antipasti. Served atop a large butcher board, this seasonal interpretation is as much a feast for the eyes as for the palate, including everything from day lilies to garlic whistles to cherries, apricots, artichokes, broccoli and bone marrow. And it's only a starter. If you're enjoying the heat, shoot for the mixed grill next.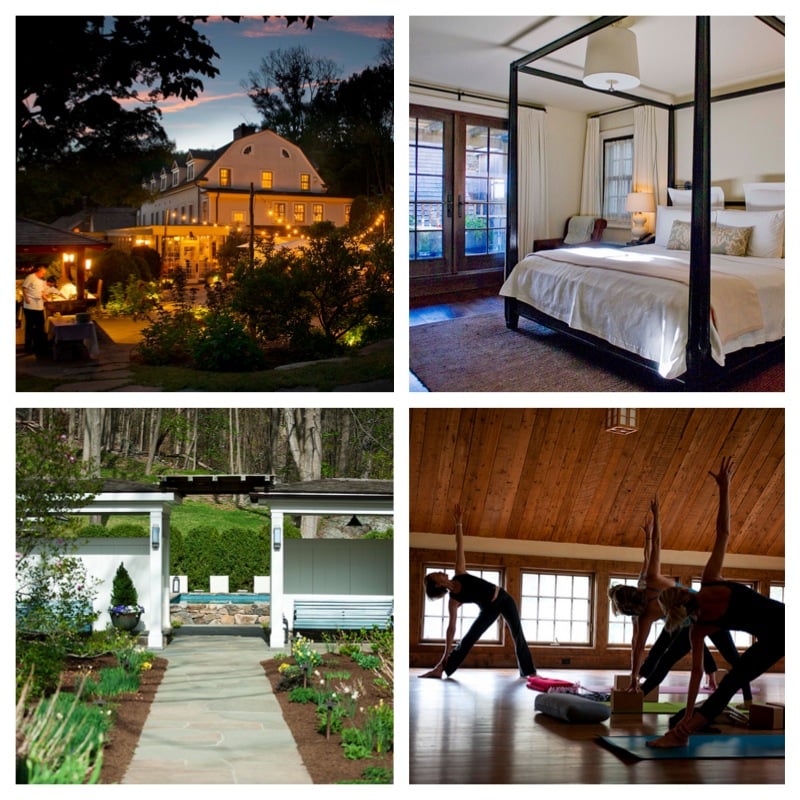 As the scent of smoked wood and charring meats wafts across the perfectly manicured grounds, it's no wonder locals such as Blake Lively and Ryan Reynolds are lured over so often.
But as delicious as a brush with celebrity may be, McMillan's sweet-corn filled pillows of handmade pasta topped with caviar have got it beat. Also splurge-worthy? A small plate of shaved almonds, figs, mint, Iberico ham and house-made Stracciatella, a soft Italian cheese that the chef describes as, "like burrata, but only the best, creamiest parts." Just please leave room for dessert because the Nutella gelato crostini is to die for.
All of these smoked, whipped and buttered delights will invariably launch you into a divine food coma. But, no need to set the alarm. Guests receive a complimentary in-room breakfast served at whatever hour you desire. Then, if you still need to lose some toxins, you can take a hike in the forest behind the chef's new vegetable garden or sign up for one of the various classes offered at the inn's airy Yoga Loft.
Who knows, you may end up striking a pose next to the Dalai Lama.
How to get there: Take the Metro North 'Southeast Line' to Bedford Hills, then a quick 10-minute cab ride from the station.