When planning a romantic getaway with a loved one, the pressure is on! It has to feel far away without too long of a trek, luxurious but also slightly adventurous, and your meals have to be top-notch without a price tag that hurts. Remember, it's your vacation too, so let brand new booking platform TravelWits help. On TravelWits you can search by budget, transit time and most importantly for offMetro, type of transit (bus and train options abound!) All you need to do is plug in your budget, your prefered method of transportation, max time you're willing to travel, choose "Romantic resort" in the Destination field, and TravelWits will pull up your options. Once you choose a hotel, it'll even fill you in on what to do. From there, the romance will fill in naturally. Here are a few summertime getaways for you and your loved one:
Option 1: Philadelphia, PA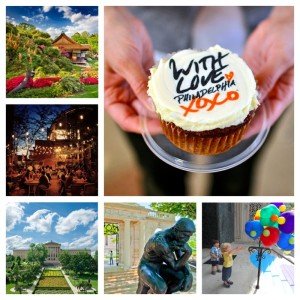 Budget for all travelers: $600
Time in Transit: 2 hours by bus or train
Get There: Use our Manhattan to Philadelphia Guide for options including bus and train.
Highlights: Starting the day with free outdoor yoga at Race Street Pier and ending it with views of the Delaware.
Check in at the Hilton Philadelphia at Penn's Landing (around $200/night for a waterfront view room). From here, you can easily explore Old City or "America's most historic square mile" or venture further with Indego bike share ($10 for a day pass) which has a station located in the heart of Old City.
If you can arrive in time for Friday Nights at the Museum, kickstart the weekend with live music, cocktails, and tapas at the Philadelphia Museum of Art. Start your mornings with free outdoor yoga at Race Street Pier and keep your zen going by wandering your way through the Magic Garden's ($10). For those looking to dedicate the entire weekend to history, you can even follow in the footsteps of Alexander Hamilton. For dining, we recommend grabbing lunch at High Street on Market and ice cream at The Franklin Fountain. Later on, venture out for authentic Cambodian at Khmer Kitchen, followed by dancing at Dolphin Tavern.  
Option 2: Pocono Mountains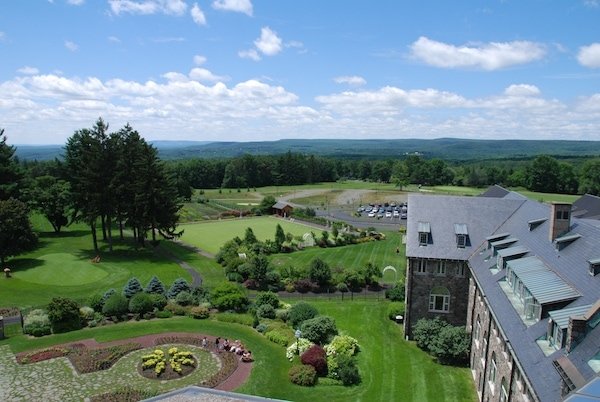 Budget for all travelers: $800
Time in Transit: 2 hours by bus
Get There: Martz Trailways bus from Port Authority to the Mount Pocono stop, where you can arrange a pickup through Skytop Lodge ($80 roundtrip pp).
Highlights: Guided mountain hikes by day and stargazing by night.
Once you arrive in the Poconos, you'll wonder why it took you so long. Skytop Lodge (starting around $300 / night) is a great no-hassle way to experience the Pocono Mountains. With 5,500-acres of property and endless activities on offer, you can spend the entire weekend outdoors – stargazing, birdwatching, hiking, archery, swimming, biking, boating – take your pick. But don't forget to kick back and relax – try a Couple's Massage or Reflexology at the Skyview Spa. Watch the sun set over the mountains from the Skyview Lookout, before a hearty meal at one of the five on-site restaurants – try the Windsor Dining Room for an elegant meal with your partner.
Option 3: Portsmouth, NH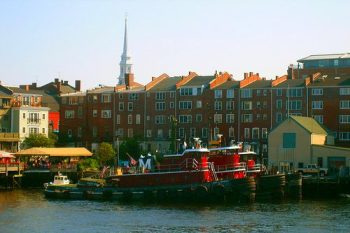 Budget for all travelers: $900
Time in Transit: 7 hours by bus
Get There: Head to to Boston and then hop on the C&J Bus Lines at Boston's South Station for the 60-minute ride. Alternatively, take GoTo Bus (about $120 roundtrip pp) for Greyhound transportation with a transfer in Boston.
Highlights: Eating Fried Scallops at The Old Ferry Landing as the sun sets.
Getting to Portsmouth, NH is a trek, so hopefully you have Summer Fridays and can get out early. Check into the Sheraton Portsmouth Harborside Hotel (around $250 per night), drop your bags, and get ready for a casual dinner on the Piscataqua River. With so many foodie options, it'll be hard to choose, but one of our favorites is The Old Ferry Landing, Portsmouth's oldest waterfront restaurant (around $25 for an entree). Walk around town by day, dip into nautical-themed shops like SAULT, caffeinate and people watch at Breaking New Grounds, grab a quick lunch at Ceres Bakery, cool off with homemade ice cream at Annabelle's, and hydrate at The Portsmouth Brewery. For the active adventurer, schedule kayaking, hiking or even ziplining into your weekend for some great views and a little adrenaline.
Option 4: Kennebunkport , ME
Budget for all travelers: $1100
Time in Transit: 6 hours by bus and train.
Get There: From Boston, take C & J bus to Ogunquit and taxi from there ($160 roundtrip bus pp).
Highlights: Taking in the ocean view along the Parsons Way Trail cliff walk.
This is an easy one to plan! The Breakwater Inn and Spa conveniently offers a Summer Romance package (around $300 per night), which includes a complimentary bottle of Prosecco, fresh flowers in the room, and use of bicycles and canoes. Get lost in a book on the deck of your riverside room, or stroll into downtown Kennebunkport to explore the cafes, galleries, and shops. Gooch's Beach (15 minutes by bike) is great for a dip and sometimes a surf, but you'll find more privacy at Goose Rocks Beach (a quick drive, or 40 minutes by bike). Treat yourselves to a seaweed wrap at the Breakwater Spa, a sea salt body scrub, or a warm stone massage (with stones from the Kennebunk River). When in Maine, live a little and eat lobster! Dine al fresco at the Stripers Waterside Restaurant – put on your bibs and crack into a steamed lobster or try the daily catch.
Option 5: Washington, DC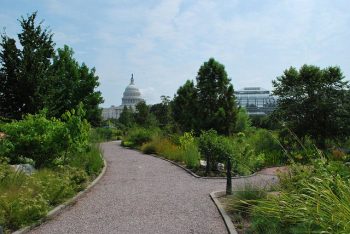 Budget for all travelers: $800 (by bus) – $1500 (by plane)
Time in Transit: 2-4 hours
Get There: Bus, train or plane all are great options. See our Manhattan to D.C. Guide.
Highlights: Saying yes to the Goober Pie at Afterwords Café.
There is an endless amount to do in DC, but remember you're on a romantic getaway, so let's keep it simple. You can always check off the touristy things later. The Dupont Circle (around $200 per night) is right in the center of the Dupont Circle neighborhood, with easy access to the Metro should you want to venture. Start the weekend with an expertly crafted cocktail at Bar Dupont before strolling to Kramerbooks, where you can pick up a weekend read and a great meal (in the back) at Afterwords Café. Wake up with a coffee at Filter, find your balance at Dupont Circle Yoga, then grab lunch (in your workout gear is fine) at Glen's Garden Market. If you want to keep moving, lace up your sneaks and walk the 2-mile stretch of Massachusetts Avenue known as Embassy Row, find the Spanish Steps, cool off in the National Geographic Museum ($15 for adults), and catch the latest subterranean exhibit at Dupont Underground. End on a romantic note with authentic Italian at Giovanni's Trattu or French cuisine at Bistrot du Coin.
Annie is a travel writer, environmentalist, and surfer based in Venice, CA. She heads up our West Coast team, keeps our grammatical errors in check, and makes sure our California writers always have a plan for their next adventure. Follow Annie's travels @annelisemcb.