"Live Free or Die" is the Granite State's official motto and when it comes to outdoor activities, New Hampshire natives maintain the same go-big-or-go-home attitude their state slogan implies.
With forests covering eighty percent of the state's land and no fewer than ninety-two state parks and trails, New Hampshire has made a strong commitment to maintaining its natural resources, and locals and visitors alike can take full advantage of the area's landscapes year-round. From kayaking in Portsmouth to a refreshing walk along Flume Gorge and an Appalachian Mountain Club adventure (with free hiking gear!), here are four New Hampshire outdoor activities to try this summer.
Kayaking in Portsmouth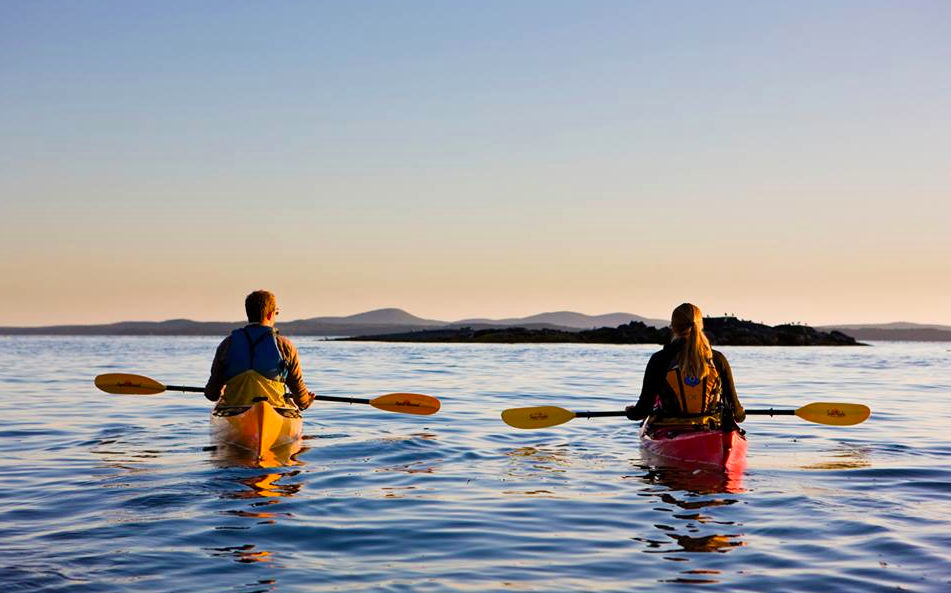 With the Piscataqua River to the North and the seacoast to the east, it's no surprise that water-based activities are popular summer pastimes in this coastal town. Portsmouth Kayak Adventures caters to both seasoned kayakers, who should set out on the Portsmouth Harbor Tour that circles New Castle Island, and beginners, who can book their own guided daytime or sunset tour. A leisurely paddle down the Piscataqua provides spectacular views of the elegant mansions that line the waterfront as well as an up-close look at the old Portsmouth Naval Prison, a stately structure more akin to a grand hotel than a prison. From the shore of a tiny neighboring island, our guide pointed out that Humphrey Bogart was once both a guard and a prisoner at this institution. I later learned from a local server that parts of the film The Last Detail with Jack Nicholson were filmed here in the early seventies.
Back on dry land, stroll the cobblestone sidewalks of downtown Portsmouth, stopping into locally owned shops like Puttin' on the Glitz on Market Street and Hazel boutique on Commercial Alley. (Note: Portsmouth is a sales tax-free haven.) Nearby Prescott Park on the riverfront hosts outdoor concerts as well as film screenings throughout the summer.
Hiking in the White Mountains
The White Mountains region of New Hampshire offers prime hiking trails, spectacular sky high accommodations at Appalachian Mountain Club's Lakes of the Clouds Hut, as well as the oldest continuously maintained trail in the United States: Crawford Path. Make your home base the environmentally friendly Appalachian Mountain Club Highlands Center where you can rent hiking gear free of charge, navigate the area trails with or without a guide and participate in outdoor educational programs. You do not have to be an AMC member to stay at the Highlands Center or take advantage of their activities. Enjoy evening meals served family style at long tables, game and reading rooms for kids and outdoor adventures geared towards all ages and skill levels. Beginner hikers can follow the Crawford Path to a rock formation known as Elephant Head or hike up to Gibbs Falls while a more experienced hikers can take a full day and venture up to Mt. Pierce. Guest rooms at the AMC Highlands Center feature bunk beds and double beds as well as a hostel-style bunkhouse. Breakfast, lunch and dinner are served at the lodge and hikers can take a packed lunch for the day's excursion.
Exploring the Flume Gorge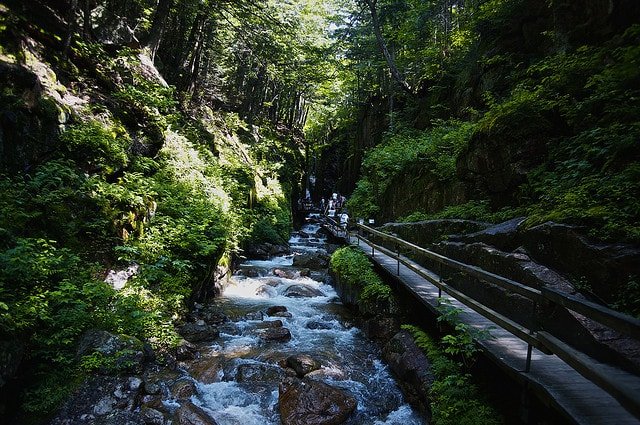 According to local lore, a lady known as "Aunt Jess" Guernsey discovered the Flume Gorge in 1808 at the age of 93. She went out trout fishing and returned home speaking about a "great chasm." At first, Aunt Jess had trouble convincing family and friends of her discovery, but word of the Flume began to spread and visitors from neighboring regions traveled to the area to see the natural wonder for themselves.
Today the Flume is part of the Franconia Notch State Park and a visit begins with a glimpse of the mountains of Franconia Range. Arrive early when the weather is sufficiently damp and you might be able to see the soft mist that occasionally graces the mountaintops. A series of ramps and steps leads visitors between the seventy to ninety-foot-high granite walls of the Flume and up to the top for a view of the forty-five foot Avalanche Falls. The roar of the falls can be heard throughout the ascent but the journey back to the base is quieter along a path that cuts through the surrounding forest. Franconia Notch State Park also contains a scenic aerial tram, several hiking trails and a lake that calls to swimmers and boaters.
Zip-line courses are popular in New Hampshire with several parks and resorts offering zip-line-based activities. The Cranmore Aerial Adventure Park in North Conway offers five different aerial courses, from a breezy buzz to a rigorous and rewarding sequence. Ariel courses can take two hours to complete and feature everything from rope climbing to zip lining to navigating cargo nets. After the zip-line course, check out the scenic chair lift ride or relive childhood memories on the mountain coaster, giant swing or tubing slide.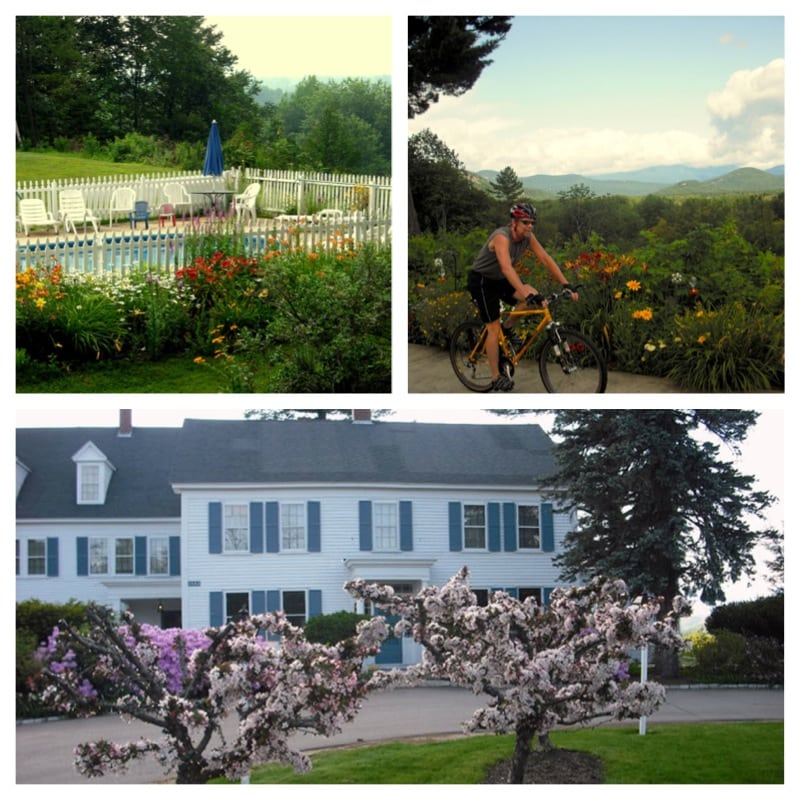 A popular spot for cyclists doing the Bike the Whites ride, the 1785 Inn is a great place to relax and refuel. The restaurant is known for their tableside presentations of flaming desserts like cherries jubilee and bananas foster—a treat born at Brennan's Restaurant in New Orleans and named after a patron named Richard Foster, according to our server. Rates from $139 for a room with a view.
How to get there: C&J provides bus service between midtown Manhattan and Portsmouth. To get to North Conway or the Franconia Notch State Park area, rent a car in Portsmouth or drive from New York City (check out oM's guide to renting hybrids). Alternatively, take a flight to the Manchester Airport and arrange for taxi or van service to various locales throughout the state. Visit the Manchester Airport ground transportation site for further details.

For more ideas on things to do in the Granite State, read oM's guide to family adventures in New Hampshire.
Photos: AMC, Timothy Valentine