For years, whether traveling or training, I've always found myself biking with men; my husband, father, brother-in-law and godfather all ride. I'll admit it's a thrill to feel like one of the guys—tackling a crazy climb together, their mental and physical toughness rubbing off on my two wheels—but there is something even greater, I learned earlier this month, about riding only with women.
Not one to turn down an invitation to go for a ride (especially in a beautiful place like the Hamptons) I joined four women—and thousands of others around the world—for the Rapha Women's 100, an event celebrating the 21st edition of the Etape du Tour when amateurs climb a major mountain stage of the Tour de France. The crème de la crème of bike races, the Tour de France exists just for men, something a group of elite female cyclists has started a petition to change. "After a century, it is about time women are allowed to race the Tour de France, too," they wrote in a letter to the TDF director.
Though I am one of thousands of people to have signed the petition, I have no aspirations to be on the starting line of the 101st Tour de France in 2014. I do aspire to ride more with women. Because feeling like one of the guys is nothing like being one of the girls, wholeheartedly supporting each other and having as much fun as one should have on a bike.
From a regular rendez-vous in Central Park to a cider doughnut tour in New England, here are seven great bike rides for women in NYC and beyond.
New York City
What: Women's Ride Series! hosted by Bicycle Habitat
Where: Central Park and Prospect Park
When: Every Friday at 6am
Why: Join fellow cycling enthusiasts—including leaders Stephanie Kaplan, a Specialized women's ambassador, and Brooklyn Fit manager Emily Samstag—for a cruise in the park, which belongs to the pedalers in the early morning. It's worth rising at dawn to enjoy the green peace and car-free roads before 7:00am. Carpe bike.
Cost: Free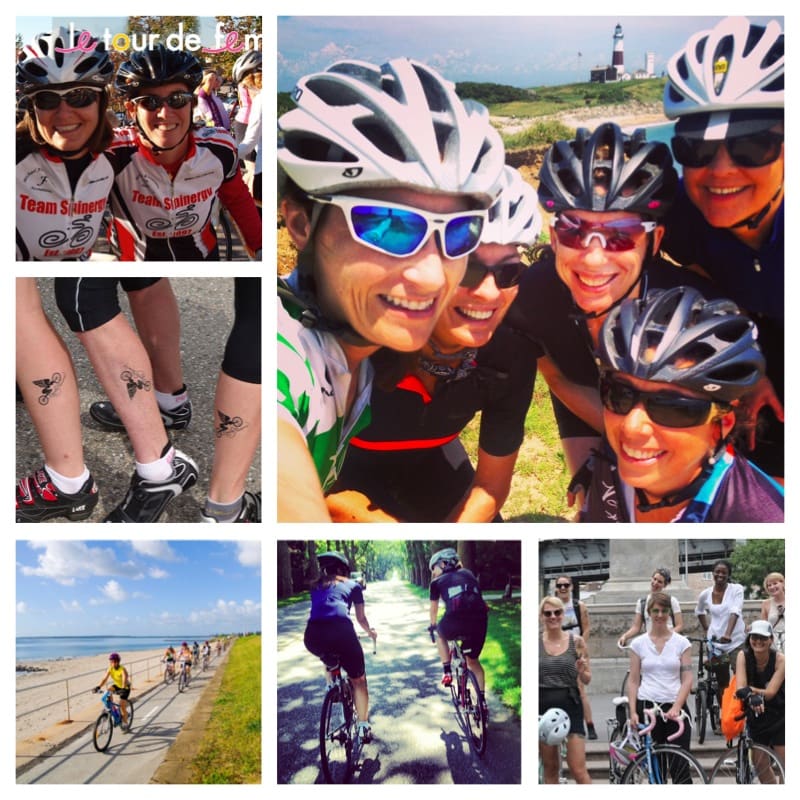 What: Brooklyn Women's Cycling Meetup
Where: Rides vary from morning laps of Prospect Park to the 5th Annual Brooklyn Waterfront Epic Ride from Williamsburg to Rockaway Beach.
When: Weekly
Why: Join 47 Brooklyn-based ladies who like to bike around the borough and beyond for pleasure not prizes.
Cost: Free
What: Annie Londonderry Ride hosted by WE Bike NYC & Bicycle Habitat
Where: Meet at Bicycle Habitat SoHo for coffee and snacks. Riders roll out at 9:00am to the Park Avenue Tunnel
When: Meet at 8:30am on Saturday, August 10, 2013
Why: Named in honor of the first woman to ride around the world, this event celebrates adventurous women and the splendors of car-free biking in the city thanks to the NYC Summer Streets program. After the ride, return to Bicycle Habitat at 10:30am for a picnic and giveaways.
Cost: Nada. Feel free to bring a friend, in addition to your bike and helmet.
Upstate New York
What: Women's Road Ride hosted by Blue Sky Bicycles
Where: Saratoga Springs
When: Every Wednesday at 5:30pm
Why: Traveling on two wheels is a great way to see a new destination up close, and doing so with Liz Gormley, a former USA Cycling Coach, really sweetens the experience. The rides go through scenic rolling terrain at an intermediate clip (17-18mph with regrouping) and end with après-ride beers at The Local Pub & Teahouse in the historic Dublin Neighborhood of Saratoga Springs. On any given weekend, Blue Sky leads a free workshop, be it a Fix-A-Flat Clinic or Basic Maintenance, which goes over things like drive train cleaning, air pressure, and how to properly wash your bike.
Cost: Free
New England
What: Vesta Velo Tours
Where: New Hampshire and Maine
When: Summer and Fall
Why: By women cyclists for women cyclists. Company owners and friends Jeanne Twehous and Virginia Schrader have designed a wide range of breathtaking bike journeys in places like the White Mountains of New Hampshire and Western Maine. While each tour includes luxurious accommodations, SAG support, all meals, and average 30-40 miles per day, the trip to plan for is the Fall Foliage and Cider Doughnut Ride (Friday, October 4-Sunday, October 6), which starts in North Conway at the White Mountain Hotel & Resort and offers one reward after another, from charming covered bridges and picturesque Kancamagus Highway to quaint villages, exhilarating hills and waterfalls, and the taste of homemade apple cider doughnuts and fresh-pressed cider, followed by a refreshing dip in the pool. You'll return home wondering why it took you so long to do a bike vacation and will commence planning a route for a two-wheeled girlfriend getaway of your own.
Cost: From $695/single or $895/double
To the South
What: Le Tour de Femme
Where: Cary, North Carolina
When: October 12, 2013
Why: Benefiting The Angel Fund of Rex Hospital in Raleigh and the Livestrong Foundation, Le Tour de Femme is a women's only full metric century, half metric century and fifteen mile ride to fight cancer while celebrating life in the bike lane. Meet new people and places as you roll along flat sections, up good climbs, into fully stocked rest stops and through national parks. Make a vacation out of it and read oM's guide to Raleigh.
Cost: Raise at least $50 for the cause
What: Sixth Annual Wild Goose Chase
Where: Blackwater National Wildlife Refuge on Maryland's Eastern Shore.
When: October 12-13, 2013
Why: Billed as a bicycle weekend for women, this fundraiser helps to protect the refuge while furthering the women's bike movement. Expect beautiful views of Blackwater, bald eagle sightings, exhibitor tents offering cycling products and talks about cycling initiatives and the evolution of women's bicycle design. Picnic lunches and an all-you-can-eat pasta dinner are part of this pedalpalooza, so bring an appetite for good food and good times on a bike.
Cost: $60. Special hotel rates are available in Easton and Cambridge, MD. Read about oM's most recent biking adventure in Easton.
It was great to share the road for the Rapha Women's 100 with new friends Tanya Quick of Language Dept., Leah Flickinger of Bicycling Magazine, Julianne Idlet of CycleKids, and Velojoy's Susi Wunsch, who brought us all together for a weekend full of adventure and self-discovery. For more all-women rides year-round—from the Grand Canyon to New Zealand to the Jersey Shore—check out WomanTours.
Photos: Lauren Matison, WE Bike, Tour de Femme, Vesta Velo
The co-founder and editor-at-large at offMetro, Lauren is a sustainable travel specialist and freelance journalist with frequent bylines in National Geographic, Bicycling Magazine and Shape. Follow Lauren's adventures at @laurenmati.