Visiting friends never really get it. Unless you're set up in some kinda way, it's practically impossible to have travelers crash with you in your New York City apartment during their tour of the city. You're in Brooklyn—you love your friends a lot, but not enough to commute to their midtown hotel to take them sightseeing. You only go to midtown to interview for jobs that you don't really want and escape to Long Island on the LIRR for getaways. Lucky for you we have a better plan—everything they need in a hotel for the perfect local experience on a single block located on the Bushwick-Bedstuy border.
Stay
Tell your friends to book the Hotel RL, right under the JMZ train that can whip them from Bedstuy to South Williamsburg. The rooms are super clean and have everything you need featured prominently. There's an outlet for your phone and computer by the comfortable bed, nice shampoo and conditioner so your hair won't suffer, and a daybed/couch situation perfect for sleeping the stragglers you pick up on your adventures. The lobby operates as a community space complete with cafe, bar, and nightly entertainment. Plus, they're philanthropic: When you donate $100 to the Ali Forney Center  through Project Wake Up Call, a safe haven and rehab program for homeless LGBTQ, you can receive a free night's stay at the Hotel RL of your choosing. Room rates from $112 per night.
Eat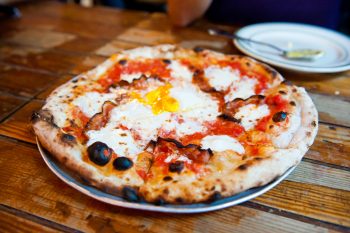 There are a million amazing restaurants in Brooklyn, but chances are, at least one night of their trip your friends will be dead and unwilling to rally to go out. Luckily, there's a delicious restaurant literally across the street from their hotel, Santa Panza. They've probably heard of Roberta's, but fierce rival Santa Panza is going to be the place they can say they ate at when nobody knew about it yet. The cozy Italian spot has an adorable garden, cute waiters, an amazing wine selection, and pizzas like their namesake—a pie with sweet Italian sausage, sage, red onion and scamorza. Save room for the juicy AF porchetta, and at least two selections off their changing daily specials menu.
Drink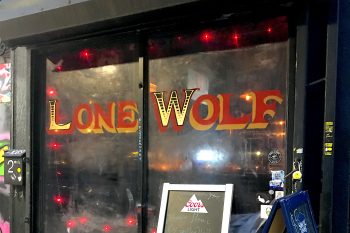 Just like your friends might not want to travel for food every meal, it will be comforting to know there are two very serviceable bars across the street from where they stumble into bed. One is Marco's, a dimly lit, cozy space with a long, majestic bar, arcade games, a jukebox, and an ample backyard. All of this makes for a great place to catch up, or a perfect nightcap destination. Meanwhile, on the other corner, Lone Wolf hangs, offering a divey-er vibe and a potential all-night destination with their pool tables and DJs. All this on a single block, kind of incredible.
Do
It's New York City! Show your friends a good time. Take them to the city sparingly, and they'll leave loving Brooklyn.
Photos by author and star5112
Carly Pifer is a freelance writer who has been known to follow whims inspired by romantic movie scenes or colorful street style shots to India, Japan, Tunisia and Argentina. After stints living in Seoul, Boston, Paris and Los Angeles, writing and searching for something intangible, she landed somewhat steadily in Brooklyn and has begun to find inspiration in her more immediate surroundings (and also the permanence of her bookshelf). She writes about fashion for Refinery29 and has been known to pack an outfit per day on backpacking trips. Please visit her website to read her travel diaries and other writing on the web at www.carlypifer.com or follow her on instagram .