Washington, D.C., is so loaded with attractions, it would be impossible to see them all. Why not spend a weekend focused on one neighborhood?
Cosmopolitan and inclusive, Dupont Circle is dripping with cultural flair. Embassies, museums and eateries draw people from all corners of the city as well as the globe. The Dupont Circle fountain is its hub, offering early morning Tai chi, pick-up chess games and excellent people watching. Spend your time discovering its nooks and crannies or use it as a base for broader explorations. Its central location, excellent public transit links and Capital BikeShare makes it easy to get busy.
Do:
The Philips Collection presents modern art in an intimate setting. The dazzling permanent collection includes gems by Renoir, Georgia O'Keefe and van Gogh, as well as several show-stopping Rothko's. Time your visit for the first Thursday of the month and you'll enjoy Phillips after 5, an event that blends art observation with socializing, live music, nibbles and potent potables. The festive atmosphere attracts everyone from beltway power players to college students.
Bibliophiles from around DC crowd the aisles of the comprehensive and convivial Kramerbooks & Afterwards Café in search of their next stimulating read. It's full service, independently owned bookstore that's a neighborhood institution The onsite café is a popular meeting spot for a light bite or a full meal, so consider Kramer's a pas de deux between the written word and a tasty plate. Hundreds of readings and events are scheduled annually.
The Freshfarm Dupont Circle Market is one of the best urban outdoor markets anywhere on the East Coast. Each Sunday, dozens of farmers and producers sell fresh fruits, veggies, meats, artisan cheeses, baked goods and locally made spirits to the devoted foodies who loyally flock here.
First Friday Dupont Art Walk is held the first Friday of every month from 6-8 pm. Local galleries and museums open their doors for mixing and mingling.
Stay
You may only be in town for a weekend, but you crave an immersive experience. The Embassy Row Hotel has nailed it when it comes to creating an energetic environment that is woven into the fiber of the community. Its modern attitude baits Dupont Circle residents with rooftop yoga classes, a Friday night silent disco and day passes for the inviting pool, where hand crafted cocktails go perfectly with the panoramic view. Hotel guests easily mingle with neighborhood hipsters and politicos, so it's a breeze to get the low down on authentic DC experiences.
The hotel's inviting public spaces abandon cookie-cutter design elements in favor of locally made art that is the definition of city chic. The Underground Playground offers table tennis, air hockey and other playful diversions.
Station Kitchen & Cocktails is the property's casual eatery that has become a neighborhood gathering spot. The indoor-outdoor seating, shared plates and creative and classic cocktails, are sure to entice.
Eat: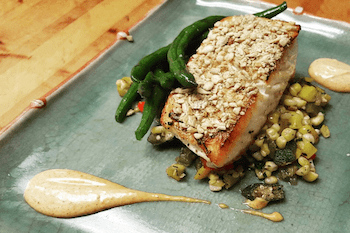 Restaurant Nora is the first certified organic restaurant in America. It's the vision of Nora Pouillon, an early pioneer of sustainable living and farm-fresh seasonal eating. It gained its certification in 1999, with at least 95% of its ingredients coming form organic growers and suppliers.
The menu changes daily but expect delectable seafood such as pan-seared North Carolina soft-shell crabs and vegetable-forward dishes like roasted red and yellow beets accented with citrus fruits and feta cheese.
The wine list includes hard-to-find bottles from boutique vineyards.
Nora's is 100% wind powered and deeply committed to recycling, composting and using biodegradable products.
Insider tip
Each May, the Around the World Embassy Tour allows visitors to peak inside more than 40 embassies. Stroll from embassy to embassy as they open their doors everyone with a photo ID.
The first weekend is for embassies of non-EU countries while the second is EU countries. It's a unique opportunity for an up-close look inside the fabulous buildings as well as a fine way to trick-or-treat DC-style, glimpsing each nation's cultural heritage and distinct traditions.
Stay at the Embassy Row Hotel, located just a stone's throw from many of the embassies. Exploit your pole position and get to as many embassies as you can before the crowds.
Get to Dupont Circle from NYC
To get here, see our Washington, D.C. Public Transportation Guide. For more information, visit Washington.org
Photo credits: The Philips Collection, Washington.org, Embassy Row Hotel and Restaurant Nora
Allison is a native New Yorker, who has lived in Rome, Tuscany, Melbourne, Toronto and Los Angeles. She frequently contributes travel pieces to Family Travel Forum, using her own children as guinea pigs as they travel the globe. She is fluent in Italian and Spanish and laughably adequate in French. Her background as an Early Childhood Educator gives her an added understanding of what it takes to travel with kids in tow. She firmly believes that the most important part of education takes place outside of the classroom, on the road, around the world. She never misses a chance to sample local delicacies, as her love for travel goes hand-in-hand with her love for food and wine. Follow Allison at @gourmetrav.