Celebrate our nation's independence where the likes of George Washington and Alexander Hamilton stayed during the Revolutionary War. Just hop on New Jersey transit to get your fix for history and the American Revolution in Morristown, NJ.
The Continental Army waited out some of the harshest winters of the war between 1777 and 1780 by building huts in the fields surrounding Morristown. Meanwhile, Washington, Hamilton and other commanders made headquarters nearby at Arnold Tavern and the Ford Mansion in what is now downtown Morristown. These historic sites are preserved to transport today's visitors back in time—especially for the Fourth of July.
So, if you're ready to get out of town and interact with American history, here are five ways to get patriotic in Morristown New Jersey this weekend.
1. Washington's Headquarter's Museum
Within walking distance from the Morristown train station, this museum building and the original Ford Mansion lead visitors through the story of Washington's time in Morristown. Homeowners opened their doors to the Commander-in-Chief and his army, providing housing, land and resources while they waited out the frigid winter months. Historic artifacts, maps, a movie and interpretive displays recreate history.
When: Open daily, 9:3AM0-5:00PM
Where: 30 Washington Place, Morristown, NJ
Cost: Free between July 2 – 4th, 2017
2. US Army Old Guard Fife & Drum concert
What's more authentic than fife and drum music? After you explore the museum, stick around to enjoy two 45-minute concerts on the beautiful lawn of Ford Mansion. If you close your eyes you can imagine you're back in the 18th century listening in on America's history. Pro tip: bring a blanket and picnic.
When: Sunday, July 2nd, 1:00-3:00 pm
Where: Ford Mansion and Washington's Headquarter's Museum
Cost: Free
3. Schuyler-Hamilton House
A walk around the corner will bring you to the Schuyler-Hamilton House, named to honor the 1779 courtship of Elizabeth Schuyler and Alexander Hamilton. The New Jersey chapter of the Daughters of the American Revolution opens the house for visitors on Sundays and offers tours upon request.
When: Sundays 1 to 4 pm
Where: 5 Olyphant Place, Morristown, NJ 07960
Cost: $5 for adults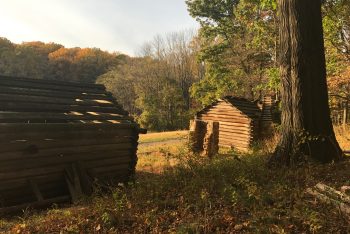 4. Jockey Hollow Visitor Center and Wick House

This National Park is located a few miles from downtown Morristown, but it's an easy bike ride or taxi ride away. Jockey Hollow is the site of the Continental Army 1779-1780 winter encampment. Some 10,000 troops felled roughly 2,000 acres of trees to build modest huts where they huddled during one of the coldest winters ever. Model soldier huts bring to life what conditions were like for the troops during the Revolution. There is also the Wick House, the home of Henry Wick, who owned the land where the troops were stationed.
When: Open all weekend, hand-spinning yarn demonstration at the Wick House, July 3rd, 1-3 pm
Where: Entrance at 586 Tempe Wick Road, Morristown NJ 07960
Cost: Free entry, Sunday, July 2nd and Tuesday, July 4th, 10:00 AM to 5:00 PM
5. Annual Reading of the Declaration of Independence
Morristown National Historical Park's ranger corps perform an authentic, lively reading of the historic text in full colonial-era costume. This annual celebration includes a musket salute and free guided tours of the local Presbyterian church and a graveyard dating back to 1733.
When: Tuesday, July 4th, Noon, rain or shine
Where: Morristown Green
Cost: Free.
Getting to Morristown from NYC
From New York City there are hourly trains from Penn Station to Morristown via NJ Transit ($25 round trip). Bicycles are allowed on the trains unless it's rush hour. Another option is Community Coach bus lines Route 77. The schedule is here.
More information is available at the Morris County Tourism Bureau morristourism.org , 973-631-5151 or check out Revolutionary NJ .
Photos by Sarah Knapp and Morristourism.org
Karen de Seve writes about the outdoors, science and nature for all sorts of media, from National Geographic to kids TV to natural history museums. Check out her snow sports blog www.famsnowtime.blogspot.com and follow @kdeseve on twitter.