Now that beautiful balmy days are just around the corner, we suggest a weekend away in Washington, D.C. to explore the Capital's trove of springtime treasures.
Tiptoe Through the Gardens of Delight
Though a trip to Washington's famous and vast expanse of wide open space was an obvious first stop for my outdoor extravaganza, we quickly discovered that beyond the National Mall are sundry plots of terrestrial paradise tucked into the District's nooks and crannies.
The Hirshhorn Museum's sculpture garden (Independence Ave. and 7th St. SW) has its own (smaller) reflecting pool and is located so close to the Mall that the Washington Monument hovers in the background, but the comparisons end there. The Smithsonian Institution's modern art garden is, not surprisingly, peppered with structures far more avante garde than the Mall's iconic obelisk. With paths, trees (most living, plus one gleaming sculptural one), and plenty of shade, this green-and-granite stretch is a great place to enjoy some quiet with Rodin, Lichtenstein, and the rest of the gang.
There is a more traditional garden experience to be had at the National Cathedral. Even with the magnificent church towering above it, the Bishop's Garden, a sweet escape hidden behind a picturesque stone wall on the cathedral's south side, has a Secret Garden feel. Think winding stone paths, a rose garden, and plenty of spots for quiet contemplation. It was designed by our buddy Frederick Law Olmsted of Central Park fame — as was the nearby Olmsted Woods, five acres of old-growth forest. (Of green-geek note: A 2008 restoration gave the woods native plants (and wildlife habitats), an ecologically sound footpath, and a runoff management program.
If it rains: A spring showers hit list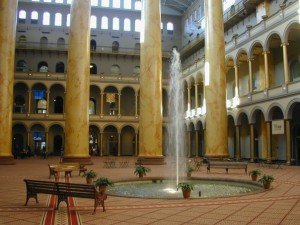 Even a warm weather lover knows that all that greenery requires a little rain, so here are five ideas for taking the spring mojo inside when necessary.
1. Take in some indoor springtime at the Phillips Collection (1600 21st Street, NW), America's first modern art museum. The impressive collection includes Renoir's "Luncheon of the Boating Party," plus works by Rothko, Degas, and more—and the historic building itself is also a sight to see ($10 regular admission, additional fees apply for special exhibits).
2. Browse the stacks and grab a snack at the always happening Kramer Books and Afterwords Cafe (1517 Connecticut Ave. NW), one of the coolest bookstore/café combos there ever was.
3. Enjoy some incredible, light-filled architecture, with fascinating exhibitions to boot, at the National Building Museum (401 F Street NW, $10).
4. Gape and graze at Eastern Market (225 7th Street SE), D.C.'c oldest continually operated fresh food public market, offering everything from meats and cheeses to produce and baked goods—also, incidentally, a great place to pick up picnic supplies for any of the mentioned outdoor adventures.
Indulge in the "Garden of Eatin"
When it comes to the edible, the Capitol has perhaps the most famous garden in the country, and its other less-known patches are equally delicious. During my visit to Poste Moderne Brasserie (555 8th St., NW ) they were just starting to plant the courtyard garden that supplies 20 percent of the restaurant's produce.
The chic eatery, which is named for its home in the sorting room of the 1841 General Post Office, has high ceilings (original to the sorting room), a posh bar/lounge, and an open kitchen, helmed by Chef Robert Weland. The seasonal menu balances the spiffed-up traditional (think roast duck with farro and dandelion) with the creative new-age (winter vegetable crepes), with an equally inventive cocktail list. Best of all, come spring the patio is bustling with edible plants and those who enjoy them. A large communal table is great for groups and special events, like the popular Poste Roasts, which are, well, just like they sound.
Pedal… Everywhere Else
After all the gardening (and eating) is said and done, the best way to explore D.C.'s outdoor spaces is on two wheels. You'll see the red Capital Bike Share bikes all around town, but it's generally more cost-efficient to rent with Bike and Roll. We picked up our bike at Union Station, then headed across the Mall and out to the Tidal Basin, where a wooded trail along the water leads into adorable Alexandria, with its red brick buildings and picturesque waterfront.
All told, it was a pretty and comfortable nine miles, made even prettier by a waterfront lunch. The Chart House (1 Cameron Street) has a maritime feel with a seafood-heavy menu to match. Inside, it's a bit upscale, but the patio is perfect for a casual, post-bike ride drink. (Just remember that the nine-mile return is a bit tougher on tired legs, and plan accordingly—the Union Station location closes at 6 p.m. and it took us about an hour and a half to get back.)
Those looking for a little more direction can opt for one of Bike and Roll's many "Bike the Sites" tours, from monument rides ($44) to a tour of historic Mount Vernon ($48). Through April 14, the company is also offering tours to showcase the District's famous cherry blossoms ($35).
When It's Time to Head Indoors
Where to snooze after all that fresh air? The Embassy Suites (900 10th Street NW) offers an easy and comfortable home base, within walking distance to the Mall and all its outdoor attractions (and conveniently near all the metro lines too). A cooked-to-order breakfast is included, as is a nightly reception, and in-room green touches include coffee from Rainforest Alliance.
For those looking for more eco-stylish digs, the nearby Hotel Monaco (700 F Street, NW), home to Poste, offers a historic building, with a personalized touch and pizazz to spare.
How to get there: Consult oM's Public Transportation Guide to D.C.
Photo: darren
KPICASA_GALLERY(CapitalIzeOnSpringOutdoorAdventuresInWashingtonDC)