Nothing says springtime more than eating the season's freshest culinary treats in an outdoor setting. Food festivals are abundant this spring, and are a terrific way to celebrate the earth's reawakening.
Some of the best food festivals—like the nation's oldest outdoor market in Philadelphia and a Ramp Fest in the Hudson Valley—are easy to get to without a car, and make for fun day trips and weekend getaways or just little excursions outside your own neighborhood.
Ramp Fest
Where: Basilica Hudson, Hudson, NY.
When: February 10, 2020
Why: Ramps are a forageable green with a pungent taste and scent that combines elements of onions and garlic. Eaten raw or cooked, they are a much-coveted spring delicacy during their short season. At the beautiful Basilica Hudson, join Hudson Valley, New York City Chefs and Ramp Fest participants like Applewood, The Farm on Adderley, and Gigi Trattoria as they create original dishes featuring ramps for your tasting pleasure. Tickets cost $30 for adults, $10 for kids under 12, cash bar. Get ramped.
How to get there: Amtrak from Penn Station to Hudson in 2 hours. The Basilica is located across the street from the railway station.
Where: National Harbor, Maryland
When: May 2 and 3 2020
Why: Enjoy views of the Potomac as you join thousands of Metro DC foodies at this culinary extravaganza. The Tasting Theater presents top-caliber chefs in hands-on cooking demonstrations utilizing the freshest seasonal Mid-Atlantic ingredients. Over 150 wines, beers and spirits are available to sample at this all-you-care-to-taste affair. General admission is $35 in advance, $45 at the door. It may be worth splurging for the $75 VIP admission, which gives you entry to the VIP Pier and its special tastings. The Gaylord National, a soaring 18-story, 2,000 room, 1.5 acre glassed covered-atrium hotel located next door to the event, is offering festivalt goers a VIP Hotel Package. The packages includes a room, a two-day VIP pass to the fest and lots of other extras. ($425/two nights, double occupancy.)
How to get there: See oM's Washington D.C.'s transportation guide. Shuttle Service to National Harbor is available from Union Station, for $20 round-trip, and will have you at the venue in about 25-minutes. A nautical alternative is to arrive in Alexandria, Virginia and take a Water Taxi, $16 round-trip.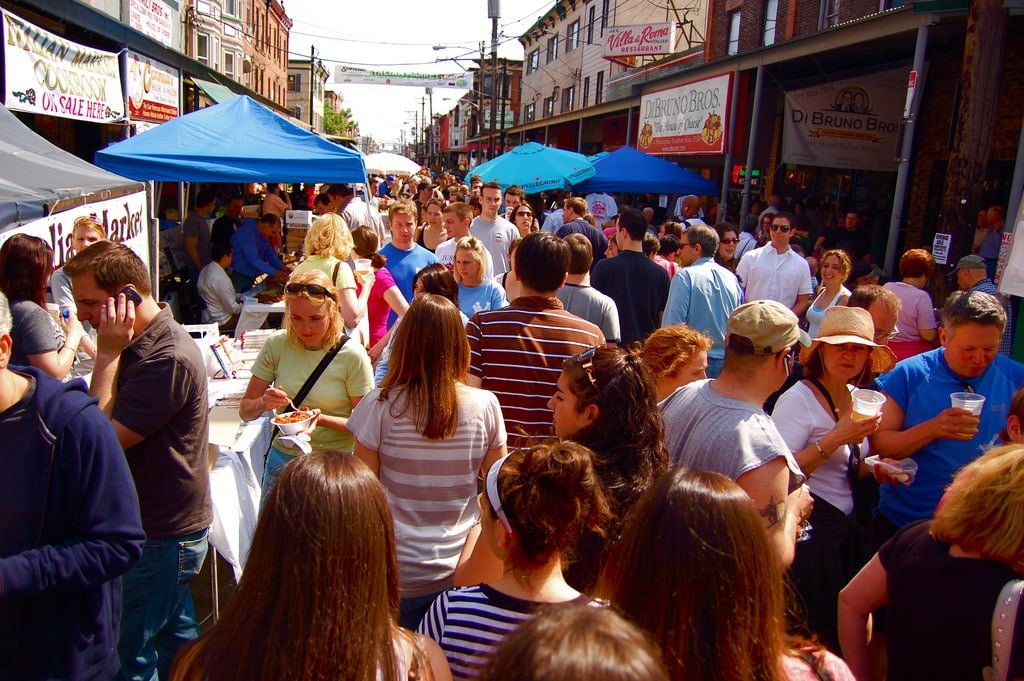 Where: 9th Street Italian Market, Philadelphia, PA
When: May 16-17 2020, 11 a.m.-6 p.m.
Why: If you can't get to Italy to sample the glorious bounty of the season, heading to Philly is the next best thing. The nation's oldest outdoor Italian market celebrates la dolce vita with vendors selling mouth watering Italian delicacies, a traditional Procession of Saints, and live, non-stop entertainment on three stages. Everyone can feel Italian for a day at this packed South Philly event. Free.
How to get there: See oM's Philadelphia transportation guide. From 30th Street Station, take SEPTA's Market-Frankford Line to 8th Street and walk south for approximately 15 minutes to the Italian Market.
Taste of the Upper West Side
Where: Columbus Avenue between West 76th and West 77th Streets
When: May 15-16, 2020
Why: Honoring Daniel Boulud and hosted by chef Alex Guarnaschelli of Butter restaurant and Adam Richman of the Travel Channel, this year's 7th annual New Taste of the Upper West Side showcases the top chefs of the neighborhood and confirms what food lovers already know; this part of town is a bona fide restaurant hot spot.
How to get there: Take the 1, 2, or 3 train to 79th
Where: Town Point Park, Norfolk, Virginia
When: June 5-7, 2020
Why: This coastal town may be known for its naval base, but it is quickly making a name for itself in culinary circles as a world-class eating city. Its large port means the catch of the day is sure to be fresh. Plan on staying for the entire weekend, as the 38th Annual Harborfest will keep non-stop fun and Southern hospitality coming your way through Sunday, June 8. Fantastic food, 130 hours of live entertainment, tall ships, Virginia wine samplings, and fireworks make this outdoor dock party unforgettable. Norfolk makes a great car-free getaway, as you can walk to most destinations, or hop on NET, the free electric trolley system. Pick a downtown hotel, convenient to Town Point Park and nearly all the town's attractions. The Norfolk Waterside Marriott enjoys a great location, indoor pool, and Shula's 347, a steakhouse and bar that offers an exotic martini menu.
How to get there: US Airways has frequent daily non-stop flights from LaGuardia. The flight to Norfolk takes just over one hour. Or, Amtrak will get you to Norfolk from Penn Station in nine hours.
Where: Easton Farmer's Market, Easton, PA.
When: February 27- March 8
Why: This is the oldest, continuous open-air farmers market in the country, said to have started in 1752. It runs each Saturday, May-November and hosts unique culinary celebrations, ranging from herbs to garlic to chile pepper and bacon. Festivities include freshly made strawberry shortcake, all the fresh berries you can eat, live music and more. You'll be able to carry home loads of jewel-toned fresh produce from local farms and orchards, as the market is located in Centre Square, only a few minutes walk from the bus terminal.
How to get there: Trans-Bridge Lines from Post Authority to Easton in under two hours.
Photo: Basilica Hudson, Ramp Fest, R. Kennedy for GPTMC, Michael , Clyde
Allison is a native New Yorker, who has lived in Rome, Tuscany, Melbourne, Toronto and Los Angeles. She frequently contributes travel pieces to Family Travel Forum, using her own children as guinea pigs as they travel the globe. She is fluent in Italian and Spanish and laughably adequate in French. Her background as an Early Childhood Educator gives her an added understanding of what it takes to travel with kids in tow. She firmly believes that the most important part of education takes place outside of the classroom, on the road, around the world. She never misses a chance to sample local delicacies, as her love for travel goes hand-in-hand with her love for food and wine. Follow Allison at @gourmetrav.