With Labor Day approaching faster than we'd all like to admit, hotels and resorts at many popular destinations across the country are filling up quick. If you are one of those spontaneous, last-minute vacationers, don't worry! A new website called Travelwits.com helps travelers plan itineraries with no more information than a starting location, destination, budget, and dates. The website then provides multiple itinerary choices, inclusive of transportation, so you can skip stressing and get straight to vacationing.
With the help of Travelwits.com, we have compiled a list of our top 5 picks for getting out of the city for Labor Day.
From $769 | Stowe, VT
Although not quite ski season yet, it's never a bad time to head to one of the best ski towns of the east – Stowe. The quaint New England town, nestled in the shadows of the 4,393-foot Mt. Mansfield, make this a worthwhile destination alone. Add in The Alchemist Brewery, local beer bars, countless miles of single-track mountain biking and hiking trails, and you have an escape from the city that is hard to beat. Consider a stay at the Golden Eagle Resort, which is conveniently located just a few minutes walk from the village.
Time in transit: 6 hours
Get there: Take Amtrak from Penn Station to Waterbury, and then a local taxi to Stowe.
From $253 | Newport, RI
Located just south of Providence, a quick 3.5 hour journey from New York City will have you sitting in a picturesque harbor, with the bustle of the city a distant memory of the past. The Admiral Farragut Inn, a quaint bed and breakfast, is located in the historic district, and is within walking distance of most attractions in the area. The area is brimming with outdoor adventures from the Cliff Walk to harbor-side bike paths.
Time in transit: 3.5 hours
Get there: Consult offMetro's guide to Newport.
From $238 | Ocean City, MD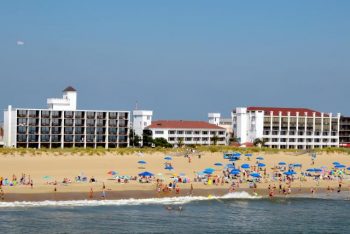 Looking for one last beach hurrah of the season? A bus ride from the city will have you lounging on the beaches of Ocean City, Maryland, in no time. Castle in the Sand is located directly on the beach, so it won't be necessary to venture far from your room to get in some relaxation-time. For the thrill-seekers out there, the hotel is a short walk from the Jolly Roger Amusement Park.
Time in transit: 8.5 hours
Get there: Greyhound provides services from the Port Authority Bus Terminal to Ocean City. Once in Ocean City, take the Coastal Highway Beach Bus north to the hotel.
From $182 | Philadelphia, PA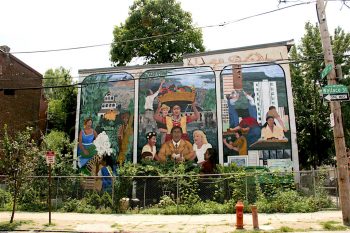 For the city-dweller looking to explore somewhere new without a huge travel commitment, the Warwick Hotel, located in center city Philadelphia, may be a destination worth noting. Its location in Rittenhouse Square makes it very convenient to branch out and explore via public transit, foot, or bicycle. While in the city, make sure to get off the beaten path by visiting the delicious food trucks at Drexel University or walking the mural arts tour throughout the city.
Time in transit: 2 hours
Get there: The Chinatown bus offers round-trip service from New York's Chinatown to Philly's. There are also an abundance of other options such as Amtrak, Greyhound, or MegaBus. See the offMetro Transit Guide for more details.
From $208 | Frisco, CO
If you live by the motto "go big or go home", then a long weekend trip to the Frisco Inn, located in Frisco, CO, might be a great option. This gem of a mountain town sits in the heart of the Rockies, surrounded by 14,000-foot snow-capped mountains. Hop on the free shuttle service to head to the Frisco Marina for kayaking, rowing and stand-up paddleboarding or head south to Breckenridge for hiking and mountain biking trails. Before starting your day, stop in to Rocky Mountain Coffee Roasters for a cup of joe.
Time in transit: 5 hours by air, train, and bus, excluding wait/transfer time.
Get there: Book your flight to Denver and hotel together at TravelWits. Once in Denver, take a Regional Transportation District train to Union Station, and then a CDOT bus to Frisco. Private companies also offer direct shuttles to downtown Frisco from the airport.
Photos by: Kevin Jarrett, Castle in the Sand, Discover Newport, Emily Frances, Sarah Knapp
Josh Laskin is a freelance travel writer and photographer based in the White Mountains of New Hampshire. When he is not at work or on the road, you can find him in the mountains snowboarding, climbing, hiking, fly fishing, mountain biking, and eating bagel bites.