Summer is here and you're sure it's time to get out of the city and onto a beach.  Yet, there's not one "best beach" near NYC but rather an entire list of beaches we love. To figure it out, we used brand new booking platform TravelWits to search by budget, transit time and most importantly for oM, type of transit (bus and train options abound!) Their packages even include transportation and tax all in one spot for ease, because seriously, booking a getaway shouldn't be difficult.
Wild Times: Atlantic City, New Jersey
Atlantic City is never just about the beach. Head to the infamous AC for a weekend of casino hopping, raucous entertainment, shopping and boldly flavored cuisine. It's easy to get to by public transit with multiple buses heading out of Port Authority daily. For a hotel option that includes direct access to both beach and boardwalk, head to the Atlantic Palace ($250.00/night). The rooms are spacious, the views are gorgeous (city to one side and ocean to the other) and the location truly cannot be beat.
Bonus: Enjoy the Tropicana Fireworks every Saturday night.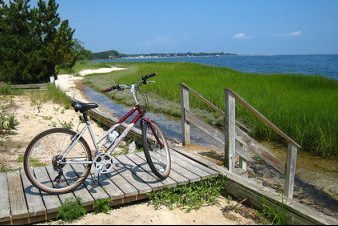 Relax the weekend away: Montauk, New York
If you want to be in Montauk this summer, act fast as hotels in the area  inevitably sell out every year. We love the luxurious Gurney's Montauk Resort & Seawater Spa ($830/night). This four star hotel and spa offers access to a massive private beach, one of the most acclaimed spas in New York and even an ocean-fed seawater pool. Staying at this spa has even been described as "feeling like being on the French Riviera" by one enthusiastic guest. And, if you can pull yourself away from the pool, you'll find adventures around Montauk ranging from biking to hiking to surfing. Not only is it easy to get to Montauk but once you're there, Gurney's has free shuttles to get you around town.
Escape the crowds: Ogunquit, Maine
Head to the quiet shores of Southern Maine for picturesque cliffs set alongside sandy beaches. Spend your mornings exploring the coast on the Marginal Way footpath. Then head to the cute town of Ogunquit for live music, offered most weekends throughout the summer. The Cliff House Maine ($280/night) is one of our favorite spots offering "nature and nurture" with epic ocean views and relaxing spa treatments. The hotel can best be described as classy casual with hand crafted cocktails alongside bean bag toss and luxurious spa treatments followed by s'mores around the fire. This is the spot if you're looking for a place where you'll truly feel away from it all.
Get Gilded: Newport Rhode Island
From sailing and surfing to a tennis museum, there are more than a weekends worth of options in Newport. Explore this vestige of New England bourgeois history at every turn starting with the famous 3.5 mile Cliff Walk past over the top mansions. Then head to your humble 1920's Gilded Age abode: the Hotel Viking ($400/night) where marble showers and multiple parlors mix with the modern comforts of multimillion dollar renovations. And with a Greyhound bus station in town or a ferry from Providence (take Amtrak), there are multiple public transit options.
Way Off: Virginia Beach, Virginia

Ready to take your getaway to the next level? Use TravelWits' bundled packages to find an affordable trip to Virginia Beach including hotel and flights. Enjoy both beach and boardwalk with some southern flair and exceptional seafood options. We love the bike friendly vibe of Virginia Beach with rentals easy to snag and pedestrians friendly to two wheeled adventurers. Every weekend you can enjoy free entertainment with Beach Street USA. The perfect location to stay for the weekend is, of course, oceanfront and one of Virginia's most luxurious hotels, the Hilton Virginia Beach Oceanfront  ($1,054.69 including two nights at the hotel, flight, and tax). After spending your morning biking the boardwalk with one of the hotel's rental bikes, relax in the rooftop pool before heading to the outdoor fire pit or their Sky Bar to dance the night away.
This story was brought you to by TravelWits – the next-generation online travel shopping service that will change how people shop for vacations: you enter your budget, type of vacation, dates and any other constraints you may have, and TravelWits searches over all the possible combinations of transport, lodging and destinations to find the best deal for your money.
Photos: Discover Newport,  Ole Bendik Kvisberg/Flickr
Sarah Knapp is a Brooklyn -based entrepreneur whose love for the outdoors and community building led her to the October 2013 creation of OutdoorFest. She has a BA in History, is a Wilderness First Responder and a NY state hiking, camp and boating guide. Her proudest achievement to date is reading the Aeneid in Latin.