As you stroll along the oldest and longest boardwalk in America, the smells of hot dogs, funnel cakes, and other fair foods entice. But save room. From trendy Asian fusion to succulent seafood and sunset cocktails, here are the best places to eat and drink in Atlantic City—on and off the boardwalk.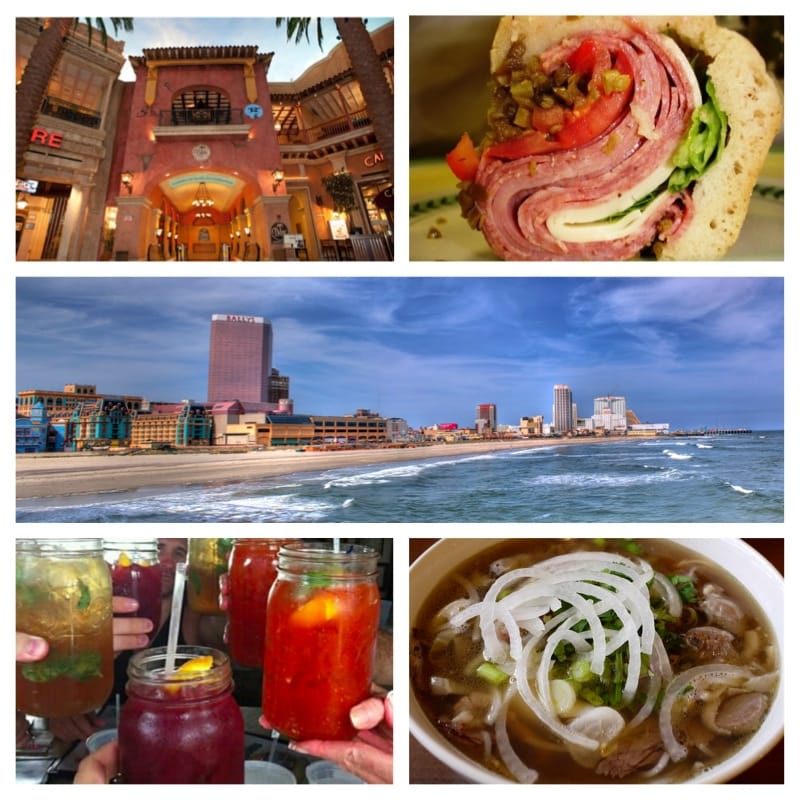 Quintessential AC | Marked by a neon sign featuring a giant submarine sandwich, the White House Sub Shop (2301 Arctic Ave.) is legit all the way. Its classic sandwiches overfloweth, and have since the joint was founded in 1946. Don't believe us? One look at the walls, which are lined with signed photos of celebrity customers who frequented White House, should make up your mind.
Where to get a sunset cocktail | A low-key spot tucked off-the-beaten-path in Gardiner's Basin, Back Bay Ale House (800 N New Hampshire Ave.) toasts the setting sun with rum punch and a casual Key West vibe. Park yourself on the patio of the lovingly restored 100-plus-year-old home, enjoy some crab cakes, and raise your glasses as the sun drops over the bay.
Best seafood spot | One of AC's oldest restaurants, Dock's Oyster House (2405 Atlantic Ave.) has been owned and operated by the Dougherty family since it opened in 1897. That sense of tradition is in everything from its charming interiors to the menu of oysters, clams, lobster, and whatever other seafood dreams tickle your fancy.
Best cheap eats | Locals crowd into the minuscule Little Saigon (2801 Arctic Ave.) to lunch on affordable, authentic pho, shrimp spring rolls, and even a great vegan menu.
Best celebrity spot | Stars have long loved the legendary Palm Restaurant (2801 Pacific Ave. at The Quarter in Tropicana), and their mugs are on the wall (in caricature form) to prove it.
Best spot for the Boardwalk Empire junkie | Live out your speakeasy fantasies at Knife & Fork Inn (3600 Atlantic Ave.), an honest-to-goodness speakeasy restored to its 1920s glamour.
Best place to cook and eat your meal | Make dinner an experience by taking a class with Viking Cooking School at Harrah's (777 Harrah's Blvd.). It's learning, eating, and fun all in one.
How to get there: Take Megabus or consult oM's AC Transportation Guide.

Photos: Paul Lowry, lulun & kame, Back Bay Ale House, Buddakan, Kelsey's, StangGT, Mr. Jay Yohe