Cliff House is a Southern Maine resort that has offered vacationers hospitality for over 150 years. It has been completely re-imagined and transformed into one of New England's most stunning hotels.
The scenery is as majestic as any Edward Hopper painting. The seventy windswept acres sit atop Bald Head Cliff. Combine million-dollar views with posh digs and you're in for the ultimate nature-meets-nurture weekend getaway.
Everyone from couples in search of a romantic getaway to families is warmly welcomed, so the appeal is broad based and the vibe inclusive. If you're seeking a year-round refuge from the hurried pace of metropolitan life, look no further.
The Digs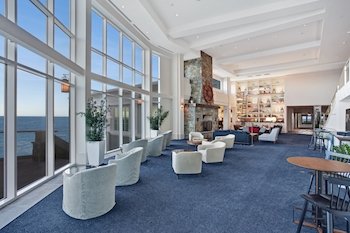 The 132 luxurious rooms all have terraces and mesmerizing seascape views. The bed cradles you in high thread count linens so silky you may attempt to sneak a pillowcase home in your suitcase.
Cliff House is dedicated to shrinking its environmental footprint. They have implemented single-stream recycling and utilize solar panels; you won't find plastic water bottles in your room. Instead, each floor is equipped with a station where you'll find pour-it-yourself hot and cold beverages, fresh fruit, newspapers and other goodies. These stations add to the resort's convivial feel. You won't be the only guest poring morning coffee while wrapped in the resort's signature black-and-white checked robes.
Get Outdoors:
Cliff House schedules guided nature walks and beach runs.
The resort is just minutes from Ogunquit's famed Marginal Way, one of Maine's most beautiful footpaths. The charming town of Ogunquit is a magnet for artists and the quaint shops offer Maine-made art and crafts.
Each afternoon, guests gather on the lawn for old-fashioned games such as beanbag toss. Indoor and outdoor swimming pools and hot tubs add refreshment. The fire-pit is just the spot to make s'mores under the stars. Weekend yoga is an energizing option.
If the Maine weather is a tad chilly, relax by the fireplace in the common area and watch the tide roll in.
The Eats: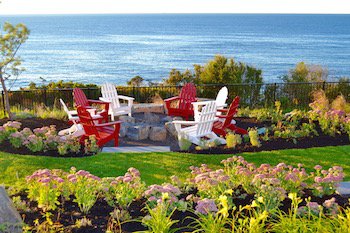 The on-site dining options present an evocative way to experience the flavors of the Atlantic. Nubbs is an authentic New England lobster shack in the classic Maine tradition. Savor just-caught lobster, sweet fried clams and creamy chowder served in a casual setting with a frosty locally brewed IPA in hand. Arcade games such as pinball and darts add to the low-key, casual feel. For a more upscale experience, the Tiller showcases seasonal ingredients, handcrafted cocktails and a dynamic global wine list.
The Spa:
The Spa at Cliff House is garnering rave reviews for a very good reason. The extensive menu leans local, inspired by the surrounding elements. Choose the pampering 80-minute Seacoast Rose Massage and every inch of you will be enveloped by the fragrance and healing properties of this rejuvenating coastal flower. Ask for gifted massage therapist Joanne; like your dream lover, she intuitively listens to exactly what your muscles need. It's a blissful, soul-nourishing escape.
Take the time to relax in the sun lounge before and after your treatment, and you'll enjoy dramatic views of the cliff and cove. The steam and sauna are available to all hotel guests.
Get to Wells, Maine from NYC
To get to Boston, see our Boston transportation guide. From Boston's North Station, ride Amtrak's Downeaster for approximately 90 minutes to Wells, Maine. In-season, ask if the hotel's shuttle can pick you up. If not, they will arrange a car service with advance notice.
Allison is a native New Yorker, who has lived in Rome, Tuscany, Melbourne, Toronto and Los Angeles. She frequently contributes travel pieces to Family Travel Forum, using her own children as guinea pigs as they travel the globe. She is fluent in Italian and Spanish and laughably adequate in French. Her background as an Early Childhood Educator gives her an added understanding of what it takes to travel with kids in tow. She firmly believes that the most important part of education takes place outside of the classroom, on the road, around the world. She never misses a chance to sample local delicacies, as her love for travel goes hand-in-hand with her love for food and wine. Follow Allison at @gourmetrav.