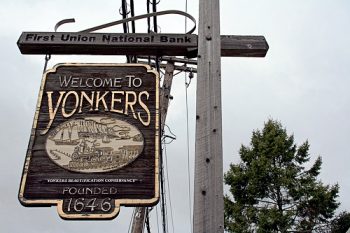 Searching for an authentic St. Patrick's Day experience that doesn't require a flight into County Cork? It's as easy as taking a train to the Woodlawn section of the Bronx and crossing the East 238th Street Bridge into Yonkers. The social hub for one of the last Irish enclaves in the New York metropolitan area, McLean Avenue is your destination for a bona fide Irish meal, a pint, a Bono accent, souvenirs, Celtic music, and a soccer match on the big screen.
Get your first taste of the neighborhood over brunch at local favorite Eileen's Country Kitchen (964 McLean Ave.) or take a seat at the Irish Coffee Shop (948 McLean Ave.) where the specials range from Irish scones to chicken colcannon. If you'd rather just cozy up at the pub of your choice, many establishments on McLean Avenue boast kitchens that inspire devotion. Treat yourself to a traditional Irish breakfast or beef curry at McKeon's (996 McLean Ave.), ale battered fish and chips at The Heritage (960 McLean Ave.) or the corned beef and cabbage special running at Rory Dolan's (890 McLean Ave.) this month. Whatever you choose, you won't be disappointed.
Afternoons are a laid back affair on McLean, with families taking up back booths and televisions broadcasting soccer, horse races and the occasional golf game. For a food, beer and flat screen combo, head to Katie's Cottage  (521 Central Park Ave) for sports games every week. Pull up a stool, order some Guinness or Magners and politely engage the locals. Continue to while away the hours and you'll witness the crowd surge and brighten with the arrival of DJs, live Celtic or classic-rock infused cover bands and karaoke at nightfall.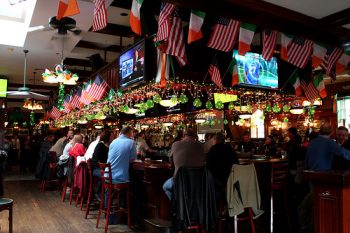 Whether you choose to spend St. Patrick's Day—or any day—on McLean Avenue, it's an experience worth its weight in leprechaun gold. Just remember to have some cash on you: some of these time-honored establishments won't accept plastic.
Erin Go Bragh.
Looking for even more ideas for how to spend St. Patrick's Day? Check out the oM guide on How To Celebrate the Irish in New York: St. Patrick's Day and Beyond.
How to get to Yonkers from NYC
Take the 2 or 5 trains to Nereid Avenue in the Woodlawn section of the Bronx. Walk westward across the East 238th Street Bridge into Yonkers. Nereid Avenue turns into McLean Avenue. Alternatively, Take Metro-North's Harlem Line train to Woodlawn. Walk westward on E. 233rd Street, and then north on Katonah Avenue until you hit McLean. If you need a car home, speak to your bartender.
Header Photo: Mykl Roventine