In New York City, St. Patrick's Day is synonymous with parades and pubs. Yet there's far more than having a drop of drink (ok, well maybe later). Many Irish immigrants have made their homes throughout its five boroughs and surrounding counties, arriving here even before America became a country. Then, due to famine and political strive, a major wave ushered them in in the 19th century. Nowadays, strong community ties remain, so let's go on a journey that brings us closer to this heritage.
Enter through Ellis Island
Did you know that the first immigrant to come through Ellis Island was from Ireland? Yep, a teenage girl named Annie Moore set foot in this processing center, having gotten here on a ship from County Cork, Ireland on January 1, 1892. See how she and some 12 million other immigrants came here by wandering through this U.S. National Parks Service's site covering three floors. See luggage and various items owned by these new arrivals, plus get a view of the Statue of Liberty, which first greeted them while en route.
Remember Those Who Perished
Within Battery Park City, the Irish Hunger Memorial is a somber place. It signifies those who suffered and died from hunger in their native homeland due to the Great Irish Famine through replicating where they had lived. The memorial's grounds represent a rural landscape with an abandoned stone cottage, stone walls, and native vegetation from Ireland's western coast. Stones constructing this cottage come from all of Ireland's counties; its base has bands of texts separated by layers of imported Kilkenny limestone.
It's located on the corner of Vesey Street and North End Avenue.
Visit an Irish Family's Tenement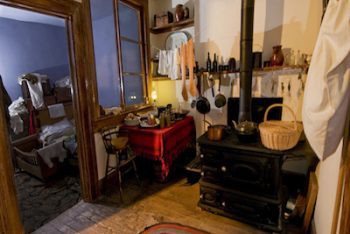 Among other waves of immigrant arrivals, the Irish settled on the Lower East Side. While the neighborhood has changed quite a bit since then, it's still possible to glimpse the past at the Tenement Museum. The museum's "Irish Outsiders" tour escorts visitors inside a section of this tenement turned museum that replicates the living quarters for the Moores, an Irish family who were tenants here during the late 1860s.
Head to Woodlawn's "Little Ireland"
This section of the Bronx has its own "Little Ireland". Along Katonah Avenue, there's no shortage of pubs for dropping in for a pint and catching up with the gang. John Mulligan's Fireside Pub is a well-attended haunt for hanging out and watching a game. At Keane's, encounter world-class Irish music and quite a hearty meal.
A Parade in Yonkers
If you're late to the parade, Yonkers has got you covered. Yonkers St. Patrick's Day Parade happens on the Saturday after the holiday. (2020's is on March 21) along Hyatt and McLean avenues, and ending at McLean and McCollum Place by Coyne Park. The festivities continue on at Rory Dolan's, a refined watering hole drawing in crowds for brunch or sports watching. Along with its fair share of bars/restaurants, get another taste of Ireland by shopping for teas, crisps or meat pies from Market Irish Food or The Butcher's Fancy.
See Sunnyside
In this Irish working class section of Queens, everyone can truly feel Irish on St. Patrick's Day. In early March (on March 4, 2018), the "St. Pat's For All" parade celebrates diversity of Irish and Irish American communities plus the inclusion of others without regards of their race, gender, creed or sexual orientation. The route goes from 43rd Street and Killman Avenue and ends at 58th Street and Woodside Avenue. Carry on the camaraderie at Sean Og's, a neighborhood tavern.
Get theatrical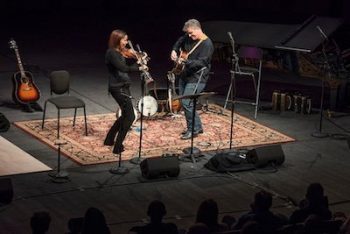 Shakespeare may have said the play's the thing, but the Irish are unbeatable storytellers. Go hear them in Manhattan's Hell's Kitchen at the Irish Arts Center, a community institute of artists promoting and preserving Irish traditions and stories. Or take courses in the Irish language, dance or art. Or head to Long Island City, to the New York Irish Center for ongoing programs involving drama, Gaelic and music.
Pay your respects in Brooklyn
In Brooklyn, pockets of Irish continue to linger in Bay Ridge and Park Slope. Within Green-Wood Cemetery, prominent Irish and Irish Americans were laid to rest, such as copper magnate Marcus Daly and Civil War Union General Thomas Sweeny, who lost his right arm in battle during the Mexican-American War. Then, head to Irish Haven, a tried and true pub in Sunset Park.
Featured image: Marcos Vasconcelos
Image credits: NPS, Keiko Niwa, Irish Arts Center, St. Pat's For All
Michele Herrmann writes about food, travel, culture and overall living for a number of companies and media outlets. She likes getting around by foot and still appreciates train travel, even if it's part of her regular commute.