Nothing beats a lazy afternoon in a dark cinema surrounded by other film lovers. If you're looking for a cinema to while away the hours with a box of popcorn in hand, and you demand an excellent selection of film fare, there are some pretty fabulous indie cinemas right outside Manhattan. From foreign language films to revival titles to indie and mainstream releases, there is no place like the outer boroughs (and outer bits of NYC) for film goers to catch the best of the best that cinema has to offer.
Here are our picks for the best indie movie theaters off Manhattan. Choose one and go explore your inner film buff.
NiteHawk Cinema | Williamsburg, Brooklyn | 718-782-8370
The Nitehawk is paradise for a film lover. Decked out in vintage seats, and offering its special Signature Popcorn, a full-service restaurant and bar, with drinks and food delivered right to your seat, this theater appeals to both locals and non-locals. People come from all parts of the city to watch the interesting slate of revivals and classic films on weekends during brunch, and retro and mainstream films throughout the week. The best part? The themed previews and special food that tie in with films. That and the trendy bar at the entrance.
How to get there: Take the L to Bedford Avenue. Nitehawk is a short walk from the J, M, Z (Marcy Avenue) and G (Metropolitan/Lorimer). Or take the East Ferry River ferry.
Videology Bar & Cinema | Williamsburg, Brooklyn | 718-782-3468
Videology Bar & Cinema is a gem for film buffs. They have a small screening room with only 40 seats, food and drink service, and a bar to boot. In addition to an interesting line up of classic and retro films, the cinema goes all out to please, offering drink-alongs, where visitors drink several glasses during a movie along with the characters during pivotal drinking scenes.
They show cult classics at midnight on weekends and host movie and TV trivia games every Tuesday night. Oh, and there's Bingo – every Wednesday night they watch "Parks and Recreation" and play Bingo.
How to get there: Take the L train to Bedford Avenue; walk .04 mile to North 7th Street at the SE corner.
Alamo Drafthouse Cinema – Downtown Brooklyn | Brooklyn | 718-513-2547
This Austin, Texas chain came to Brooklyn in full force, complete with comfy chairs, cocktails, a themed menu based on what's playing and a cult following. The theater is a combination of the old and the new, with classic posters donning the walls, while the film house showcases major new releases.
A visit to the Alamo is unparalleled – the food is good, the quality of sound and the projections are excellent, and it's kind of fun being surrounded by young (and old) hipsters.
How to get there: Take the B, D, N, Q, or R to DeKalb Avenue Station and head to Albee Square West. Or take the 2, 3 to Hoyt Street Station, head SE on Fulton Street toward Duffield Street and head to Albee Square West. Or take the 4, 5 to Nevins Street Station, head NE on Flatbush Avenue Ext and head to Albee Square West. Or take the A, C, G to Hoyt-Schermerhorn Street toward Bond Street and head to the cinema.
Cobble Hill Cinemas | Carroll Gardens, Brooklyn | 718-596-9113
Opened in 1926, Cobble Hills Cinemas has had many incarnations. Once the Lido Theater, then the Regal, then the Clearview, this theater has been updated with five screens, showing a mix of first-run, independent and foreign films. The theater is small, as is its lobby, and they show films both old and new, while offering specials such as Bargain Tuesdays and Thursdays with all seats $9, both day and night.
How to get there: Take the 4 train to Borough Hall, exit at Court Street and Joralemon Street at the SE corner and walk a half mile to the cinema.
Kew Gardens Cinemas | Kew Gardens, Queens | 718-441-9835
Built in 1935, Kew Gardens Cinemas is an art deco-style film house. The lobby is filled with classic movie posters, and sleeves of VHS and movie musicals covering the walls. There are six screens, all with good sound and projection. There is a concession stand where you can fill up on refreshments while you enjoy a film from their selection of foreign films and Indies. They get a good share of classic films, as well as new releases. Best of all? They sell homemade cookies.
How to get there: Take the E train to Union Turnpike – Kew Gardens Station and walk less than half a mile to your destination. As a speedy alternative, take the LIRR from Penn Station to Kew Gardens Station and you'll be just steps from the cinema.
Museum of the Moving Image | Astoria, Queens |718-777-6888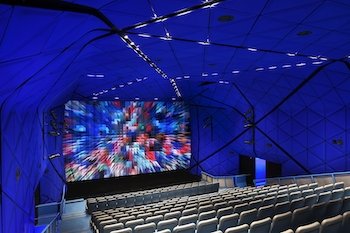 Museum of the Moving Image is not only a brilliant museum that's dedicated to the history of film, but an entry ticket gets you access to the museum's movies, which tend to show new releases or classics, often with the filmmakers and actors speaking before or after the film. A state-of-the-art screen and sweeping curtain add flair.
How to get there: Take the R or M to Steinway Street. Exit the station at 34 Avenue three blocks to the Museum on 35 Ave.
Jacob Burns Film Center | Pleasantville, Westchester |914-773-7663
The Jacob Burns Film Center is the place to be seen and see in Westchester. It occupies the old Rome Theater, a Spanish-style theater built in 1925, and has retained its vintage vibe. Largely membership based, this theater holds a large number of film festivals and special events, inviting films directors, actors, and writers to talk about their work.
How to get there: Take the Metro-North Harlem Line to Pleasantville. Go upstairs near the head of the train, and exit to the right and then left to the corner of Wheeler Ave. and Manville Rd. The JBFC Theater is on Manville Rd. one block to the right around the corner.
The Avon | Stamford, CT | 203-967-3660
The Avon is an arthouse theater in a main street setting that offers the best of indie, documentaries, cult and foreign films. It thrives on special events such as documentary nights, cult classics, a night of noir, and French film. Built in 1939, the cinema is a historical landmark, and provides a forum for in-person, community dialogue with the cinematic figures behind the movies.
How to get there: From Grand Central, take the Metro-North New Haven Line to Stamford. Walk .8 mile, or around 15 minutes, to the Avon.
After a good movie – you could try one of these beautiful architecture tours in NYC.
Featured image: Thanassi Karageorgiou / Museum of the Moving Image.
Photo credits: Alamo Drafthouse Cinema and Peter Aaron/Esto. Courtesy of Museum of the Moving Image
Holly Rosen Fink is a marketing consultant and culture and travel writer living in Larchmont, New York