As the crocuses triumphantly rise from the cold earth, families can rejoice. That stir-crazy feeling of being cooped up inside all winter will give way to the excitement of getting outside and for some new parents, their first real adventure with a baby in tow.
Heading outdoors with an infant can be challenging, so these hikes take things like adequate cell service and relative ease to stop for a feeding into consideration. Whether you're lacing up your hiking boots for the first time this year or the first time ever, here are 3 easy hikes to enjoy with your newest adventurer.
Teatown Lake Reservation | Ossining, NY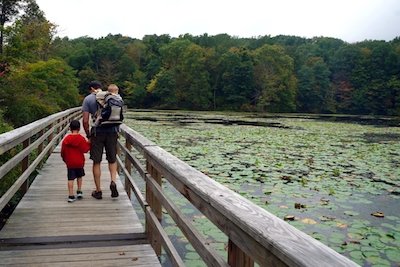 Teatown boasts 15 miles of pristine trails that will take hikers across diverse terrains and habitats, along with tons of family-friendly programming like the reservations-only Wildflower Island and a raptor exhibit that includes rehabilitated birds of prey. For a short and relatively flat stroll, check out the Lakeside Trail for a 1.5 mile loop around Teatown Lake. Much of this trail hugs the shoreline and for a brief period, hovers over the lake entirely on a floating pedestrian bridge. For a slightly longer jaunt and double the lake views, try the Twin Lakes Loop. Hikers will pass Vernay and Shadow Lakes before reaching a scenic overlook atop the highest point in Teatown.
How to Get There: Take Metro-North to the Croton-Harmon stop and then a 10 minute cab ride to the Nature Center at Teatown Lake. If you're traveling with a stroller and/or car seat, you can leave it in the Visitor Center while you hike. For trail maps and hours visit teatown.org.
Arden Point and Glenclyffe | Garrison, NY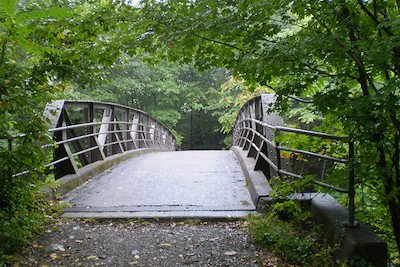 With ample shade, babbling brooks and a cool breeze off the Hudson River, this 4 mile out and back will lull hikers and tiny babes into a tranquil daze. The trails aren't marked as well as they could be, but the whirring engines of the Metro North can help set you back on course. From the peninsula of Arden Point you'll enjoy panoramic views of West Point to the north and Bear Mountain Bridge to the south. After you've had your fill of the Hudson, head towards the Glenclyffe Loop trail where a friary-turned-spiritual retreat center, bamboo forests and escape route of the treasonous Benedict Arnold await you. Be sure to check out the NY-NJ Trail Conference website for a full trail description (particularly helpful if you lose your way) and some cool history.
How to Get There: Take Metro-North to the Garrison stop. You'll find the Arden Point trailhead in the southern end of the train station parking lot adjacent to the road.
Van Cortlandt Park | Bronx, NY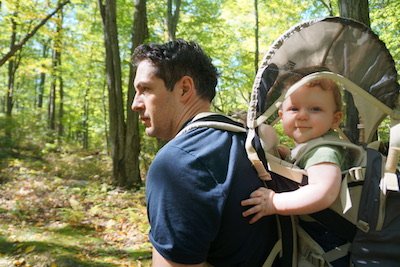 Swipe your MetroCard and head north to the Bronx to enjoy some of Van Cortlandt Park's 20 miles of hiking trails. Trek up to the Cass Gallagher Nature Trail in the Northwest Forest for a shaded, rolling hike beneath towering oak and hickory trees. Let the echo of busy woodpeckers and gravel crunching beneath the feet of cross-country runners be your soundtrack.
How to Get There: 1 Train to 242nd Street. To get to the Northwest Forest, walk about a mile north through the park along the cross country course past the parade ground, or, take the BX9 bus to Broadway/W 256th St; the trail is a short walk in from the intersection of Broadway and Mosholu Avenue, just past the horse stables. Visit vancortlandt.org for a map of the entire park.
Featured image of Teatown Lake Reservation: Ana Cabreira 
Arden Point image: East Hudson
Additional images: Rachel Bogin
Rachel is former experiential marketer and current professional fundraiser and event planner for mission-driven organizations. She recently became the Manhattan Ambassador for Hike It Baby, a non-profit dedicated to building communities that support getting families outside and raising a generation to love the outdoors. Rachel finds joy in nature and hard-to-reach scenic vistas, and has reveled in exploring places as close as Harriman State Park and as far away as Denmark and Austria by train, bus and her own two feet. When she's not at work, you might find her dropping off compost at the local greenmarket, hiking in the Hudson Valley or picnicking in Riverside Park. She shares her life and home in New York City with her husband, son and extremely judgmental cat.